Former LAPD officer at center of cadet scandal sentenced to two years for weapons charges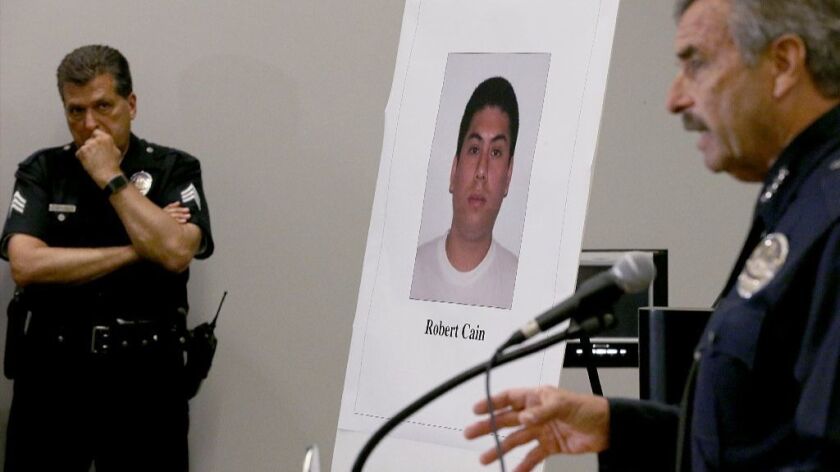 A former Los Angeles police officer accused of sexually abusing a 15-year-old cadet last year pleaded no contest Friday to illegal weapons charges in San Bernardino County.
Robert Cain, 31, entered the pleas to manufacturing an assault weapon and possession of a "bump stock" and was immediately sentenced to two years in county jail as part of a plea agreement with prosecutors.
The plea clears the way for the sex-crime case against Cain to proceed in Los Angeles. Those charges had been in limbo while Cain was in custody in San Bernardino.
Cain was arrested in June as part of a wide-ranging scandal involving the LAPD's cadet program. An investigation into the theft of police vehicles and other department equipment by teenage cadets revealed allegations that Cain had sex with a 15-year-old girl who was also implicated in the taking of LAPD property, authorities said last year.
In July, Cain was charged with two counts each of oral copulation of a person under the age of 16, lewd acts on a child and unlawful sexual intercourse. During the sex abuse investigation, police searched Cain's Rancho Cucamonga home and found nearly 100 firearms.
Cain was initially charged with 10 felony weapons offenses. At a preliminary hearing last October, an LAPD detective testified that five rifles had been modified with flash suppressors, which make it harder to detect a weapon's muzzle flare, pistol grips and other items that would cause them to be classified as illegal assault weapons under California law.
Police also recovered two bump stocks at Cain's home, devices that can increase a gun's rate of fire and allow it to function similar to an automatic weapon.
Bump stocks, which are illegal to possess in California, became a topic of national conversation last year when investigators revealed a that a gunman used the devices during a shooting rampage that left 58 people dead at a Las Vegas music festival. The devices are legal to own under federal law, but the Las Vegas attacks have led some lawmakers to reconsider the danger they pose.
It was not immediately clear when Cain would appear in Los Angeles court to answer the sex abuse charges. He has yet to enter a plea.
Cain's attorney, Bill Seki, said he did not know when his client would be transferred to the custody of the Los Angeles County Sheriff's Department.
"Mr. Cain definitely wanted to resolve this matter here," Seki said of the weapons charges. "He's looking forward to getting the opportunity to resolve the issues in Los Angeles."
A 10-year veteran of the department, Cain was last assigned to the equipment room in the LAPD's 77th Street Division, the epicenter of the cadets' alleged misdeeds. Police have said they suspect Cain, who resigned after his arrest, may have helped the cadets gain access to the LAPD cruisers they allegedly stole and later crashed during a pursuit with city police officers.
Cain allegedly had sex with the 15-year-old three times on June 14, and also took her on a trip to Six Flags Magic Mountain theme park in Valencia, sources told The Times last year.
None of the cadets have been criminally charged.
Follow @JamesQueallyLAT for crime and police news in California.
---
The stories shaping California
Get up to speed with our Essential California newsletter, sent six days a week.
You may occasionally receive promotional content from the Los Angeles Times.