Robert Durst will return to L.A. to face murder charge in the summer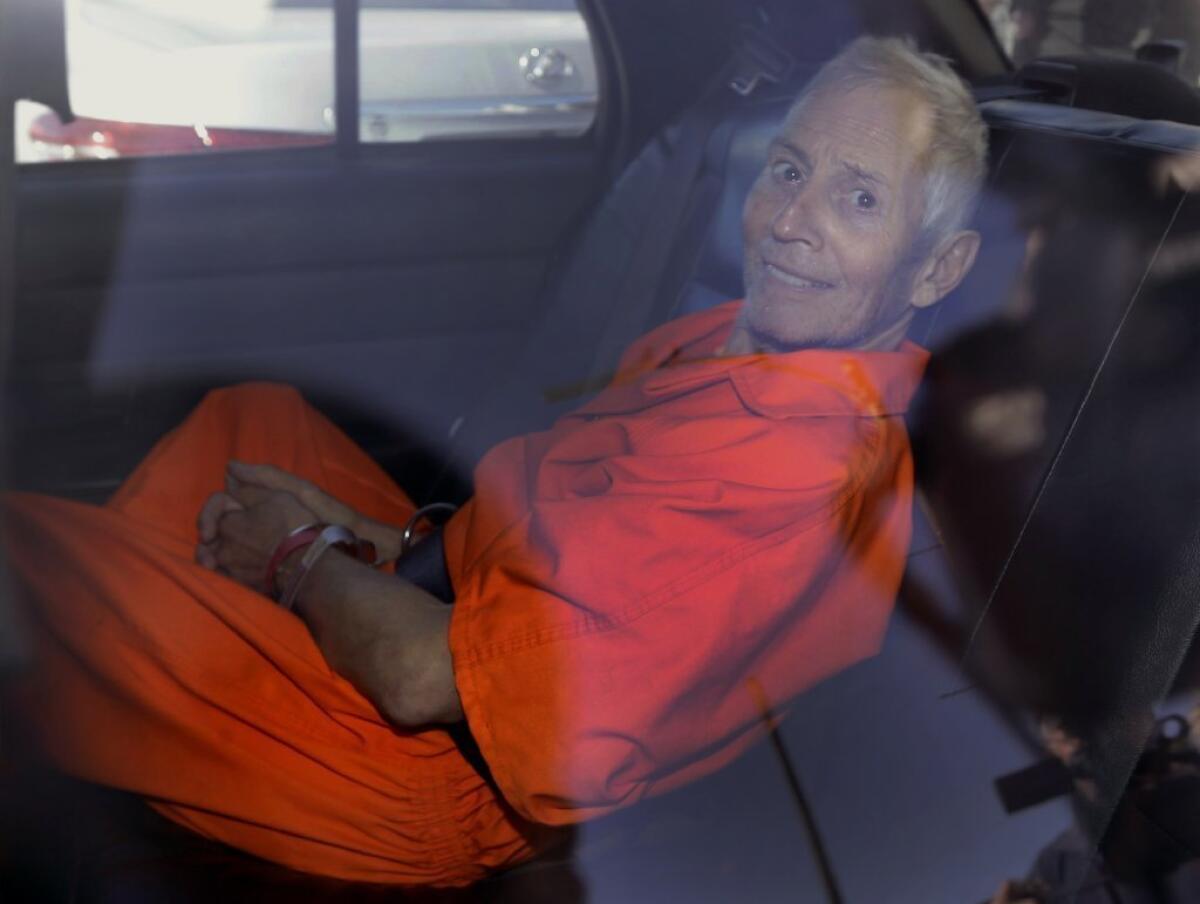 New York real estate heir Robert Durst will return to Los Angeles by next summer to face a murder charge in connection with the death of his writer friend Susan Berman, prosecutors announced Tuesday.
The Los Angeles County district attorney's office said in a statement that it had reached a deal with Durst's attorneys to have him extradited from New Orleans by Aug. 18.
The agreement, made public by the district attorney's office, is dependent on Durst reaching a separate plea deal in a federal weapons case in Louisiana and his sentencing in that case.
A Durst murder trial would be one of the highest profile and closely watched criminal trials the Los Angeles courts have seen in years.
"We look forward to working with our district attorney to achieve some level of justice from Mr. Durst," Los Angeles police Chief Charlie Beck said Tuesday.
Durst's Houston-based attorney, Dick DeGuerin, said the extradition deal had been in the works for some time.
"Once we get our case resolved in New Orleans, then we will work on getting him, Bob, to California where he can be brought to trial," DeGuerin told The Times.
"We're hoping to get it resolved and get him there as soon as possible," DeGuerin said, noting that Durst would be held pending arraignment if he arrives in California before Aug. 18.
"There's a lot of moving parts. He has to be designated by the federal government to a prison in California," where he would be held until he is transferred to another detention facility during trial, DeGuerin said.
DeGuerin said he talked to Durst, 72, about the deal to get him extradited to face the murder charge in Los Angeles.
"He recognizes that that's the main case, that's everything," DeGuerin said of his client. "He's been amenable to being extradited since Day One."
Jane Robison, a spokeswoman for the district attorney's office, said prosecutors fully expect Durst to be arraigned in August.
"Everyone wants this proceeding to move forward. The agreement speaks for itself," she said, adding the office would not comment further.
Durst drew national attention this year as the subject of the HBO docudrama "The Jinx."
The series explored the mysterious disappearance of Durst's wife, Kathy, in 1982, as well as the 2000 killing of Berman, who was found shot in her Benedict Canyon home. In the final episode, Durst is caught muttering what sounded like a confession to the killings into a microphone off-camera.
Durst left his final interview to use the bathroom, appearing not to notice that his microphone was still recording as he muttered to himself, "What the hell did I do? Killed them all, of course."
"There it is, you're caught," he said at another moment. "What a disaster."
Before the series ended last spring, Durst disappeared from his Houston condo, a manhunt ensued and he was caught in New Orleans on March 14. Los Angeles County officials charged him with murder in connection with Berman's death and attempted to extradite him to California.
Durst has remained in prison in Louisiana facing a federal gun charge related to the discovery of a loaded revolver by FBI agents in his New Orleans hotel room. He has a change-of-plea hearing in federal court scheduled for Feb. 3.
Durst has insisted he had nothing to do with Berman's fatal shooting.
"Bob Durst didn't kill Susan Berman and doesn't know who did," DeGuerin said. "He's ready to get to California and prove his innocence."
Laurie Levenson, a Loyola law professor and former federal criminal prosecutor, said the deal to move Durst to Los Angeles was not surprising.
"We knew this day was coming. They can only hold him so long in New Orleans," she said. "Sooner or later, he has to have his day in court in L.A."
She said the agreement suggests that both sides think they can win.
"The question is are the prosecutors ready for trial on a murder case. This is a sensational case, but prosecutors have had almost a year already to prepare," Levenson said. "They, of course, had been helped by Mr. Durst statements when he mumbled on tape he did it."
Though the HBO documentary might have given viewers the impression that the case against Durst is strong, both Levenson and Robert Sheahen, an L.A. criminal defense attorney, said proving murder in court is much more difficult.
Sheahen noted that some of the evidence presented in the documentary — including what has become known as "the letter" — might not be enough to convince a jury that Durst is guilty of murder.
The final episode of a six-part HBO documentary about Durst focuses on a writing sample from him. The episode highlights similarities between an envelope from a letter he sent to Berman in 1999 and an anonymous note sent to Beverly Hills police at the time of her killing, telling authorities that they would find "a cadaver" in Berman's house.
Both writing samples are written in all capital letters, and in both cases the "Beverly" in Beverly Hills is misspelled.
"The evidence against him at first glance is significant, but a deeper examination shows problems," Sheahen said. "The envelope doesn't make him the killer."
molly.hennessy-fiske@latimes.com
richard.winton@latimes.com
ALSO
Lyft can pick you up at LAX starting Wednesday
California snowpack exceeds average for first time in years
Sign up for Essential California for news, features and recommendations from the L.A. Times and beyond in your inbox six days a week.
You may occasionally receive promotional content from the Los Angeles Times.