Man vs. machine: L.A. sheriff's deputies use robot to snatch rifle from barricaded suspect, end standoff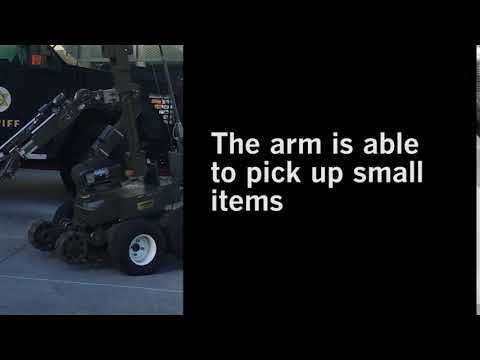 A Los Angeles County sheriff's department robot seized a rifle from a barricaded suspect in Lancaster, bringing a peaceful end to an hours-long standoff. 
An hours-long standoff in the darkness of the high desert came to a novel end when Los Angeles County sheriff's deputies used a robot to stealthily snatch a rifle from an attempted murder suspect, authorities said Thursday.
Officials said the use of the robot to disarm a violent suspect was unprecedented for the Sheriff's Department, and comes as law enforcement agencies increasingly rely on military-grade technology to reduce the risk of injury during confrontations with civilians.
"The robot was a game changer here," said Capt. Jack Ewell, a tactical expert with the Sheriff's Department — the largest sheriff's department in the nation. "We didn't have to risk a deputy's life to disarm a very violent man."
It began late in the evening of Sept. 8, when deputies in Lancaster were pursuing a man suspected of trying to kill one person and robbing two others.
The suspect, Brock Ray Bunge, 51, fled into a dark, remote field in the Antelope Valley. A sheriff's helicopter eventually tracked him down to a dirt berm, where he holed up surrounded by shrubbery and wire fencing.
Deputies ordered Bunge to surrender several times but he refused. A sheriff's SWAT team arrived with armored vehicles and tried to coax him to surrender for more than six hours.
Eventually, officials deployed the robot to gain a closer view of Bunge's hideout. The camera showed him on his stomach, with his rifle at his feet, Ewell said.
To seize the firearm, they hatched a plan that relied on distractions. Deputies in an armored vehicle approached to the front of Bunge, yelling at him through a public address system to surrender. A helicopter whirred overhead.
From behind, the olive-colored robot approached and extended its claw into Bunge's hideout.
"The robot was able to move up and grab the gun without him noticing," Ewell said. "He never knew it happened."
Deputies quickly reversed the robot and recovered the gun. Then, they sent the device back to the berm and had the robot grab the wire fencing, exposing Bunge's hiding spot.
"He only realized the gun was gone when the robot returned to pull down the wire," Ewell said.
Bunge surrendered immediately.
The Andros robot cost about $300,000, and Ewell said the department typically uses the device for bomb disposal. Increasingly, however, the agency is using the robot during encounters with armed suspects.
"When it saves lives, it is more than worth it," he said.
During the hours-long standoff with Micah Johnson, the killer of five police officers this summer in downtown Dallas, police relied on a small, remote-controlled robot to ferry an explosive device close to the gunman.
Police detonated the device, killing 25-year-old Johnson.
"We saw no other option but to use our bomb robot," Police Chief David Brown said at a news conference. "Other options would have exposed our officers to grave danger."
Last year, sheriff's deputies used a robot during a 22-hour standoff with a woman in Woodland Hills. She twice shot at a police robot that approached her, and eventually crawled under her home. SWAT deputies arrested her after pulling her out.
In April, a standoff with a barricaded man near the state Capitol Building in Sacramento saw police use a robot while attempting to contact the suspect in his car.
After Bunge was taken into custody, the Los Angeles County district attorney's office filed felony charges against him including attempted murder, assault with a deadly weapon, vandalism, robbery and making criminal threats.
He pleaded not guilty to the charges during a court appearance Tuesday and is being held in county jail in lieu of $1.575 million bond, according to court records.
Twitter: @MattHjourno.
ALSO
Former L.A. Coliseum executive sentenced to jail in corruption case
Man wields stolen crucifixes in rampage through downtown Ventura, police say
Great Scott! Carjacker steals DeLorean and crashes after pursuit near beach, police say
Sign up for Essential California for news, features and recommendations from the L.A. Times and beyond in your inbox six days a week.
You may occasionally receive promotional content from the Los Angeles Times.