Roller Derby skater killed when plane slams into car on freeway in San Diego County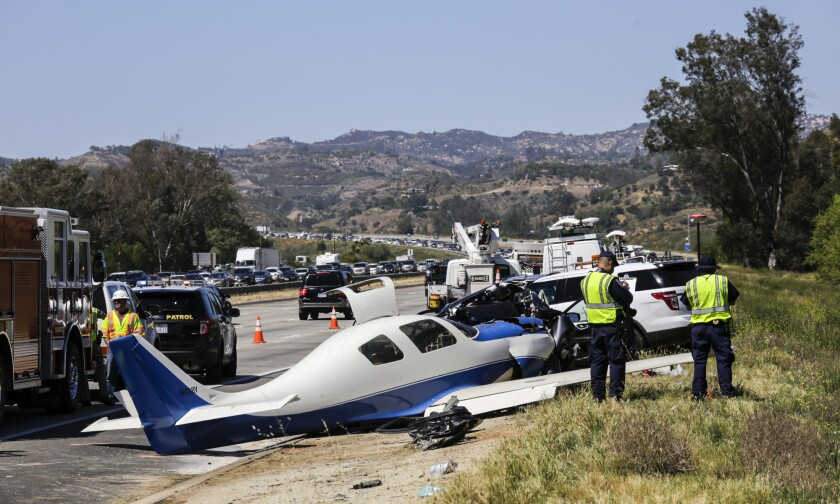 CHP investigators gather at at the site of a small plane that slammed into a car on Interstate 15 in northern San Diego County on Saturday.
(Irfan Khan / Los Angeles Times)
An investigator peers into the cockpit of the plane Saturday.
(Irfan Khan / Los Angeles Times)
An investigator looks into the plane.
(Irfan Khan / Los Angeles Times)
CHP personnel investigate the crash on Interstate 15 in San Diego County.
(Irfan Khan / Los Angeles Times)
CHP personnel investigate the crash. The small plane slammed into a car parked on the side of the freeway.
(Irfan Khan / Los Angeles Times)
A small plane that slammed into a car after landing on Interstate 15 in Fallbrook on Saturday killed a San Diego roller derby skater sitting in the vehicle's back seat, authorities said.
The woman was identified by the Medical Examiner's Office as Antoinette "Toni" Frances Isbelle, 38, of San Diego. Isbelle was a member of the Starlettes roller derby team under the nickname "Rockalishous."
The plane, a single-engine blue and white Lancair IV, landed in the northbound slow lane of the freeway, about a mile north of state Route 76 at 9:15 a.m., said California Highway Patrol Officer Chris Parent.
It skidded about 250 feet and plowed into the back of a 2015 Nissan Sentra carrying the roller derby skaters. Parent said the driver, Aaron Mccann, 42, of Escondido, had stopped on the shoulder to sync his Bluetooth when the plane struck the car.
Witnesses rushed to the wreckage to help victims.
"Witnesses said the plane was banking east of the freeway in apparent distress, then banked from the west as it headed north," Parent said. He said one motorist reported not hearing the engine before the aircraft landed.
Greg Wilson of Fallbrook, a member of Palomar RC Flyers club, was among several people clearing weeds at a nearby model airplane airfield when the Lancair IV made a low pass overhead. Wilson said he suspected the pilot spotted or knew of the paved model runway and thought he could land there. But then the plane made a turn and descended to the freeway.
The pilot, Dennis Hogge, 62, of Jamul, suffered major facial injuries. His passenger, a woman in her 50s, suffered a large laceration on her neck and underwent surgery later in the day, Parent said. He did not know her name or relationship to Hogge.
Mccann suffered a cut over one eye. Jason Soule, 43, suffered a broken shoulder and Emily Boesmiller-Hoch, 36, had an injured leg, Parent said.
Mccann is a member of the Aftershocks, as "Rowdy Rodbuster," and Soule skates as "Vanilla Gorilla," according to their Facebook pages.
Hundreds of friends, fans and other derby skaters flocked to the San Diego Roller Derby's Facebook page to mourn Isbelle's death.
"Thank you to all our friends and family who have been so supportive today in the aftermath of the horrific accident that involved two of our league members and two of our brothers at San Diego Aftershocks," the league posted. "We are still processing and grieving at this time and we thank you for your condolences."
Mccann posted on his page: "I am so grateful for the derby community, and my friends that offered support. I truly wish today could just start over. It's a sad day and I'm just working on processing it all."
The Lancair is a four-seat, homebuilt plane. Production was stopped on the IV model kits in 2012.
Hogge is the plane's registered owner, although Federal Aviation Administration records show the plane's registration had expired. He was certified in 1991 as a repairman and builder of experimental aircraft and received his private pilot's license in 2010, records show.
"He's a master craftsman," said Matt Nokes, 53, of Cardiff, who has known Hogge for more than a dozen years.
Nokes, a former Major League Baseball player, owned the Lancair IV before Hogge did, and Hogge later brokered the deal when Nokes sold it to a company.
J. Harry Jones, Kristina Davis and Pauline Repard write for the San Diego Union-Tribune.
---
The stories shaping California
Get up to speed with our Essential California newsletter, sent six days a week.
You may occasionally receive promotional content from the Los Angeles Times.