Officer punched as tensions flare at 'Patriot Picnic' in San Diego's Chicano Park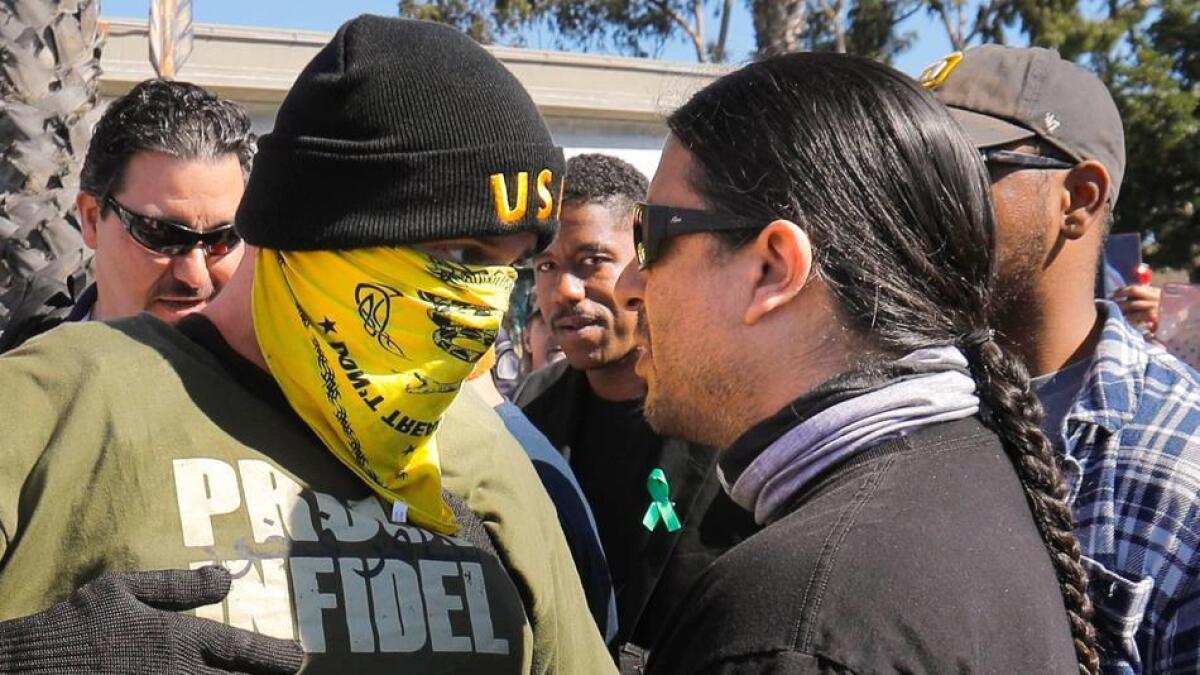 Reporting from San Diego —
A San Diego police officer was punched in the face and three people were arrested Saturday during a clash at Chicano Park between a small group holding a "Patriot Picnic" and a larger gathering of park supporters defending its cultural roots.
San Diego police reported three arrests, one for battery on a police officer. The officer suffered a bloody nose as he tried to arrest a suspect who refused an order to get out of the street, said Lt. Scott Wahl. The suspect was not injured, Wahl said.
The event started about 10 a.m., with police initially reporting that both groups were "law-abiding and peaceful."
But as the crowd ballooned to an estimated 700 people, Chicano Park advocates far outnumbered the 50 or so "picnickers," who staged the event in an attempt to hoist the American flag at the park, where the Aztlan and La Raza flags fly. A U.S. flag flies in a corner of the park near a veterans monument.
"The event today is not a protest," Roger Ogden, an organizer of the picnic, said in a statement. "The goal is just to demonstrate whether there is city-sponsored discrimination at Chicano Park against certain people, due to their race, ethnic background and politics."
"We're just a group of Americans who found out about this park and how they exclude people if you are not Chicano or Mexican. This should be an American park for the American people," said Jesse Medina, a business owner from Los Angeles.
Another event showcasing the cultural significance of the park was already planned for Saturday, Chicano Park Steering Committee members said. As word spread about the picnic, hundreds of park supporters rallied to assert their presence.
"We just felt this was something we needed to do at this point, to make sure that people knew something about the park," said Alberto Lopez Pulido, a University of San Diego professor and member of the steering committee.
On the other side of Logan Avenue, several people mingled amid the park's colorful murals for an event billed as an Educational Tour Day. Aztec dancers performed a dance of "peace and love," inviting people to join in. Speeches by community members and representatives of the clergy rang out from the main stage.
"I don't want to give them any attention," Pulido said, referring to the Patriot Picnic group. "This is our story, and will remain our story. We want to let people know what the park means, the fact that we have 88 murals here, we have National Landmark status."
The park, he said, "is sacred for some people, like a church would be or a synagogue or a mosque. It has that feel because this park comes out of struggle, or resistance, and people identify with that."
Tensions rose as members of the Patriot Picnic group prepared to leave with a heavy police escort, and members traded angry words with park supporters. A few people — it wasn't clear which side they supported — instigated fights in the street as the crowds were dispersing, police said.
A similar showdown occurred at the park in September, with protesters calling on the city to remove the murals of Chicano leaders, civil rights activists and Mesoamerican themes that decorate the park, which was designated a National Historic Landmark last year.
sandra.dibble@sduniontribune.com
kristina.davis@sduniontribune.com
Dibble and Davis write for the San Diego Union-Tribune.
---
UPDATES:
10:00 p.m.: This article was updated with more comments from police and both park critics and supporters.
This article was originally posted at 5:15 p.m.
---
The stories shaping California
Get up to speed with our Essential California newsletter, sent six days a week.
You may occasionally receive promotional content from the Los Angeles Times.