A decade later, a San Diego neighborhood is still reeling from a tragic plane crash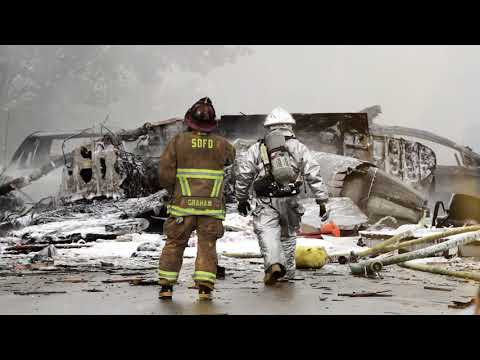 10 year anniversary of the FA-18 crash in University City
Reporting from San Diego —
The postman had just delivered a Korean-language newspaper to 4416 Cather Ave. when he saw a plane plunging toward him.
"Everything was in slow motion," said Bill Dusting, a veteran letter-carrier. "My first thought was, 'Well, this is going to be quick and painless.' "
It was neither. On that morning, 10 years ago today, Dusting ran to safety, but the Marine Corps F/A-18D Hornet crashed, killing four people inside the home on Cather Avenue. Flaming wreckage shredded the house and ripped through the house next door, burning both structures to the ground.
The crash wiped out a South Korean immigrant's family — the dead were Don Yoon's wife, their two daughters, and his mother-in-law — and left a scar on this corner of San Diego's University City.
"Residents are still upset, still mourning, still traumatized," Pia Mantovani-Sud, who lives across the street from the crash site, said this week.
The Marine Corps notes that in the ensuing decade, safety procedures have been tightened and that this tragedy's grim lessons are drummed into aviators.
"This particular incident is taught at the Naval flight school in Pensacola," said Capt. Matthew Gregory, director of communication for Marine Corps Air Station Miramar. "This event is widely studied."
Yet a neighborhood group known as CASA, Citizens Advocating Safe Aviation, argues that the danger still exists.
"We've been contacting everybody, mayors, Sup. Kristin Gaspar, Rep. Scott Peters," said Ron Belanger, a retired naval aviator and CASA member. "We're very concerned that there's going to be another accident unless they straighten up and fly right."
On Saturday at 11:30 a.m., a gathering will be held at University Village Park, a green space bordered by Cather Avenue, Florey Street and Gullstrand Street. Four jacaranda trees will be dedicated as a living memorial to the four victims. Local officials are expected, but they've been warned this is not an opportunity for speeches or proclamations.
Instead, neighbors will informally share memories and thoughts. Mantovani-Sud, a local mainstay since 1997, plans to read a poem:
There's mercy in the sky
And healing in the earth.
And for all of us in between
May peace come at last.
It was a cold Monday in December, and the Sud residence's windows and doors were shut. This was garbage pick-up day on Cather Avenue and Mantovani-Sud wondered if two loud booms were the results of sanitation workers dropping trash cans.
"Then I noticed a glow," she said.
She stepped outside and into a nightmare. Directly across the street, two houses were engulfed in flame. The jet's ruined fuselage had slid into the next street, burning less than 10 feet from a mobile home parked on Huggins Street.
Even before the crash, Ron Belanger's ears alerted him to trouble. A retired naval aviator, he heard the jet coming from the wrong direction — "they are not supposed to come in from the west, it's too populated and there are too many schools."
The F/A-18's engines didn't sound right, either.
"He increased power suddenly and, all of a sudden, no power," Belanger said. "Then I heard the ejection seats fire. I dove under my desk."
Making his rounds on Cather Avenue, postman Dusting also heard the "pop! pop!" of the canopy exploding from the jet and the ejection seats blasting off. Was someone shooting at him?
Then he saw the stricken plane.
He ran, throwing glances over his shoulder. As he watched, the plane clipped a tall jacaranda near Sud-Mantovani's house and then plowed through the Yoon family's home and a house whose inhabitants — John Wu and Sunny Zhuang, a husband and wife, and their two daughters — were at work or school.
"I was about 50 meters away when it took out the two buildings on Cather," he said.
Dusting grabbed his cell phone and called 911.
People who knew Don Yoon described him as a living advertisement for the American Dream.
Hard-working and generous, Yoon owned a South Bay market and a Pacific Beach coffee shop. A devout Christian, he regularly attended services at the Korean United Methodist Church in Clairemont. He loved Christmas and each December bought hundreds of small presents to give to surprised customers.
"He was one of the sweetest men I've ever met," said Summer Abu-Zahrah.
Yoon hired Abu-Zahrah at Crown Point Coffee in 2003. Soon after, she noticed a change in his mood — he had found the love of his life, Youngmi Lee.
"When he met his wife," Abu-Zahrah said, "he was the happiest person I've ever seen."
Grace, their first child, was born in the summer of 2007. Their second, Rachel, followed less than 14 months later. The family needed more space, and the Yoons moved into the five-bedroom, two-bathroom house on Cather Avenue in the fall of 2008.
Youngmi Lee's mother, Seokim Lee, flew out from South Korea to help with the infant and toddler.
Yoon was delighted and shared his joy with some of the regulars at Crown Point Coffee. On the morning of Dec. 9, 2008, a customer brought in a present for the proud father — a onesie for the newborn.
She would never get to wear it.
At 11:11 that morning, Lt. Dan Neubauer was catapulted off the deck of the carrier USS Abraham Lincoln. He was about 90 miles southwest of San Diego. What followed, the official Marine Corps report would say, was "a chain of wrong decisions."
Ten minutes into this training flight, warning sensors go off. Due to low oil pressure, Neubauer shuts down his right engine.
Around 11:38, there's a low-fuel warning. Neubauer radios officials at Miramar, who order him to head to the base. Neubauer declines several FAA suggestions that he land at North Island Naval Air Station, which is closer and can be approached from the sea.
His decision appears to have been "hijacked," Capt. Gregory said, influenced by senior officers.
"The squadron leadership wanted to get that plane back on the ground and get another to continue his carrier qualifications," Gregory said.
Neubauer's unsuccessful attempts to restart his right engine interfere with the flow of fuel into the left engine. At 11:57 a.m., the left engine fails.
Realizing he can't reach Miramar, the pilot steers the falling plane past University City High School. He tries to direct the jet into one of the canyons around University City and then, at 11:57:59, he ejects.
"If he had stayed in for another second or half-second," Gregory said, "he would have been killed."
Four seconds after ejecting, while parachuting to earth, Neubauer witnesses the moment of impact.
"As I shot away from the aircraft, I saw it pitch down and to the left," he wrote in his report. "I looked down to see where my plane had crashed and saw that it had gone right into a house. I screamed in horror when I realized what had just happened."
The official investigation found the accident preventable. The squadron's commanding officer, maintenance officer, operations officer and operations duty officer were relieved of duty, and nine more Marines were disciplined.
Neubauer returned to flight duty in April 2009 on "probationary status."
"He is the real hero in this story," said Alain Blanc, whose house on Cather Avenue is two properties away from the crash site. "He did everything he could."
There are gaps in Blanc's memories of that day. He recalls being in his home office when he heard the crash.
"I only remember that suddenly I was outside by the fence with the phone in one hand calling 911," he said, "and in the other hand I had the hose, fighting the fire."
Initially, authorities reported three deaths. The next morning, cadaver dogs found the body of 15-month-old Grace Yoon.
That afternoon, Don Yoon faced the media outside the ruins of his home. He broke down in tears at times, and prayed with his pastor, the Rev. Daniel Shin.
"I know God is taking care" of his family, he told reporters.
He also had a message for Neubauer, the pilot: "I don't have any hard feelings. I know he did everything he could."
The Marine Corps commandant and the Secretary of the Navy flew to San Diego to meet with Yoon, apologizing for the tragedy.
Three years later, a judge would order the federal government to pay Yoon and other family members $17.8 million. Washington appealed that judgment, and eventually the parties would reach a settlement.
Yoon, though, was done with San Diego. He liquidated all of his local assets — he offered a generous deal to Abu-Zahrah, who will soon mark 10 years as Crown Point Coffee's owner — and moved to South Korea.
"He had one of the biggest hearts that I've ever known," Abu-Zahrah said.
Sign up for Essential California for news, features and recommendations from the L.A. Times and beyond in your inbox six days a week.
You may occasionally receive promotional content from the Los Angeles Times.