Expansive search for clues in double-homicide investigation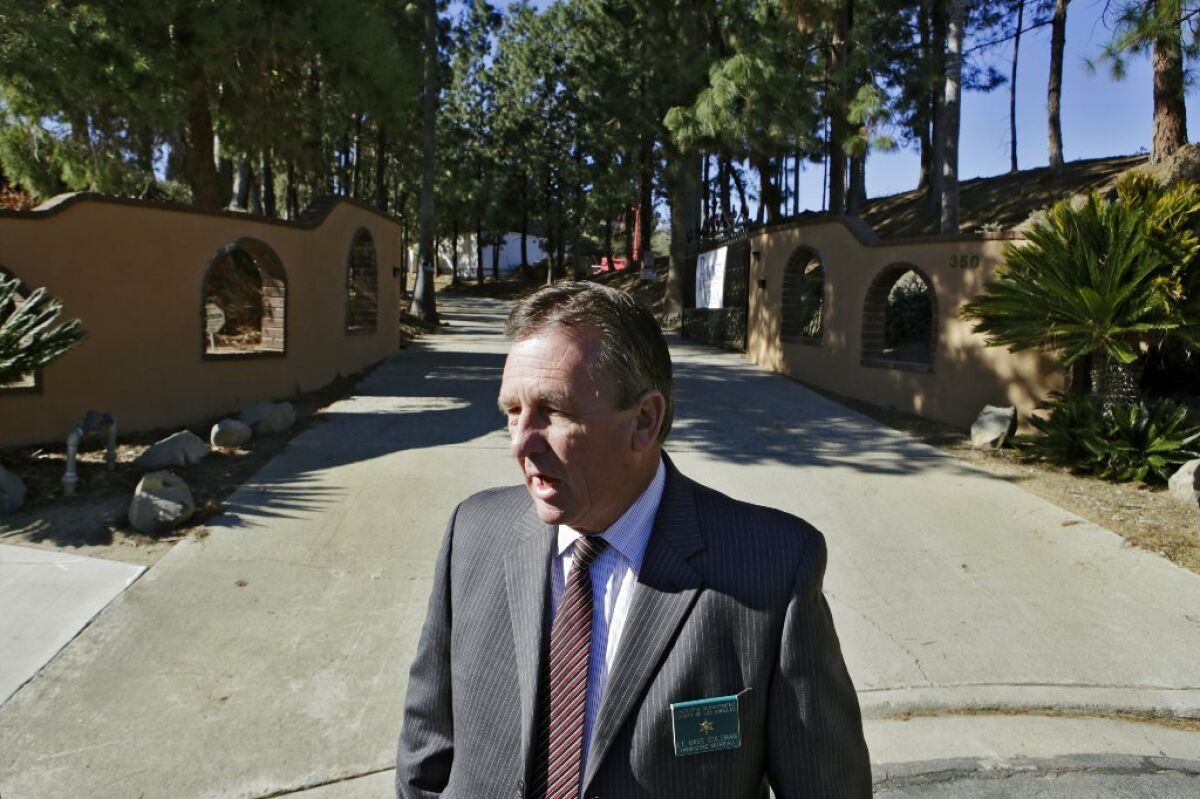 Los Angeles County detectives investigating the fatal attack of an elderly couple at their estate in La Verne began scouring the 80-acre hillside property for clues Saturday afternoon.
A helicopter and sheriff's deputies on horseback were being deployed in the search, Lt. Dave Coleman told reporters at the scene.
Shirley Isom, 74, died Friday in what Coleman described as an extremely bloody attack. She suffered both stab wounds and blunt force trauma.
Her husband, 89-year-old Armie Isom, was transported to a local hospital in critical condition and died later that day, a coroner's official said.
No weapon has been recovered, Coleman said.
Authorities said a groundskeeper called police at 1:20 p.m. after discovering the couple unresponsive inside their home, located at the end of Roughrider Road.
Neighbors have told investigators that they saw a Latino man in a dark hoodie walking down the road -- away from the house -- shortly before then. They described him as a transient.
"This guy had a huge backpack," said Robert Mason, a neighbor who drove past the man. "It appeared to be very heavy. He was struggling with the bag."
He said it was unusual to see anybody walking on the steep road.
In an effort to find the man, authorities are conducting an air search for any homeless encampments in the area and preparing a composite sketch, Coleman said.
He stopped short of calling him a suspect.
The search for evidence is likely to extend into Saturday night, given the large size of the property.
A "no trespassing" sign was posted on a tree and a Mitt Romney campaign banner hung across an entry gate to long driveway that leads up a hill to the 5,200-square-foot house.
Trailers, vehicles and other equipment from the family's construction business were scattered around the lower half of the property. Above the house sat on a vast hillside criss-crossed by dirt roads and dotted with patches of forest.
The attack occurred both inside and outside the house, though its chronology remains unclear, Coleman said.
"We have blood evidence, DNA evidence that we have to identify, locate and collect both inside, outside and then all the way down the drive," he said.
Several firearms were found in the house, but it did not appear that the couple had tried to use them in self-defense, Coleman told reporters.
The couple have five children, he said. One daughter lives on the adjacent property.
The stories shaping California
Get up to speed with our Essential California newsletter, sent six days a week.
You may occasionally receive promotional content from the Los Angeles Times.