Valley to Westside in 20 minutes? Metro says it's possible on a Sepulveda Pass line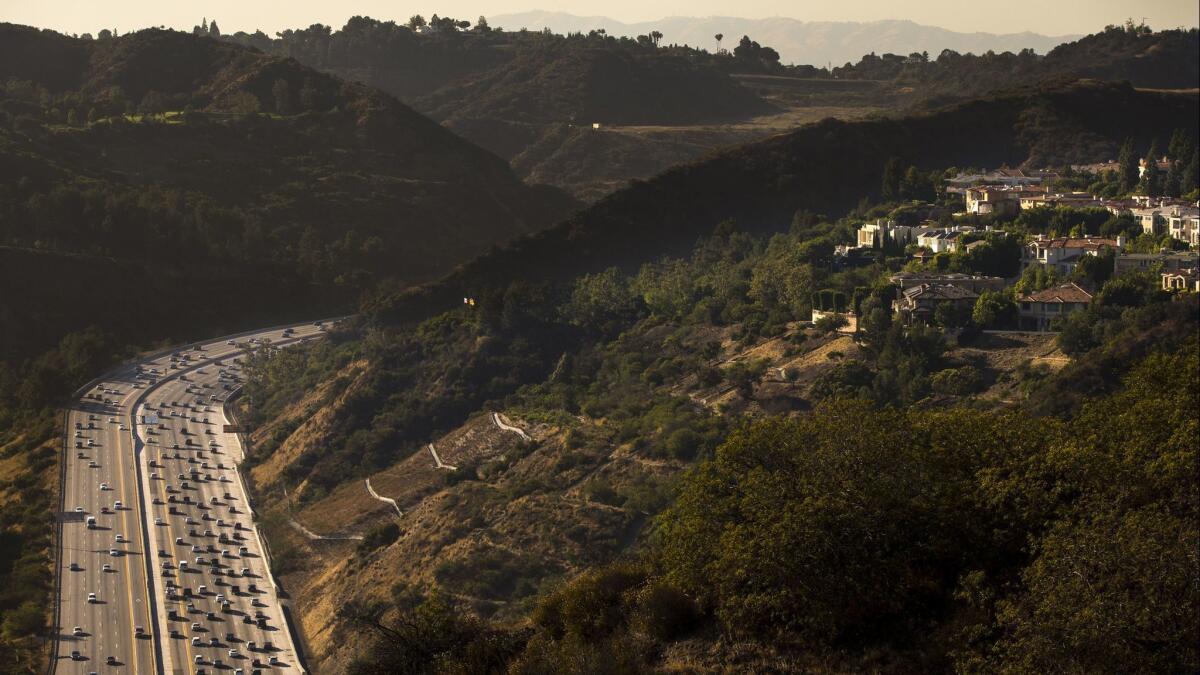 Even as new rail lines have steadily opened across Los Angeles County, bringing better transit service to the San Gabriel Valley and the traffic-choked Westside, the Sepulveda Pass continues to be a headache.
The congested 405 Freeway has no space or capacity for a reliable transit option, and the rugged hills are too steep to run a rail line over. Those conditions leave two complicated, costly options: tunnel through the mountains, or find a kind of transit that can get over the hills.
Plans made public Tuesday show that the Metropolitan Transportation Authority is studying a tunnel or tunnels through the Santa Monica Mountains, as well as a monorail system that would run above ground on some of the terrain. Both approaches would pose significant engineering challenges.
In a region where three in four commuters drive alone to work, the Sepulveda Pass line offers a key opportunity to shift more drivers onto transit. All four options that Metro is studying could whisk riders between the San Fernando Valley and the Westside in less than a half-hour, far faster than driving during rush hour.
"The numbers we're showing here are exceptional," said Cory Zelmer, Metro's Sepulveda Pass project manager.
The line would serve as a key north-south route in the Southland's growing rail network, and as a connection to other lines. Five stations would serve as transfer points to the Expo Line, the Wilshire subway, the Orange Line, the Metrolink Ventura County line, and a light-rail line planned along Van Nuys Boulevard.
The Sepulveda line would run between the Metrolink station in Van Nuys and a stop on the Expo Line in West L.A. along Bundy Drive or Sepulveda Boulevard.
Without further analysis and engineering, a cost estimate for any of the alternatives would be "back-of-the-envelope math," Zelmer said.
A Metro report in 2016 estimated that building two 8.8-mile rail tunnels would cost $7.4 billion to $9.2 billion and would take seven years. Metro typically builds a separate tunnel for each set of tracks, but is also considering one larger tunnel that would accommodate both directions of travel.
Tunneling is difficult and expensive everywhere, but particularly in Southern California, where labor and material costs are high, and densely occupied areas complicate construction.
Metro is already planning to work around two major storm drains in the Valley. Unexpected municipal infrastructure, including utility lines, have been a major cause of delays and cost increases on other Metro projects, including the downtown Regional Connector subway and the 405 Freeway widening.
The Sepulveda Pass project is slated to receive $2.54 billion through Measure M, the sales tax increase that voters approved in 2016, with an additional $3.13 billion secured through other sources.
The project is scheduled to open in 2033, but it is one of eight projects that Metro hopes to finish before the 2028 Olympic Games. Next month, the agency will consider strategies to raise money for those projects, including charging drivers more to use freeways or enter certain parts of town.
The Purple Line extension along Wilshire Boulevard will add a station at Westwood Boulevard, about 15 minutes from the center of UCLA's campus. But Metro is also considering an additional station on the Sepulveda line that would stop at the heart of the campus.
The route with the highest overall projected ridership is a subway line that would run on aerial tracks through the Valley, then in a tunnel from Ventura Boulevard to the Expo Line. The line would attract 133,000 daily riders, and run from Van Nuys to West L.A. in 18 minutes, Metro says.
Elevated tracks are cheaper to build and have "comparable benefits" to subways because they separate trains and automobiles, Zelmer said. But, he said, residents in the Valley have made it clear that they would "much prefer something underground."
A monorail system would also run above ground through the Valley, but its biggest cost savings would be in the Santa Monica Mountains, where the track could handle some inclines too steep for rail lines.
That would allow Metro to run elevated tracks between the Getty Center and Ventura Boulevard, avoiding several miles of tunnels and reducing the project's cost.
Metro could realize additional savings by running an automated operating system on the monorail, which would eliminate the need for human drivers, Zelmer said.
The monorail option performed the worst of Metro's four options in early assessments. The line would have the lowest estimated daily ridership — about 105,000 people — and, at 26 minutes, the slowest travel time between Van Nuys and West L.A.
The technology would also introduce a third system for Metro to operate and maintain, with different quirks and needs from light-rail and heavy-rail tracks and vehicles.
Metro will host public meetings on the plans starting Wednesday.
For more transportation news, follow @laura_nelson on Twitter.
Sign up for Essential California for news, features and recommendations from the L.A. Times and beyond in your inbox six days a week.
You may occasionally receive promotional content from the Los Angeles Times.