L.A. County Sheriff's Department violated rights of blacks, Justice Department says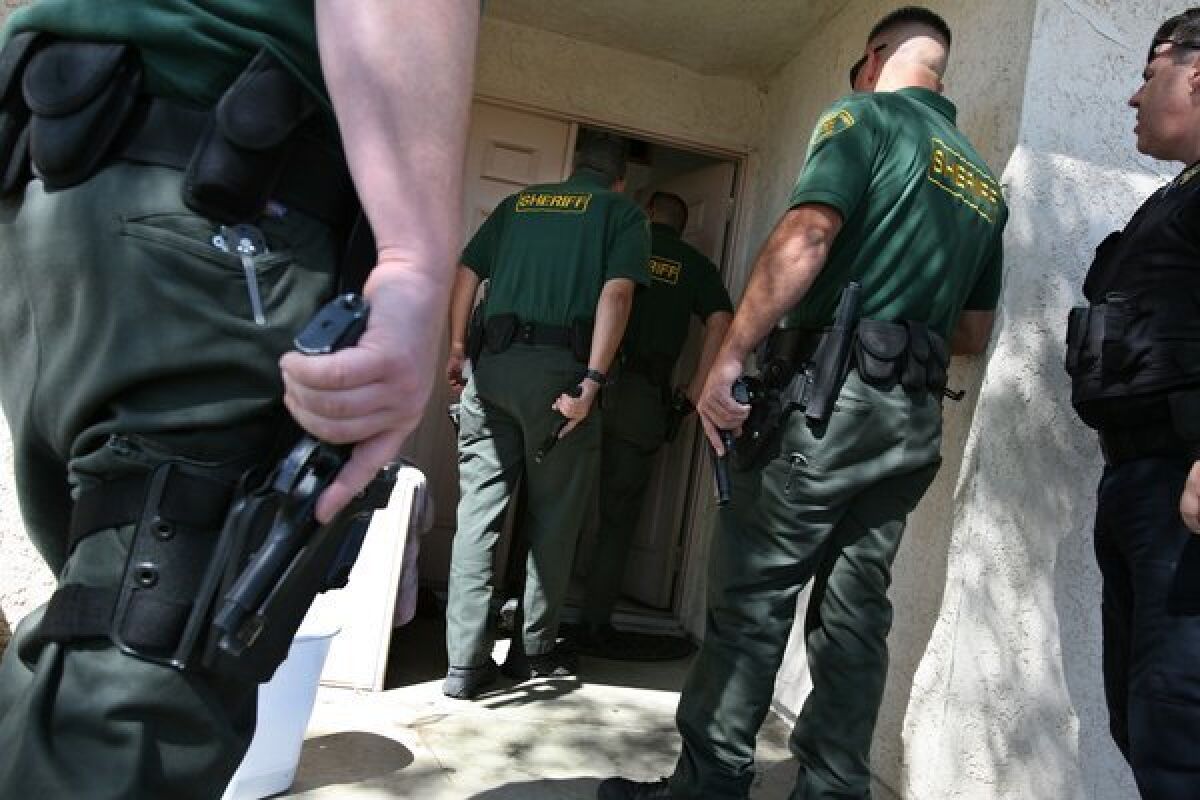 The Los Angeles County Sheriff's Department violated the U.S. Constitution and federal laws in its treatment of blacks and other residents of public housing in the Antelope Valley, the U.S. Justice Department concluded.
Federal officials on Friday announced the conclusion of a two-year civil rights investigation into the sheriff's department.
Residents in the Antelope Valley have complained of surprise inspections of government-subsidized, or Section 8, housing intended to ensure residents are meeting the terms of their assistance.
The checks often involved armed sheriff's deputies, they said, which added a level of intimidation. Activists have also contended that authorities have threatened to return with search warrants if tenants did not consent to checks of their homes.
The Justice Department found many of those allegations to be credible.
Officials found a "pattern or practice of discrimination against African Americans in its enforcement of the Housing Choice Voucher Program in violation of the Fair Housing Act," according to a statement released Friday.
Among the Justice Department's findings, according to the statement:
• African Americans, and to a lesser extent Latinos, are more likely to be stopped and/or searched than whites, even when controlling for factors other than race, such as crime rates;
• The widespread use of unlawful backseat detentions violating the 4th Amendment and L.A. County Sheriff's Department policy;
• A pattern of unreasonable force, including a pattern of the use of force against handcuffed individuals;
• A pattern of intimidation and harassment of African American housing choice voucher holders by sheriff's deputies;
• Inadequate implementation of accountability measures to intervene on unconstitutional conduct has allowed these problems to occur.
Sheriff's spokesman Steve Whitmore downplayed the findings but said the department is already in the process of implementing reforms.
"We disagree with their assessment about us racially profiling," he said. "We've been tracking this since 2000 and our information is completely different."
He said, however, that "the sheriff always believes we can improve," so department brass are working with federal authorities to figure out what led them to their findings.
Whitmore said the department has been in the process of making changes to address these concerns "for some time now" but he did not immediately have information on what those changes were.
The sheriff's department's interactions with minorities in the Antelope Valley have been questioned before.
In 2009, an independent monitor of the sheriff's department issued a report that questioned deputies' behavior in Lancaster. The monitor, Merrick Bobb, pointed out that 64% of obstruction-related arrests made by deputies in Lancaster were against blacks, despite the fact that 42% of all arrests involved blacks. The group makes up 17% of the overall population there, according to the report.
Arrests solely related to obstruction charges are often perceived as potential indicators of racial bias.
"There are places within the county where it is strongly disproportionate, and one has to wonder what's going on there," Bobb said at the time.
In one high-profile case, a jury awarded $575,000 to a Palmdale apartment manager who said he was beaten by deputies. The manager, Noel Bender, was in charge of an apartment complex with mostly black residents.
ALSO:
Where can I buy legal fireworks in Los Angeles County?
Woman who cut off husband's penis gets 7 years to life in prison
Thermometer hits triple digits as heat wave strikes Southern California

---
The stories shaping California
Get up to speed with our Essential California newsletter, sent six days a week.
You may occasionally receive promotional content from the Los Angeles Times.