Dangerous fires, extreme heat across Southern California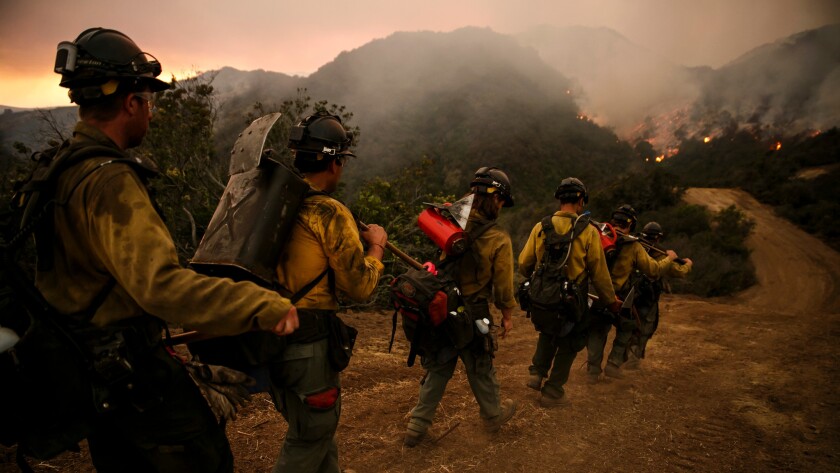 A massive heat wave descended on Southern California on Sunday, bringing record-breaking temperatures and fueling fires throughout the region, including one in Silver Lake that threatened homes and forced the closure of the 2 Freeway for several hours.
Temperatures hit triple-digits in several valley and inland area cities, including 106 degrees in Pasadena and Lancaster, sending residents to air-conditioned shops and movie theaters as fire officials kept a wary eye on the forecast, worried that dry, gusty winds would make already-ripe fire conditions more dangerous.
Forecasters expected the heat to peak Monday, with temperatures ranging from 100 to 110 degrees in most inland areas and potentially breaking records along the coast. Public officials braced for the impact, issuing a flex alert asking residents to conserve electricity and opening cooling centers across the region.
As fire crews continued to battle the so-called Sherpa fire that has burned roughly 7,893 acres in Santa Barbara County, firefighters in Los Angeles got their own scare in Silver Lake, where a fire spread into brush along the 2 Freeway, which was shutdown about 2 p.m. and reopened at 5:30 p.m.. Scores of firefighters – and some residents – quickly descended on the scene Sunday afternoon, trying to save nearby homes.
"I hope it's not telling us what's going to happen this summer," said Leesa Martling, a 56-year-old landscape designer who watched people try to douse the Silver Lake fire with water buckets. "I hope this isn't going to be the hottest summer ever."
Meanwhile, a wildfire fueled by dry brush and sweltering temperatures has scorched 1,500 acres just north of the U.S.-Mexico border and prompted mandatory evacuations for the entire East County community of Potrero.
About 25 homes south of state Route 94 and east of state Route 188, near where the fire initially sparked about 11:30 a.m., were also evacuated.
Tuesday could mark the start of a cool-off, as a high-pressure system moves east and moisture-filled clouds blow in from Baja California, said Stuart Seto, a weather specialist with the National Weather Service. Temperatures should drop by about 10 degrees, he said.
See the most-read stories in Local News this hour >>
The hot, dry weather was a sharp contrast to the cooler, cloudier days Los Angeles has seen in recent weeks – nicknamed "June gloom" by locals.
"It changes so fast," said Terry Choi, a Torrance resident avoiding Sunday's heat at an ice cream parlor in Alhambra. "I was wearing cardigans last week."
Downtown L.A. hit 96 degrees by mid-afternoon Sunday – far cooler than San Bernardino (111 degrees) or Ontario (110). Burbank peaked at 109 degrees, surpassing the previous record of 104 degrees set in 1973. Woodland Hills tied a record of 109 degrees set in 2008.
The National Weather Service also issued a red-flag warning, saying the soaring temperatures, low humidity and gusty "sundowner" winds could present an "extreme fire danger."
That danger was highlighted in Silver Lake, where a fire quickly spread Sunday afternoon, threatening a neighborhood along the 2 Freeway. Smoke spread over the closed roadway as some residents tried to douse hot spots, shoveling dirt or spraying water from garden hoses.
Marnie Klein was sitting on her couch when she heard a rustling noise, like leaves. She looked up to see a telephone pole just beyond her Lake View Avenue backyard completely engulfed in flames. She grabbed a phone to call 911, wielding a garden hose in her other hand.
"Somebody help!" she screamed.
The fire started near the intersection of Lake View Avenue and Allesandro Way – the cause was under investigation – and pushed northwest by winds, Los Angeles fire officials said. Nearly 200 firefighters responded as a helicopter swooped over the freeway, dropping fire retardant.
Crews needed about 45 minutes to get the fire under control. Two homes on Corralitas Drive were damaged along with three sheds on nearby properties, said David Ortiz, a spokesman for the Los Angeles Fire Department.
The dry weather and 100-degree heat set the stage for the fire, Ortiz said.
"The biggest factor was the high temperature," he said. "The grass was 100% receptive to the fire."
The flames stopped alarmingly close to Klein's home. Part of her back fence lay in a charred pile. The cushions on her patio furniture were singed. Her house smelled of smoke, but it wasn't damaged.
"I'm the most lucky person of the day," Klein said. "There were guardian angels watching over me."
Another fire broke out Sunday afternoon in San Diego County, tearing through 100 acres of rocky, steep terrain and prompting dozens of evacuations west of Potrero, located not far from the Mexican border.
See the most-read stories this hour >>
In Santa Barbara County, firefighters worked to better contain the Sherpa fire before the weather conditions worsened. That fire, which sparked Wednesday afternoon near Refugio Road, chewed through a combustive combination of chaparral, tall grass and brush in a wilderness area that hasn't burned since 1955.
The fire also burned a small water treatment building at El Capitan state beach, fire officials said, and damaged avocado, lemon and olive crops. At one point, the fire forced the closure of the 101 Freeway.
As of Sunday afternoon, officials estimated the fire was 51% contained, but warned that the biggest challenge could still be ahead. A red-flag warning has been issued until 10 a.m. Tuesday.
"The greater danger of the fire is always at night here because of the sundowner winds," said Costa Dillon, an information officer stationed at the command post.
Elsewhere in Southern California, families looked for ways to stay cool.
For Bryan Adams and Katia Kaplun, the year's hottest day began with a stop at a splash park in City Terrace, where their young son could run through jets of water. After that came a stop at Fosselman's Ice Cream, where outdoor seats were empty as customers crammed into the air-conditioned parlor.
Adams said his family's house isn't well-shaded and doesn't have air-conditioning. They rely on wall-mounted units, outdoor fans and a kiddie pool to get through the summer, he said.
"We have to be creative about ways to stay cool," Adams said.
Down the street, Valerie and Richard Gonzalez walked out of Target pushing a shopping cart loaded with two large tower fans. There's no air-conditioning at their home in El Sereno, they said, so they planned to set up a pool, blast the fans and ice beers to stay cool.
"We're just going to hang out and wait for the sun to go down," Valerie Gonzalez said.
When they reached their car, she sent her husband back inside the store to buy a towel for their drive home. The steering wheel was too hot to touch.
Times staff writers Alexia Fernandez contributed to this report.
MORE LOCAL NEWS
Police use pepper balls to subdue naked man at San Diego's Qualcomm Stadium
10 horses killed in fire at a Montebello stable
Disgust and dismay over Oakland police sex scandal as department is called 'a cesspool'
---
UPDATES:
8:15 p.m.: This story was updated with more information throughout.
This story was originally published at 11:25 a.m.
---
Life is stressful. Our weekly mental wellness newsletter can help.
You may occasionally receive promotional content from the Los Angeles Times.