Told to vacate, low-income tenants of complex near USC feel betrayed by nonprofits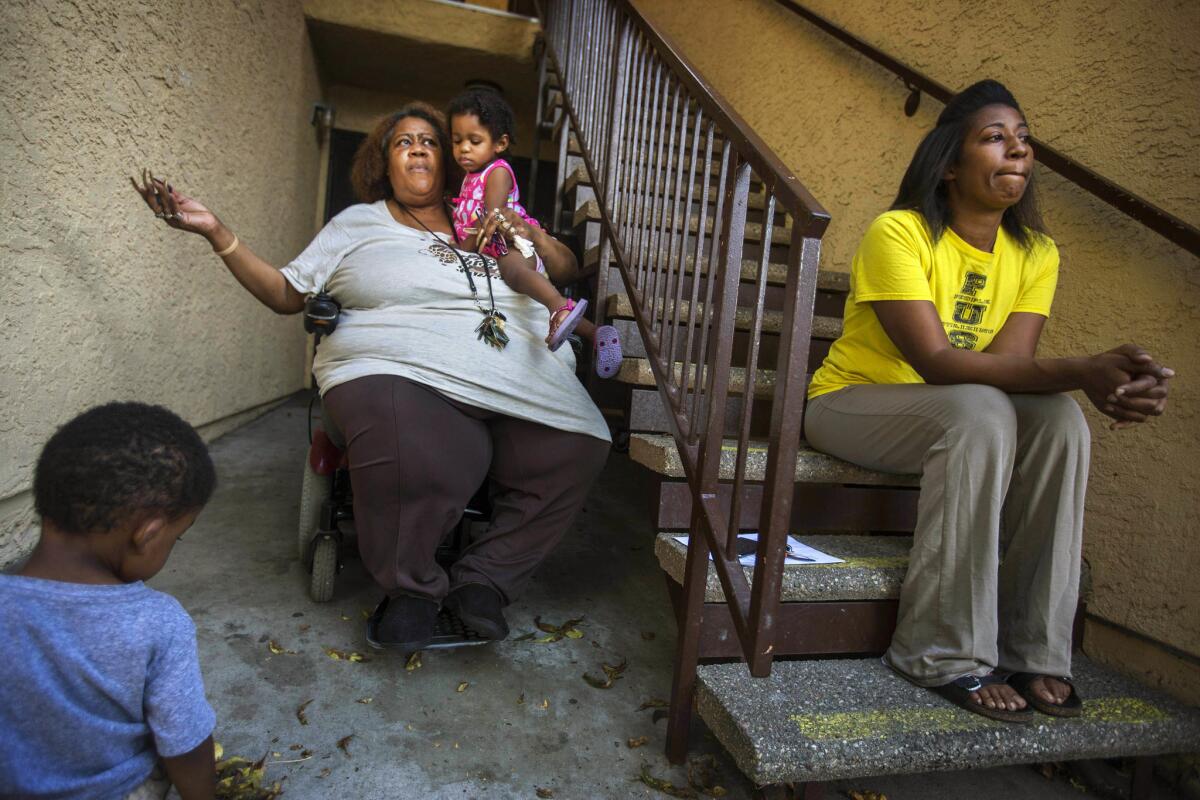 Tenants at Rolland Curtis Gardens fought alongside two affordable housing groups in 2012 to stop a billionaire developer who tried to evict them and convert their South Los Angeles apartments to USC student housing.
Two years later, the residents assisted the groups' campaign to build a new Rolland Curtis — giving testimonials, posing for pictures and writing letters to the L.A. Planning Commission in support of a modern development that would replace their outdated, 48-unit complex in Exposition Park.
But after receiving notices to vacate this summer, more than a dozen of those tenants have found themselves at odds with the same organizations that helped save their homes four years ago.
The owners — T.R.U.S.T. South LA and Abode Communities — aren't investors looking to turn the units into market-rate rentals. Rather, they are nonprofit partners whose mission is to provide affordable housing to vulnerable residents.
The conflict struck a sour note in an ambitious project whose principals see their role as preserving low- and moderate-income housing in a gentrifying neighborhood, and underscores the challenges facing even altruistic developers in today's low-vacancy, high-rent environment.
Facing displacement next month, the remaining tenants have been unable to find housing — specifically apartment owners that will accept Section 8 vouchers in neighborhoods as desirable as their USC-adjacent area.
Most say they were misled about the relocation process and have doubts about whether they will be able to return to the new Rolland Curtis Gardens when it is completed in 2018.
Patrice Richardson, who has lived there for 27 years, was one of more than 20 residents who wrote letters to the Planning Commission in support of the new complex. She now says she regrets it.
"They used a bunch of low-income families to get this property, they got it and then they are like 'shoo, you are a pest to us,'" Richardson said. "But we're here and we're human and we have the right to be placed into a comfortable living situation."
Leaders of the two groups said they remain committed to bringing back tenants who want to return. They attributed their complaints to the underlying challenges of the rental market, exacerbated by miscalculations they made in trying to follow arcane affordable housing regulations.
"In no way do I think that this is easy for anybody. I wish that there was another way," said Sandra McNeill, executive director of T.R.U.S.T. South LA. But building the new complex, she added, "is the only solution to keep poor and working-class people at that location."
The owners have wavered on how much relocation money they would give the tenants.
The relocation company hired by the owners told tenants this summer they would offer the legal minimum in move-out expenses, starting at $1,375 per apartment — thousands of dollars less than owners of rent-controlled buildings must pay to evict tenants.
McNeill said an official at the L.A. Housing Authority had told the organizations that anything exceeding that amount would count as income and could cause them to lose their Section 8 housing vouchers.
We're here and we're human and we have the right to be placed into a comfortable living situation.
— Patrice Richardson, Rolland Curtis Gardens tenant
But the relocation company, Overland, Pacific and Cutler Inc., told Abode in 2013 that moving expenses do not have tax consequences for tenants, according to a relocation plan document provided to The Times.
After questions from The Times, the owners contacted the housing agency and changed course. They are now offering an additional $7,000 to tenants once they sign leases at new apartments.
"I think it was a raw deal from the get-go. They didn't want a bad name attached to their company and so they are doing the right thing now," Richardson said.
The nonprofits have budgeted $1 million to pay tenants' moving expenses, security deposits and to hire a relocation firm, said Robin Hughes, president and CEO of Abode Communities. She declined to offer a breakdown of how that $1 million was being spent.
Hughes said there was no effort to mislead tenants and that the partnership is doing everything it can to help tenants find new housing.
While the residents have been told they could move back to the new Rolland Curtis Gardens, those interviewed are unsure about that based on application requirements that they say are stricter than when they moved in.
Hughes said the return stipulations are no more rigorous than rules put in place after the organizations bought the complex.
Most residents said they have been unable to find apartments that accept Section 8 vouchers in areas where they want to live.
Abode has offered them spots at some of its other 37 affordable housing complexes in the county, including those in "challenging" areas of South L.A., Hughes said. Tenants haven't been able to move in to some of those properties because they have waiting lists, she said.
Martha Harris, who has lived at Rolland Curtis for almost two decades, hasn't found a new apartment and thinks some of the suggested areas such as Baldwin Village are unsafe for her family.
"These are the kind of places I don't want to live. It's really kind of bad over there," Harris said.
Rolland Curtis Gardens, a shady, gated complex built in 1981, is just a short walk from USC. Five years ago, developer Jeff Greene served eviction notices to dozens of tenants there when the covenant for the affordable housing complex expired.
The Legal Aid Foundation of Los Angeles intervened and was able to get the landlord to rescind the eviction notices. Later, the city Housing Department ordered more than 300 repairs to the property.
T.R.U.S.T. and Abode got involved, vowing to save the 48-unit housing complex. After more than a year of organizing a tenant-led campaign, the nonprofits purchased the property for $9 million in 2012.
Shortly after, the nonprofits announced they would tear down the buildings to construct a modern, 140-unit complex. To promote it, they enlisted the help of the tenants.
The support from Rolland Curtis tenants was crucial as nearly 200 nearby homeowners opposed the project due to concerns about crime, traffic and a belief that it would "promote segregation and increase the concentration of poverty" in the area.
During that campaign, Rolland Curtis resident David Mosley became the face of the tenants, even appearing in a promotional video.
The video features Mosley walking around the complex, reminiscing about how the nonprofits saved residents from eviction. Mosley, 75, said he now feels disappointed by how the owners have handled the situation.
"It makes it seem like something was hidden," he said. "It develops sort of a mistrust in the people you've been dealing with, the ones you opened up your heart to and put all your energy into helping out."
Twitter: @bposton
Twitter: @LATDoug
ALSO
Campaign retracts Leonardo DiCaprio's endorsement of anti-development measure
LAUSD teachers earn too much to live in the affordable housing apartments built for them
A mother was fatally shot 13 times in Inglewood. But the police watchdog group has barely even met
Sign up for Essential California for news, features and recommendations from the L.A. Times and beyond in your inbox six days a week.
You may occasionally receive promotional content from the Los Angeles Times.