Sriracha creator adds heat to clash with Irwindale over factory smell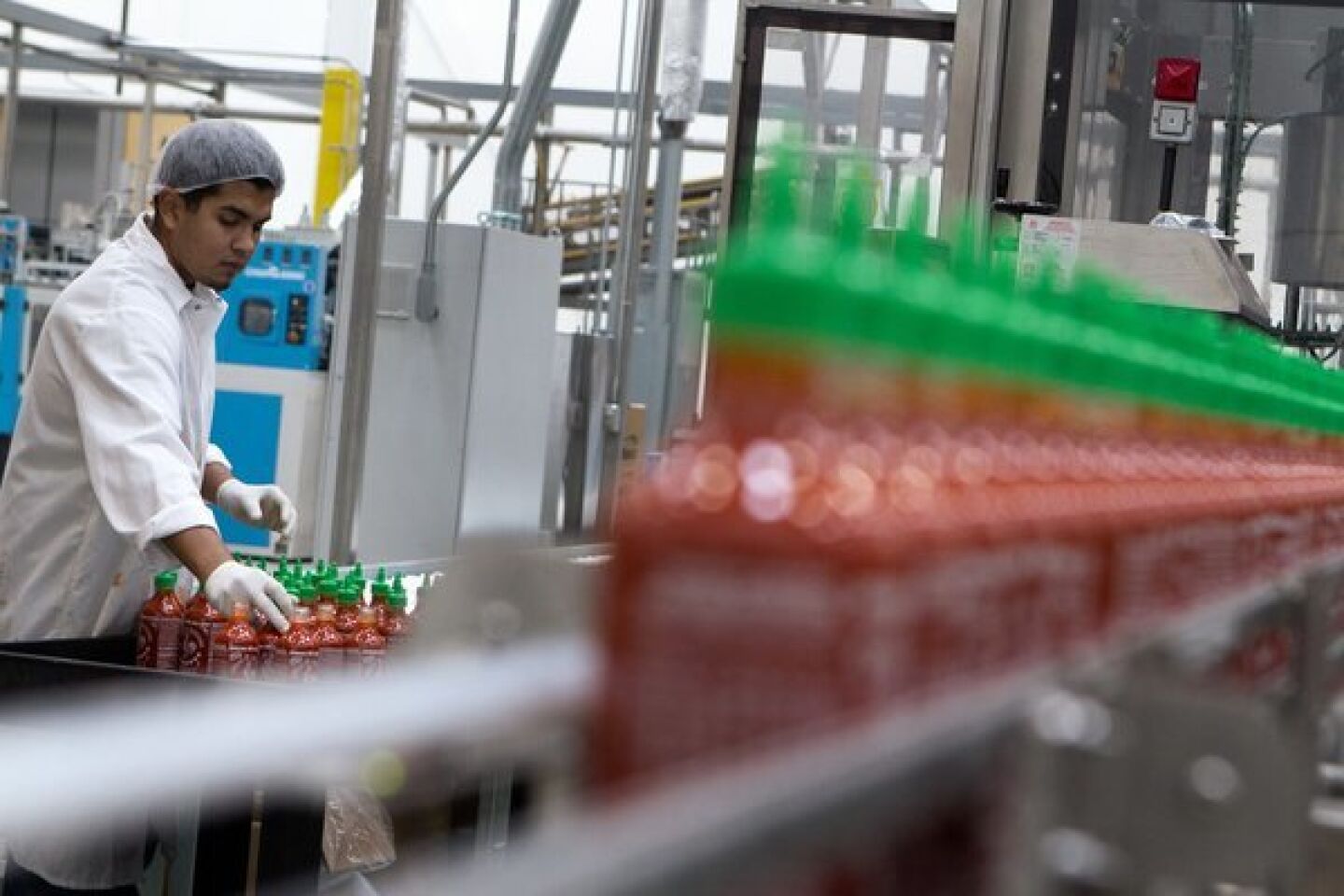 Jostein Reyes works in the packaging area at Huy Fong Foods Inc. in Irwindale. Huy Fong Foods Inc. is known for its Sriracha hot sauce.
(Cheryl A. Guerrero / Los Angeles Times)
Texas state Rep. Jason Villalba, right, tours the Huy Fong Foods plant, maker of Sriracha hot sauce, with founder and Chief Executive David Tran in Irwindale.
(Leo Jarzomb / Associated Press)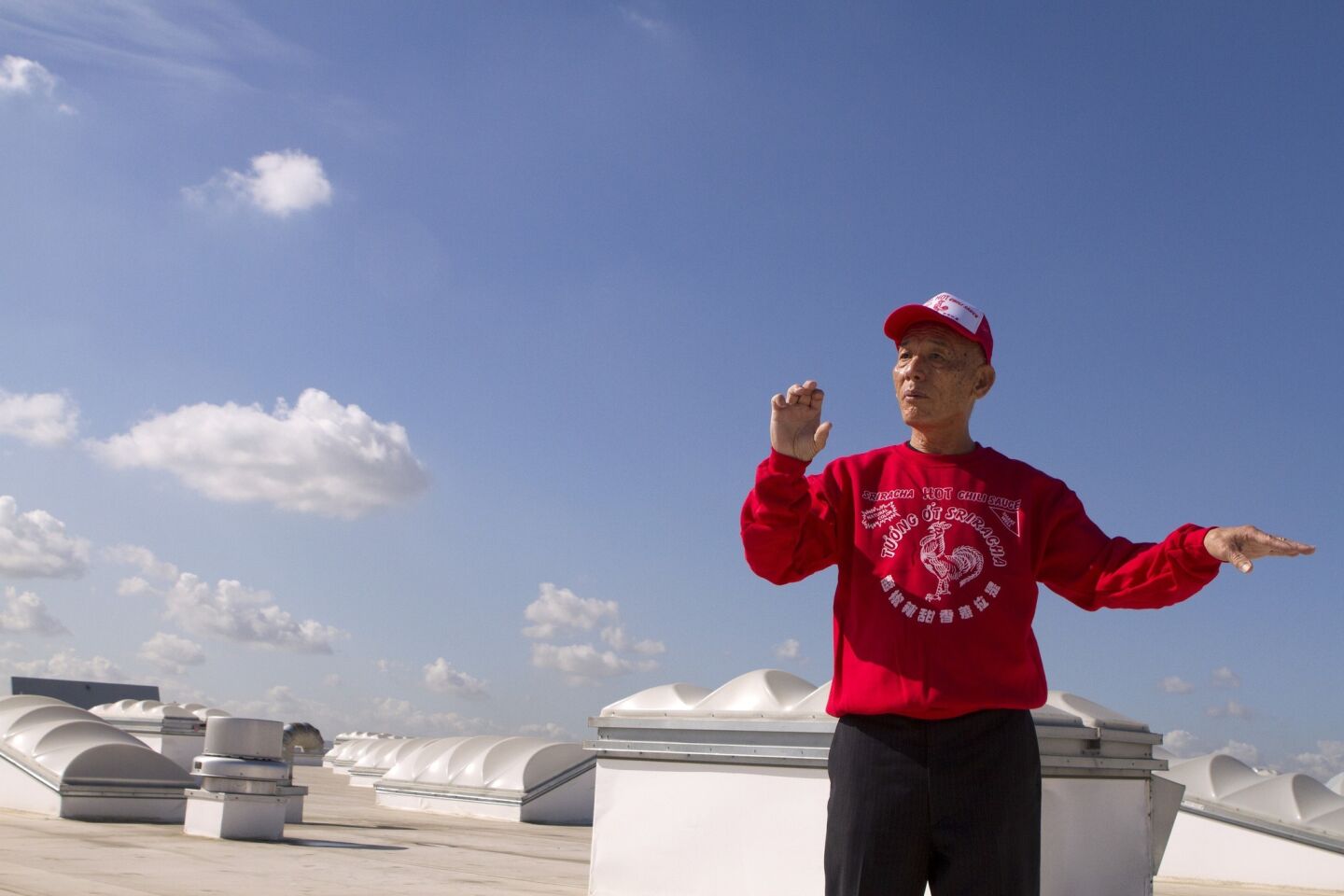 David Tran, chief executive and founder of Huy Fong Foods Inc., gives a tour of his facility in Irwindale. Nearby residents have complained about burning eyes, irritated throats and headaches.
(Cheryl A. Guerrero / Los Angeles Times)
Salvador Segura oversees hybrid jalapenos unloaded from a truck at Huy Fong Foods Inc. in Irwindale.
(Cheryl A. Guerrero / Los Angeles Times)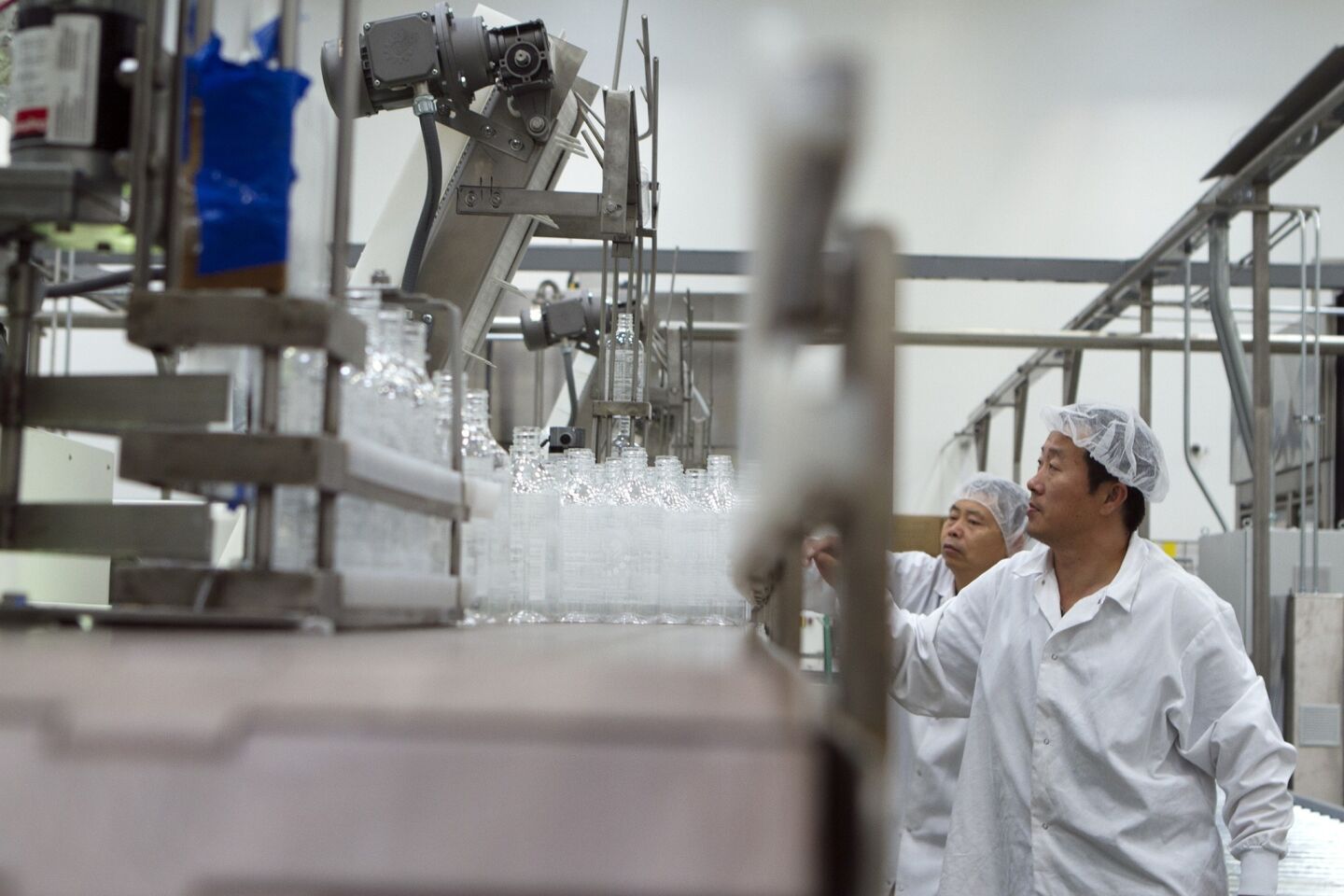 Wei Wang and Wei Zhang work in the packaging area at Huy Fong Foods Inc. in Irwindale.
(Cheryl A. Guerrero / Los Angeles Times)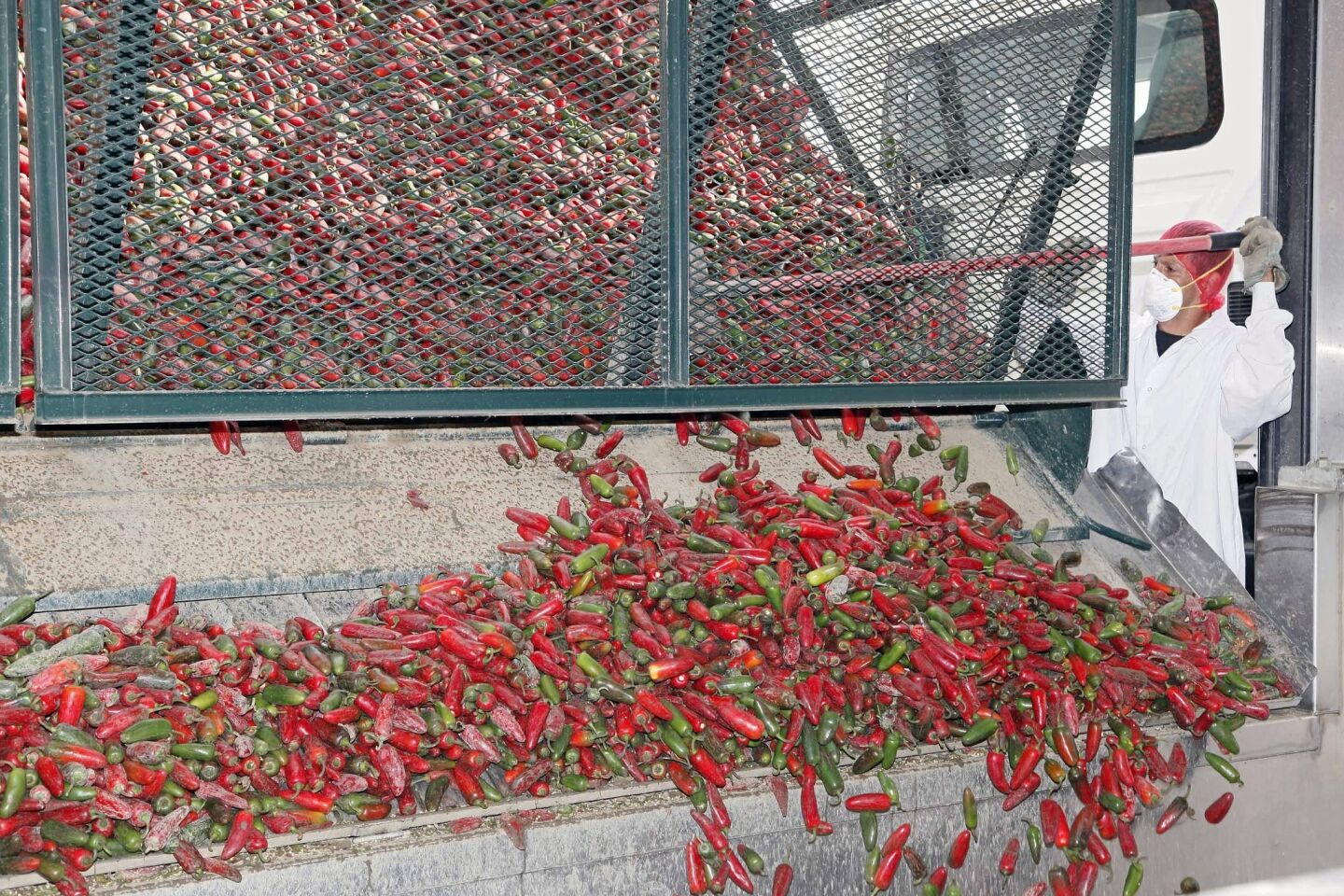 Sriracha chili sauce is produced at the Huy Fong Foods factory in Irwindale.
(Nick Ut / Associated Press)
William Barrios sweeps the floor while hybrid jalapenos are washed at Huy Fong Foods Inc. in Irwindale.
(Cheryl A. Guerrero / Los Angeles Times)
The creator of Sriracha hot sauce said Friday that his company might have gone bankrupt if the city of Irwindale had successfully stopped production at the facility in response to smell complaints from nearby residents.
According to a statement issued to The Times, Huy Fong Foods would have suffered a $10-million loss if a judge had granted the city's request for a temporary restraining order. The judge denied the city's request for the order at a hearing on Oct. 31. A Nov. 22 hearing will decide whether the city's request for a preliminary injunction to stop operations at the factory is granted.
David Tran's comments were the most combative so far in a highly publicized conflict during which the company has largely kept the tone of its public statements conciliatory.
"Suppose if the city chose never to issue another business license to the company? Who would be left to run this company's operations? The city of Irwindale?" the CEO asked in a statement to The Times.
Irwindale city officials said that they have to take all necessary actions to combat what some residents say is a serious public health issue. They received reports of burned eyes, inflamed asthma and one family said an entire birthday party fled indoors after the spicy smell descended on the festivities.
"Given how long it's going on, we had no choice but to institute this action," said Irwindale City Atty. Fred Galante to The Times.
But Tran accused the city of acting "severely toward us without conducting a real investigation" when it requested that the entire facility be shut down. Inspectors from the South Coast Air Quality Management District have visited the plant several times without issuing a citation. Tran said in court documents that the complaints about the smell first originated with an Irwindale city councilman's son.
Huy Fong Foods decided to locate its factory in Irwindale three years ago when the city offered a loan with "irresistable" terms: pay only interest for 10 years, with a balloon payment at the end.
Huy Fong took the loan and contributed $250,000 a year to the city of Irwindale each year as part of the deal, Tran said. The company then built a $40-million factory that at full capacity could generate about $300 million a year in sales, according to Tran's statements.
But after complaints about the smell began last year, Tran said he began to get an "odd feeling" about the city's behavior. In response, the company has taken out a loan with less favorable terms from East West Bank to pay off the city's loan.
Because his hot sauce is made with fresh chiles that are harvested, ground and processed within the same day, Huy Fong Foods has a delicate, three-month-long production cycle that typically begins in September. Interrupting the process could force the company to leave the chiles to rot in the fields, and jeopardize next year's supply of hot sauce.
Over the last decade, Sriracha hot sauce has achieved what might be called rock-star status among condiments, spawning a documentary, a food festival, a cookbook and even a special flavor of Lay's potato chips. Reports of a potential shortage sent shock waves through the sauce's legions of fans, prompting many to pass around Sriracha recipes and rush to supermarkets to buy up the remaining stock.
The company moved to the $40-million plant so it could triple its capacity in response to soaring demand, Tran said. In 2012, sales of Huy Fong hot sauce generated $60 million in revenue.
ALSO:
Two arrested in Hollywood party bus shooting
3 held in plot to kidnap, sexually mutilate pot dispensary owner
Pinkberry co-founder faces up to 7 years for beating homeless man
Twitter: @frankshyong
The stories shaping California
Get up to speed with our Essential California newsletter, sent six days a week.
You may occasionally receive promotional content from the Los Angeles Times.