Marion 'Suge' Knight claims Dr. Dre paid $20,000 to have him killed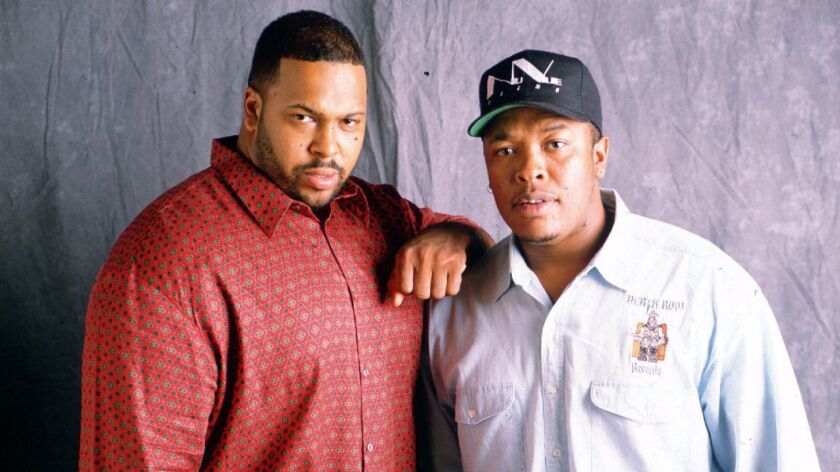 Former rap impresario Marion "Suge" Knight claims Dr. Dre, his onetime business partner, paid $20,000 to have him killed in 2015, recently filed court documents show.
In a signed declaration, Knight said a hit man's presence at a Compton burger stand that Jan. 29 — the day Knight is accused of intentionally ramming his red truck into two men, killing one of them — backs up his claims that he acted in self-defense. An attorney representing Dr. Dre, whose real name is Andre Young, has called the allegations "absurd" and "defamatory."

For the record:
11:25 AM, Oct. 09, 2017In the Oct. 7 California section, an article about record producer Marion "Suge" Knight accusing his former business partner Dr. Dre of paying to have him killed referred to a judge granting an order to quash a subpoena. The judge granted a motion to quash.
Knight, who appeared in court Friday wearing orange jail scrubs and a chain around his waist, is accused of killing Terry Carter, 55, outside Tam's Burgers at Central and East Rosecrans avenues following an argument on the set of the movie "Straight Outta Compton." Footage from a security camera at the burger joint shows Knight — who has pleaded not guilty — barreling his Ford F-150 Raptor pickup into Carter and Cle "Bone" Sloan, who survived. Knight, who fled the scene but later turned himself in, also is accused in separate cases of robbery and threatening "Straight Outta Compton" director F. Gary Gray.
In Knight's declaration, which was attached to a document made public this week, the defendant said that during a jailhouse visit in 2016, a private investigator who no longer is working on his case showed him a check for $20,000. It was dated Nov. 16, 2014, and was from Young's personal account, Knight wrote.
"This check is critical in the defense of my case," Knight wrote. "This check tends to show that at least one of the individuals present at the scene ... had been paid a substantial amount of money to participate in my murder." And that, Knight wrote, justified "my actions in attempting to flee the scene."
According to the filing, Knight said he never got a copy of the check and the investigator now claims it does not exist.
Young's attorney, Amos A. Lowder, argued Friday that his client's banking documents were private and in no way relevant to Knight's claims of self-defense.
L.A. County Superior Court Judge Ronald S. Coen agreed, granting Young's order to quash a subpoena for the records.
At the hearing, Coen also postponed Knight's murder trial, which was to begin in January. The district attorney's office opposed the delay, but Knight's attorneys said they needed more time to prepare.
When Coen asked Knight whether he approved of starting his trial on April 9, the defendant smiled and offered another option: Let's start on April 19 — "my birthday," he said.
"Just kidding," Knight added. The judge let out a laugh.
Knight also requested Friday that criminal defense attorney Dominique Baños, whom he recently hired to defend him in the criminal threats case, also be added to his defense trial team in the murder case. Knight will return to court for a pretrial hearing in his murder case on Nov. 14.
For more news from the Los Angeles County courts, follow me on Twitter: @marisagerber
ALSO
Judge lowers $2-million bail for Suge Knight's fiancee on charges she sold murder trial evidence to TMZ
Recordings suggest 'Suge' Knight discussed trying to bribe witnesses in his murder case, D.A. says
Marion 'Suge' Knight hospitalized again as he awaits trial in murder and robbery cases
---
The stories shaping California
Get up to speed with our Essential California newsletter, sent six days a week.
You may occasionally receive promotional content from the Los Angeles Times.