Seattle man charged in possible hate crime outside L.A. synagogue suffered from schizophrenia, family says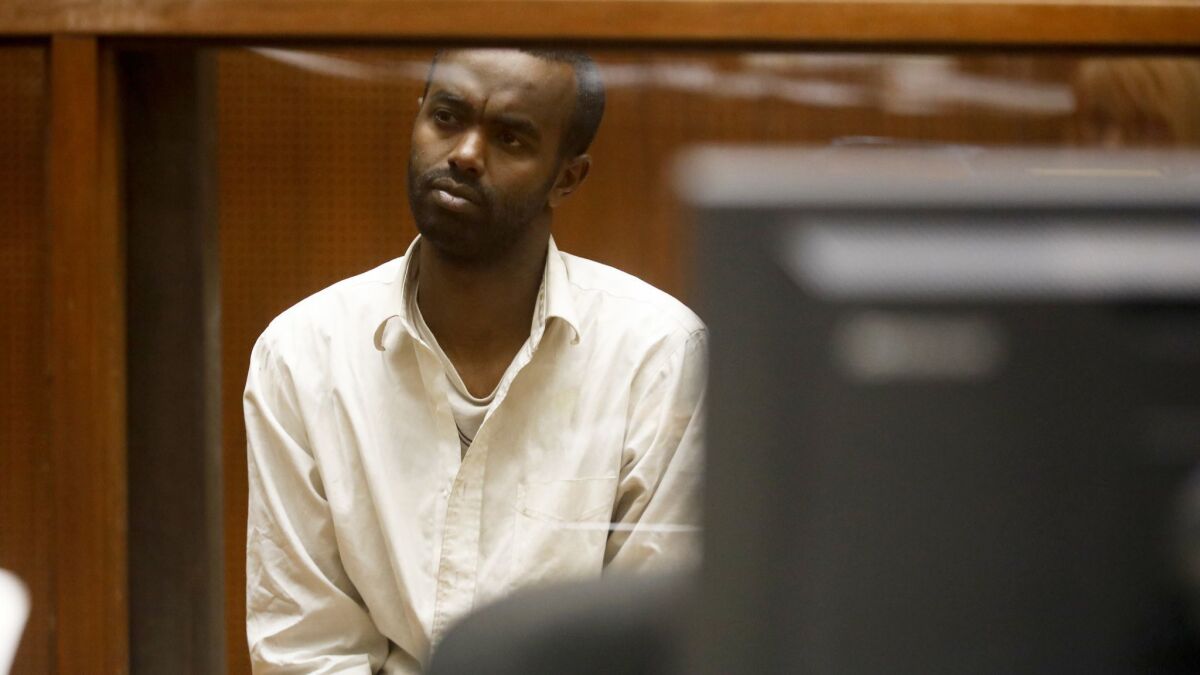 A Seattle man has been charged with two counts of assault in connection with a possible hate crime that took place near a Los Angeles synagogue last week, but his family said Tuesday he had been battling schizophrenia for years and bore no hatred toward the Jewish community.
Mohamed Abdi Mohamed, 32, pleaded not guilty to two counts of assault with a deadly weapon with a hate crime enhancement on Tuesday, and will remain in custody in lieu of $500,000 bail. Wearing a wrinkled dress shirt, Mohamed bit his lip and appeared slightly nervous during the brief hearing in a downtown courtroom.
Mohamed rented a car in Seattle on Friday and drove to Los Angeles, according to Deputy Dist. Atty. Richard Ceballos, who also said Mohamed had worked as a Lyft driver in recent years. Investigators did not say whether Mohamed specifically targeted Congregation Bais Yehuda, but Ceballos said Mohamed did not have ties to the Los Angeles area.
Kaelan Richards, Lyft's senior manager of policy and safety, said Mohamed was not driving for the ride-hailing company at the time of the attack, but he has since been permanently banned. The company did not respond to questions about how long Mohamed had been a driver or when he last drove for Lyft.
Mohamed was taken into custody Friday after Los Angeles police officers said he drove past the Hancock Park synagogue and shouted anti-Semitic slurs and other profanity in the direction of several Jewish people who were exiting a service, LAPD Deputy Chief Horace Frank said Monday.
Two men — identified only by their ages, 37 and 57 — believed Mohamed was acting suspiciously and kept an eye on him. Frank said Mohamed made a U-turn and barreled toward both men as if to run them down near La Brea and Oakwood avenues. Both men escaped unharmed.
Mohamed tried to flee but got into a car crash and was arrested a short time later.
A knife was found in Mohamed's car, but police do not think he owns any firearms, according to Frank, who said the LAPD is working in conjunction with the FBI's Los Angeles field office to investigate the attack. A copy of the Koran was also found in the vehicle, according to a law enforcement official who requested anonymity in order to discuss the case candidly.
Federal prosecutors may consider possible hate crime or domestic terror charges against Mohamed, police said, though a spokesman for the U.S. attorney's office did not immediately respond to a request for comment Tuesday.
In a statement released Tuesday, Mohamed's relatives said he held no hatred toward the Jewish community. He had been suffering from schizophrenia since at least 2015, according to medical records reviewed by The Times.
"He was recently seeking treatment in King County [in Washington] through a program designed to provide behavioral health services to individuals with the most severe level of mental health conditions," the statement read. "However, he did not receive the intensive medical care he needed."
Mohamed is a U.S. citizen who entered the country as a refugee in the early 1990s with his family as they fled from a civil war in Somalia, according to a relative who requested anonymity to protect the person's privacy. He had been held at mental health facilities in the Seattle area at least twice since 2016, according to records provided to The Times.
"Mohamed's mental illness renders him unpredictable and unstable, however, he has never expressed particular hatred toward Jews, or any other group of people or minority," the family said in its statement.
Ceballos did not have any information about Mohamed's mental health history. A law enforcement official said the suspect's mental health background is part of the LAPD's investigation into the attack.
In asking for a higher bail, Ceballos said he was concerned by "some statements the defendant made to the police" concerning "other groups" that might be willing to post bail for him. Ceballos declined to elaborate when asked about the comment outside the courtroom Tuesday, though the LAPD has said it has no evidence yet that Mohamed is linked to any known terror or hate groups.
Police have, however, expressed concern about the similarities between Mohamed 's alleged attack and other lone wolf terror strikes in the U.S. and London that saw a suspect use a car to mow down pedestrians, before attacking at close range with a knife.
The alleged attack came in the wake of increasing concerns about anti-Semitic vitriol and violence across the U.S. The number of hate crimes targeting Jewish victims across the nation rose by 37% in 2017, according to an FBI report published earlier this month. In October, a gunman shot and killed 11 people inside a Pittsburgh synagogue. Hate crimes in Los Angeles remain relatively unchanged compared to last year, Frank said.
A preliminary hearing in Mohamed's case is scheduled for Dec. 10.
Times staff photographer Francine Orr contributed to this report.
Follow @JamesQueallyLAT for crime and police news in California.
---
UPDATES:
8:30 p.m.: This article was updated with comments from Mohamed's family and details from his court appearance Tuesday.
This article first published at 12:45 p.m.
---
The stories shaping California
Get up to speed with our Essential California newsletter, sent six days a week.
You may occasionally receive promotional content from the Los Angeles Times.