4 teens charged with capital murder in beating death of USC student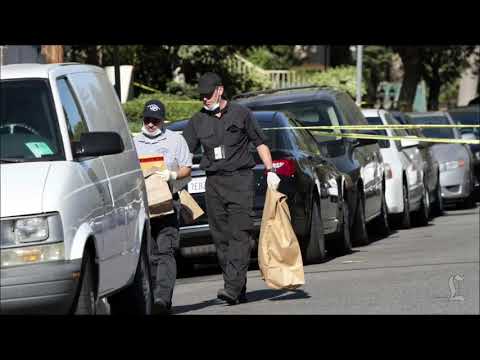 Four teens - including two juveniles - are charged with murder in the beating death of USC graduate student Xinran Ji.
Four teenagers, including two juveniles, were charged Tuesday with capital murder in connection with beating a USC graduate student to death with a bat as he walked near campus.
Jonathan DelCarmen, 19; Andrew Garcia, 18; Alberto Ochoa, 17; and Alejandra Guerrero, 16; each face one count of murder in connection with the death of Xinran Ji, the Los Angeles County district attorney's office said. The four also face a special allegation that the death occurred during an attempted robbery.
Ochoa, Garcia and Guerrero face an additional special circumstance allegation that they personally used a bat during the crime, prosecutors said.
The four are scheduled to be arraigned Tuesday afternoon.
Prosecutors have yet to decide whether they will seek the death penalty against Garcia and DelCarmen. Ochoa and Guerrero are not eligible for the death penalty because of their age, prosecutors said, and instead face life in prison without the possibility of parole if they are convicted.
Ji, a 24-year-old engineering student from China, was attacked as he walked home from a study group about 12:45 a.m. Thursday. Despite a head injury, Ji managed to stagger back to his apartment a few blocks away, where a roommate later discovered his body.
After attacking Ji, prosecutors allege the suspects then drove to Dockweiler Beach, where Ochoa, Garcia and Guerrero approached a man and woman. The three allegedly robbed the woman, but the man managed to escape and flag down police officers who were patrolling the area.
Ochoa, Garcia and Guerrero were charged with second-degree robbery, attempted second-degree robbery and assault with a deadly weapon – again, the bat – in connection with that incident, prosecutors said.
Prosecutors under California law have discretion in certain crimes, including murder, to charge a minor as an adult. The courts, however, have ruled minors are not eligible for the death penalty.
Detectives believe a 14-year-old girl who was detained in connection with the Dockweiler Beach robbery also was involved in Ji's assault "in some manner," LAPD Cmdr. Andrew Smith said Monday, though the "detail and depth" of her alleged involvement was not clear.
The two girls were detained by the officers who were flagged down by the victims at Dockweiler Beach, and detectives from the department's Pacific Division began investigating, according to an LAPD source familiar with the investigation. The three other suspects were taken into custody later that day and a vehicle believed to be connected to the alleged crime was impounded.
Meanwhile, detectives with the Criminal Gang Homicide division who were investigating Ji's assault issued a department-wide bulletin for a vehicle sought in their case, the source said. The officers who impounded the vehicle in connection with the Dockweiler Beach robbery realized it matched that description, helping investigators link the two incidents.
Police said that there were no indications the suspects were gang members or that the attack on Ji was racially motivated.
Detectives also said they believe the suspects may have committed other crimes Wednesday night or early Thursday, Smith said.
Law enforcement sources said security cameras and a license plate reader helped identify the suspects in Ji's death. USC Public Safety Chief John Thomas said the suspects were apparently not aware of the network of technology — including 150 cameras — scattered on and around campus.
The university and Los Angeles police amplified their security resources at the South L.A. campus and surrounding neighborhood after two Chinese graduate students were shot and killed in a botched robbery in 2012. Six months later, a man opened fire outside an on-campus Halloween party, injuring four people, though none of those victims were students.
To follow Southern California crime: @lacrimes
Sign up for Essential California for news, features and recommendations from the L.A. Times and beyond in your inbox six days a week.
You may occasionally receive promotional content from the Los Angeles Times.