Alleged Miss Teen USA 'sextorter' forced victims to strip, complaint says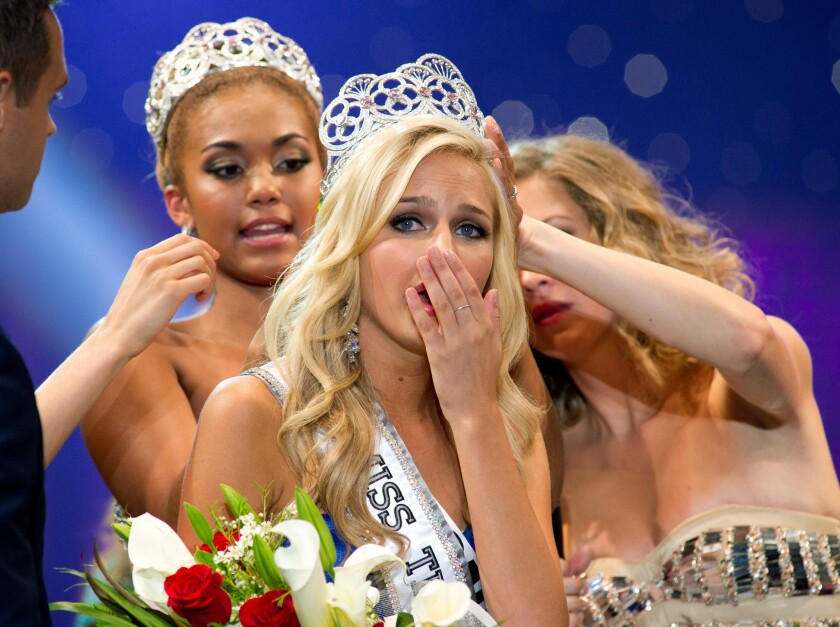 The 19-year-old Temecula man charged with "sextorting" newly crowned Miss Teen USA and several other young women allegedly told FBI agents that he used 30 to 40 computers to carry out his crimes.
According to a criminal complaint and court affidavit, Jared James Abrahams hijacked webcams to capture naked images of the women and then blackmailed them for more. He allegedly forced an Irish girl and a Canadian woman to disrobe for him, a criminal complaint unsealed Thursday said.
Abrahams, who has been charged with cybercrimes for allegedly hacking into the victims' accounts and extorting them, was taken into custody Thursday morning. Among his victims was Miss Teen USA Cassidy Wolf, who went public with the effort to extort her.
The criminal complaint identifies at least seven victims by initials only -- some of whom, including Wolf, he knew personally -- and revealed that, once confronted, Abrahams admitted to his crimes in an interview with an FBI special agent.
The college freshman computer scientist acknowledged infecting the computers with malware, watching his victims change their clothes, and using photographs against his victims, according to the affidavit.
Abrahams, according to an affidavit, said that an 18-year-old only identified in the record as "CW" was the first person whose computer he hacked that he "knew personally." He also admitted "to getting another victim identified as M.M. #1, to go on Skype and take her clothes off at his direction," according to a Sept 19 affidavit by FBI Special Agent Julie Patton.
The FBI has been investigating Abrahams since March, when authorities learned he allegedly compromised victims' computers to obtain nude photographs, and in some cases videos, of the victims by remotely operating their Web-enabled cameras.
According to law enforcement sources, the investigation was sparked after Wolf alerted authorities to a change in her Facebook password and an alleged sextortion demand from Abrahams.
Abrahams allegedly changed her Twitter account photo to a half-naked image of her and then sent her two images of her naked that were taken inside her home by her webcams months before, according to the criminal complaint.
In each case, Abrahams would contact the victims using two AOL accounts he had taken over and send the victims nude photos to show what he had obtained. Abrahams, investigators allege, threatened to disclose the images and videos unless they did one of three things: send nude photos, send a nude video, or log onto Skype and did what he said for five minutes.
Abrahams allegedly threatened to transform "CW"'s "dream of being a model ... into a porn star" if the victim did not comply with his demands.
When FBI agents raided his Temecula home in June and seized computers and hardware, cellphones and hacking software, they found evidence to show he gained unauthorized access to several computers of victims in Southern California, Maryland, Ireland, Canada, Russia and Moldova, according to the criminal complaint.
According to court records, at least one of the victims is a minor. The victim identified as "MM#1" -- a girl from Ireland who reluctantly complied with his orders for a Skype session in which she submitted to his demands -- wrote, "Please remember I'm 17. Have a heart."
Abrahams allegedly responded: "I'll tell you this right now! I do NOT have a heart. However, I do stick to my deals. Also age doesn't mean a thing to me!!!" according to the criminal complaint.
The 17-year-old girl then stripped during the Skype session. She was not alone. A Canadian woman also disrobed, according to the criminal complaint.
In an interview with the FBI, Abrahams acknowledged taking over 30 to 40 computers by using malware.
Wolf, who was Miss California Teen USA before winning the Miss Teen USA pageant in August at the Atlantis Hotel in the Bahamas, revealed that she received an anonymous email from someone claiming to have nude photos of her taken via the webcam on her computer.
Wolf also said the author tried to extort her to ensure that the photos were not made public.
It is the latest in a string of "sextortion" cases involving individuals who have used email accounts, social media or a computer's own hardware to glean compromising information or images of its user.
In December, 35-year-old Christopher Chaney of Florida was sentenced to 10 years in federal prison for procuring naked images of celebrities and other members of the entertainment industry -- including Mila Kunis, Christina Aguilera and Scarlett Johansson -- by hacking into their email accounts.
And a Glendale man, Karen "Gary" Kazaryan, pleaded guilty in July to a "sextortion" case in which he targeted 350 women and coerced them into showing him pictures of them naked. In that case, prosecutors said Kazaryan hacked into the Facebook, Skype and email accounts of his victims to coerce them into removing their clothing on camera.
ALSO:
O.C. man first arrested in crash that killed 5 may get probation
Consequences for lost, stolen LAUSD iPads not yet 'hammered out'
Two men arrested in stabbing death of Dodgers fan after Giants game
Twitter: @lacrimes| Google+
---
For reporting and exclusive analysis from bureau chief John Myers, get our California Politics newsletter.
You may occasionally receive promotional content from the Los Angeles Times.