Deputy hospitalized, suspect arrested after fight sends both tumbling down stairs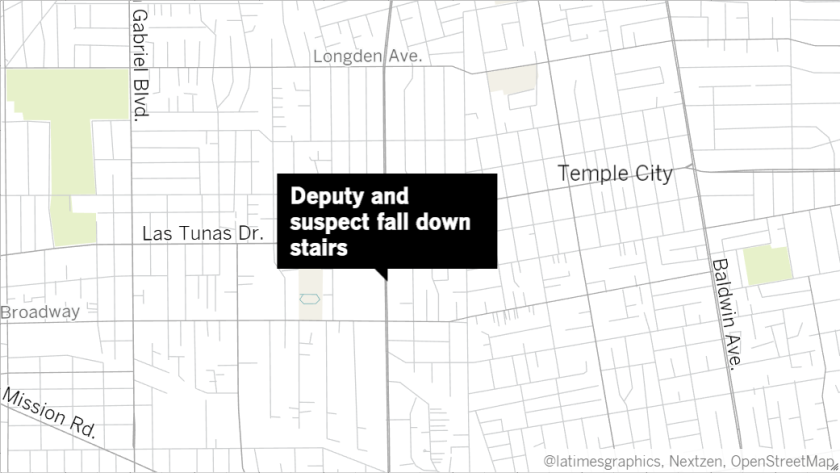 Authorities have arrested an Arcadia man who got into a fight with a sheriff's deputy, causing both to fall down a flight of stairs and suffer injuries.
William Gerald Pell, 58, was arrested on suspicion of assaulting a law enforcement official with a deadly weapon, the Los Angeles County Sheriff's Department said Wednesday. He is being held in lieu of $75,000 bail.
On Tuesday evening, a deputy was responding to a call of a possible drunk man being disruptive on the second floor of a music school in the 5600 block of Rosemead Boulevard in Temple City. When the deputy tried to detain Pell, they got into an altercation and both fell down the stairs, the Sheriff's Department said.
The deputy, who has not identified, suffered a head injury and was taken to a hospital for treatment. He remained in stable condition Wednesday, authorities said.
"With a head injury, which is partially what he had because of the fall, it's one of those thing you just don't know from day to day," said Trina Schrader, a spokeswoman with the Sheriff's Department. "They're evaluating him. It depends on how tough his noggin is."
Pell also received medical treatment for minor injuries before being booked.
alejandra.reyesvelarde@latimes.com
Twitter: @r_valejandra
---
The perils of parenting through a pandemic
What's going on with school? What do kids need? Get 8 to 3, a newsletter dedicated to the questions that keep California families up at night.
You may occasionally receive promotional content from the Los Angeles Times.