2 bodies, believed to be missing Thai students, recovered from Kings River rapids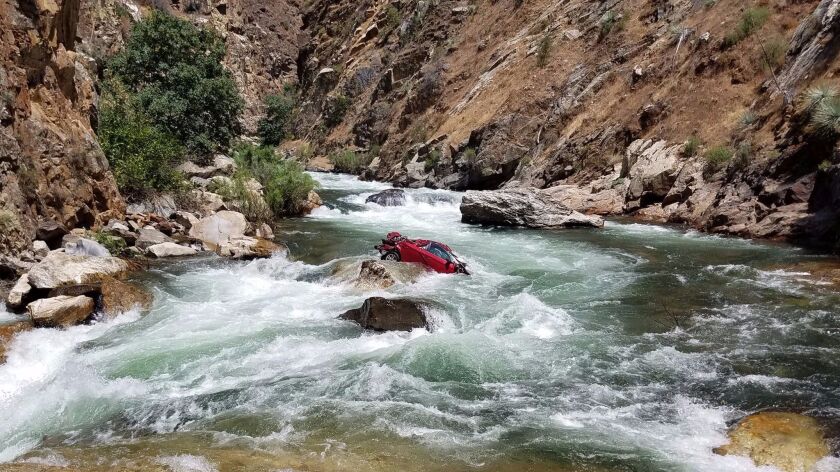 Two bodies — believed to be those of students from Thailand who went missing — were pulled Friday from a mangled car that had been trapped for weeks in the middle of a treacherous Kings River gorge in Central California.
The car, a red Hyundai Sonata, had plummeted 500 feet after plowing through a guardrail on Highway 180 on July 26, authorities said. Since then, the smashed vehicle has rested on a pile of boulders amid raging waters.
Search-and-rescue crews from the Fresno County Sheriff's Office pulled the sedan to the riverbank on Friday, then retrieved the bodies from the car, according to Tony Botti, a spokesman for the sheriff's office.
The bodies were flown in a California Highway Patrol helicopter to a nearby roadside for transfer to the Fresno County coroner's office.
The bodies are believed to be those of University of South Florida exchange students Pakapol Chairatnathrongporn, 28, and Thiwadee Saengsuriyarit, 24. The couple were visiting Kings Canyon National Park when the manager of the motel they were staying in reported them missing.
The students' family members were on hand Friday during the recovery effort. Botti said the two bodies will be formally identified during an autopsy.
Sheriff Margaret Mims thanked the families of the two missing students for their patience during the weeks-long wait to recover the bodies.
"It's always been our goal to deliver peace to you so that you could hold the necessary services for your loved ones," Mims said in a statement.
Recovery of the bodies was delayed because of the hazardous location of the pair's rental car, officials said.
The car was trapped in the middle of a rapid that lies between two canyon faces more than 500 feet high, with a 75-foot drop about 100 feet downriver, Botti said. Those conditions made its recovery dangerous, he said.
"There's absolutely a risk for our personnel, and they have to be sure to cover all their bases," he told The Times. "It's about having the right weather conditions along with the proper equipment. … There's a lot of back and forth with our experts on what the best approach is."
Officials said the car was left in the canyon on Friday and would be recovered at a later time.
Authorities also found signs of another couple who disappeared recently from Sequoia National Park and also may have driven off the same section of highway, roughly 75 miles east of Fresno.
Yinan Wang, 31, and his wife, Jie Song, 30, were last seen at Sequoia National Park's Crystal Cave on Aug. 6. They were expected to drive north and stay the night in Fresno before continuing on to Yosemite National Park.The California license plate from the couple's rental car was spotted about 40 yards upstream from the Thai couple's vehicle.
Twitter: @jpanzar
ALSO
Record heat, lightning, fires, intense rain: California's extreme weather gets wilder
After Harvey's fury, a sorrowful task: Gathering up the dead
Suspected arsonist arrested after fire that leaves 3 children badly burned in Wilmington
---
UPDATES:
9:45 p.m.: This article was updated with confirmation that two bodies were pulled from the wrecked car.
1:35 p.m.: This article was updated with details of the car being hoisted from the river.
9:35 a.m.: This article was updated with additional comments from Botti.
This article was originally published at 8:05 a.m.
---
The stories shaping California
Get up to speed with our Essential California newsletter, sent six days a week.
You may occasionally receive promotional content from the Los Angeles Times.