Alliance charters interfering with unionization efforts, complaint says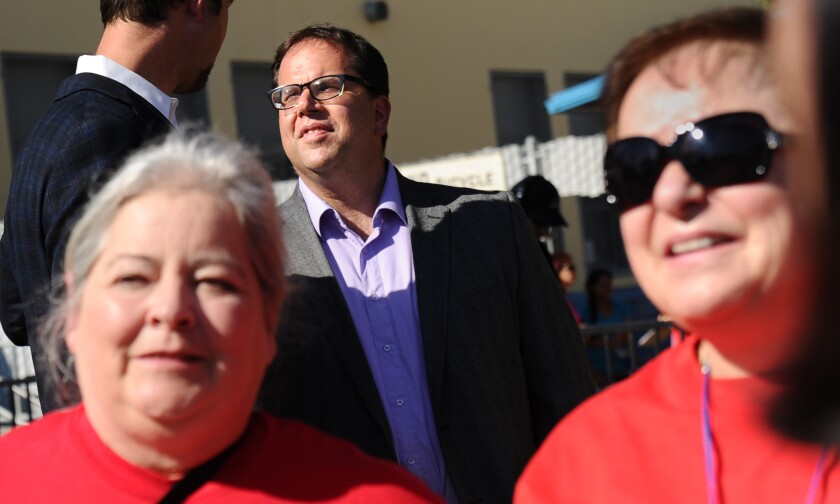 Nearly a month after launching a campaign to unionize the largest charter school group in Los Angeles, some teachers are accusing school leaders of violating state laws that allow educators to organize without fear of reprisal.
United Teachers Los Angeles, which is working with educators at Alliance College-Ready Public Schools, filed an unfair practice charge with the state this week, alleging charter school leaders have started an anti-union campaign, blocked emails to employees and denied organizers access to school buildings after work hours.
The outcome of the drive to unionize Alliance could alter the path of school reform in the state, where publicly funded but privately managed charter schools have boomed. Those campuses have traditionally operated without collective bargaining agreements with teachers.
"This issue has always been one of educators attempting to form a union to advocate for their students, advocate for their profession and advocate for sustainability in their schools," UTLA President Alex Caputo-Pearl said. "It has been disappointing that the Alliance management has broken the law, which we're going to show. And, that the Alliance management has been using what latitude there unfortunately is within the law to intimidate folks during work time."
Alliance spokeswoman Catherine Suitor said the charter group is not interfering with employees' right to unionize, but staff members will share "their opinions, facts and experiences about unionization."
"In fact, we believe it is our responsibility to ensure our teachers have a full set of facts to make an informed decision – not just opinions from UTLA, an organization that for years has been opposed to charter schools and Alliance in particular," Suitor said in an email.
Nearly 70 teachers and counselors at Alliance on March 13 sent a letter to school leaders, explaining their intention to partner with UTLA to form a union. Unionizing would require majority support from educators at Alliance schools.
Alliance leaders said they would not interfere with educators' rights to decide whether to organize or remain non-union.
The weeks that followed set off a flurry of activity.
Teachers, who believe that organizing will give educators a greater voice in decisions that affect teaching, launched a website, sent out emails and planned meetings to discuss unionization. They listed among their priorities: teacher retention, class size, due process rights, budget transparency and fair evaluations and compensation.
Charter leaders established their own website that features teachers who are against unionizing and sent out emails to educators, including one from Alliance President and Chief Executive Dan Katzir asking for a "fair opportunity" to prove the organization's commitment to employees before they made any decisions on unionization.
Alliance also sent a letter to parents telling them about the unionization efforts that the charter group said had "the potential to significantly impact the independence and flexibility that have historically been hallmarks of our success."
Sam Taylor Jr., one of the teachers interested in forming a union, said he was encouraged by the initial response of administrators but emails sent to teachers and parents since then have left some employees fearing for their jobs.
"Some of the people that I've talked to at my school and at other schools regarding this whole process have already expressed, 'Oh, am I going to get fired for this?'" Taylor said. "The fact that they are pushing that environment, where people feel uncomfortable making a decision that they have a legal right to make, speaks volumes about the choices that they are making and it stands in stark contrast to what they said on that first day."
Tina Wyatt is among the educators who oppose efforts to unionize. The 16-year teacher, who has been at Alliance four years, said she does not believe the issues raised by her colleagues are a problem at the 11,000-student charter organization.
Wyatt said the emails and letters from the Alliance administration offered information to employees that they were not getting from teachers who support unionization.
"I've heard teachers say this will give us a voice," Wyatt said. "We have a voice. I went to one of the meetings where they talked about unionizing. I never got a straight answer on anything. I felt like I was talking to a used car salesman."
In its unfair practice allegation against Alliance, the union points to provisions in the law that say employee organizations have the right to represent their members in their employment relations with public school districts and that they have the right to communicate with employees and "use institutional facilities at reasonable times for the purpose of meetings concerned with the exercise of the rights."
UTLA alleges that the charter group violated the law by twice denying union organizers access to school facilities and by blocking correspondence sent to employees' work emails on March 25.
Union leaders pointed to Apple Academy Charter School, Ivy Academia and Port of Los Angeles High School as examples where school leaders did not fight efforts to organize a union.
The union asks the Public Employment Relations Board for remedies that include making the charter group "acknowledge in writing its responsibility to maintain an environment free of threats of reprisal or retaliation for actions that occur within the venue and scope of representation."
The complaint, filed Tuesday, also seeks an order requiring the charter to stop interfering with the rights of employees and the union, stop coercing employees and stop denying access to facilities and email accounts.
The Public Employees Relations Board takes an average of five months to either dismiss a charge or determine that enough facts exist to merit a hearing. Either side can ask for extensions and is allowed to appeal, which could lengthen the time it takes to reach a resolution.
Suitor said the charter group has sought legal counsel on its responses to the unionization effort and believes its actions are lawful.
"We absolutely disagree with UTLA's assertion of anything different," Suitor said. "On the contrary, we've heard from a number of teachers that they feel harassed by UTLA's communications tactics to strong arm them to join a union that they have no interest in being a part of."
Michelle Buckowski, a history teacher at Alliance Susan & Eric Smidt Technology High School, said she moved to the charter group after years in private schools partly because she wanted more protections and more freedom in curricular matters.
Buckowski said some at the charter group have said teachers who want to unionize are being manipulated by UTLA, a message she said ignores that Alliance educators are leading efforts to organize. She said in a one-on-one conversation, her principal suggested that she could back away from her support of unionization.
"I'm brand new to the question of unionization so I'm still pretty unclear about what it is I'm suppose to say and not say, so I listened and let my principal talk," Buckowski said. "It really did feel like wanting to have that one-on-one meeting to try to coerce me to change my opinion. She did offer that 'people have taken their name off, you can still take your name from the letter.'"
Educators on both sides say the back-and-forth over unionization has heightened emotions at campuses.
William "Kip" Morales, one of the teachers featured on the charter group's website, said he was pink slipped at a public school because he did not have seniority, an action he refers to as "being fired by the union."
Morales, who teaches at Alliance Patti & Peter Neuwirth Leadership Academy, called the unionization effort divisive.
"I like to have my occupation and my job in my hands," Morales said. "I can directly negotiate with my boss and I can directly negotiate with the head office. Certainly I don't need you to try to fix something that is working well."
Elana Goldbaum, a history teacher at Gertz-Ressler High School, said anti-union language used by the charter group has been "really difficult and it has made emotions run high at work." Goldbaum said she had to address the issue with her students after they saw a memo from the charter group on the school website.
"These are my children," Goldbaum said. "I don't want to put them in the middle ... that feels not only unfair but unethical."
Twitter: @zahiratorres
---
Must-read stories from the L.A. Times
Get the day's top news with our Today's Headlines newsletter, sent every weekday morning.
You may occasionally receive promotional content from the Los Angeles Times.