USC-sponsored plastic surgeon used patient's insurer as 'personal ATM,' lawsuit says
A popular plastic surgeon who practices in Beverly Hills and Newport Beach and leads a USC-sponsored fellowship is being accused of unnecessarily operating on a patient for profit, according to a recently filed lawsuit.
Natalie West, a former patient, says Dr. Jay Calvert made up false diagnoses in order to perform 12 unnecessary surgeries on her over four years. In addition, Calvert fraudulently billed West's insurance company for hundreds of thousands of dollars, even though she paid out of pocket, according to the lawsuit, which was filed Friday.
West also is suing USC, whose residents, students or fellows, she said, performed surgeries on Calvert's behalf without her consent.
Calvert runs the Aesthetic Surgery Fellowship, which is sponsored by USC. He says on his LinkedIn page that he is an associate clinical professor at USC's Keck School of Medicine who provides "clinical teaching expertise in aesthetic surgery and rhinoplasty" to residents and fellows in the school's plastic surgery division.
He also appeared numerous times as an expert on TV's "The Tyra Banks Show."
University officials say that Calvert is not a paid employee or faculty member and that he holds only a "voluntary title."
Calvert's name was listed on USC's Plastic and Reconstructive Surgery clinic website Tuesday, but by Wednesday his name had been removed.
Calvert's attorney, Arthur Barens, said the claims by West are baseless.
West met Calvert in 2013 when she was looking to have an earlier nose job repaired after having been injured in a car accident more than a decade earlier; she gave Calvert her insurance information, at his request, and still paid the $24,900 surgery cost out of pocket, according to her complaint.
The surgery took place in July 2013 and, according to the lawsuit, began a history of fraud by Calvert and his clinic staff.
"Calvert used the Calvert Surgery to 'beta test' what would become a pattern of massive insurance fraud perpetrated by Calvert against [West's] insurers," the lawsuit states, adding that the doctor billed West's insurer $199,602 despite the fact that the surgery was paid for in full.
"Calvert insisted that [West] return to Calvert's various offices for 12 subsequent procedures primarily so that he could essentially treat [West's] PPO health insurance policies as his own personal ATM machine," the lawsuit states.
The doctor collected only $88,542 from the insurance company for West's initial surgery, but that still resulted in losses for the woman, the lawsuit says.
"By billing both [West] and her insurance company for the Calvert Surgery, Calvert … engaged in a double billing scheme that fraudulently deprived [West] of approximately $12,900 in cash," the lawsuit states.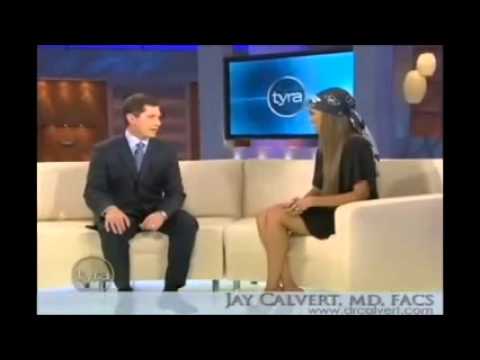 After her first surgery, West was persuaded by Calvert to undergo 12 additional operations, according to the complaint.
She says Calvert and his staff told her the surgeries would be free because she had paid out of pocket for the first operation. They also told her she would still have to pay out of pocket for the use of an operating room and anesthesia, she says.
West asked whether her insurance would cover at least part of those costs and was told no, according to court documents. She paid about $16,000 for the 12 surgeries, while Calvert collected more than $330,000 from her insurance company, according to the complaint.
West also alleges she was sexually assaulted while unconscious during one surgery. According to the suit, after waking up from her fourth operation, which involved only parts of her body above her neck, she "immediately and inexplicably … felt a heavy, bloody discharge from her vagina."
A gynecologist later told her that one side of her uterus was black and full of clots and recommended she have a hysterectomy.
West's lawsuit states that someone — probably a USC student, resident or fellow — attempted an unknown medical procedure involving her uterus without her consent. The suit indicates that some of West's surgeries were performed by people other than Calvert.
"It is appalling that a physician that a patient gains trust in would then abuse their trust," said Leslie Hakala, West's attorney. She added that USC should have done its research before working with Calvert, whose work she said has had "terrible consequences for real people."
USC said in a statement that it was aware of the lawsuit but that its students were not involved in any fraudulent billing activities.
"The university also is not involved in any patient billing for Dr. Calvert's medical practice or programs," spokeswoman Meg Aldrich said. Calvert's fellowship program "is independent of the university and, aside from access to the Keck School of Medicine's online library and academic lectures, fellows in this program are not associated with the university."
It's not the first time Calvert has faced such accusations. In 2014, he was accused of making a false claim and perjury after several patients claimed he had performed unnecessary surgeries in a similar alleged insurance fraud scheme. The charges were dropped the day Calvert was scheduled to be arraigned, because he agreed to pay an undisclosed amount to the patients, the Orange County Register reported. Barens, Calvert's lawyer, refuted that report and said the claims were dismissed because they were false.
"The case was dropped because of a lack of evidence … and because he had done nothing wrong," Barens said. "I believe [West's] counsel is clearly getting her 15 minutes to come out of obscurity."
Barens said Calvert's records, as well as West's medical records, will prove only that Calvert performed the surgeries, which were medically necessary and consented to.
Hakala said she stood by her statements and the facts in the complaint. On Wednesday, as she was preparing for a news conference about the suit, Calvert was on his way to the Rhinoplasty Society's annual conference in New Orleans, where he is expected to be named president of the organization.
"I am inspired every day by the amazing work my colleagues in the rhinoplasty specialty do, and I am humbled and grateful for this appointment," Calvert said in a news release.
alejandra.reyesvelarde@latimes.com
Twitter: @r_valejandra
Sign up for Essential California for news, features and recommendations from the L.A. Times and beyond in your inbox six days a week.
You may occasionally receive promotional content from the Los Angeles Times.