Police found trove of nude images of women in ex-USC gynecologist's storage unit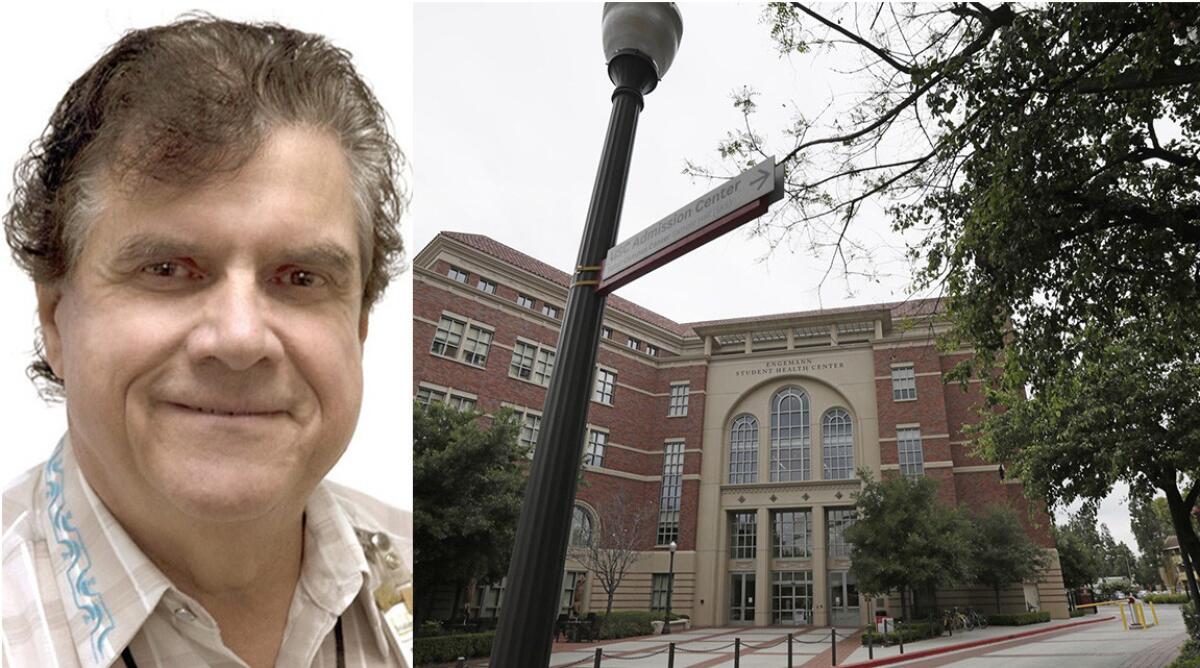 Shortly after Los Angeles police launched an investigation into Dr. George Tyndall last spring, a team of detectives began surreptitiously following the former USC gynecologist.
The 71-year-old passed most of his days inside a condominium he owns near Lafayette Park, but on at least two occasions, Tyndall drove to a self-storage facility and spent time inside a rental unit, police said.
When investigators subsequently raided the unit, they found a trove of homemade pornography and a smaller set of photos of unclothed women in what appeared to be a medical exam room, according to LAPD Capt. Billy Hayes.
Those images have become part of the investigation into whether Tyndall sexually abused hundreds of students over his three-decade career at USC's student health center. Detectives are trying to determine whether the pictures show patients at campus clinic appointments, and are working to establish the identities of the women.
That effort has complicated an already sprawling investigation. With 234 women filing police reports against Tyndall, the probe is believed to be the largest sex crimes investigation involving an individual in LAPD history. A dozen robbery-homicide detectives are traveling the country to interview former patients, and forensic examiners are poring over Tyndall's computer hard drives and other evidence seized from his residence and storage unit.
FULL COVERAGE: USC former gynecologist Dr. George Tyndall accused of inappropriate behavior »
Tyndall's lawyer, Leonard Levine, said in a statement that the doctor maintained his innocence, saying, "Dr. Tyndall is adamant that he has never sold, traded or shared any images of patients he examined while conducting medical examinations at USC."
Levine added in a second statement: "The photos were taken for medical purposes years ago, with the patients' consent, and not viewed again by anyone, including Dr. Tyndall, after being moved to the storage facility over five years ago, after the health facility was moved to a new location."
For women who have accused Tyndall of inappropriate touching or suggestive remarks, the photos raise the specter of a new and profound violation at a time when many were finalizing legal settlements with USC.
"The photographs are compromising," said Hayes, who is supervising the police probe.
Police do not regard possession of the photos as a crime in itself, Hayes said, but believe the location where they were found is relevant to the larger case.
As they track down the provenance of the photos, detectives are calling on both alumnae and USC employees to dig deep in their memories, asking about the color scheme of exam rooms and identifying features on their bodies, such as tattoos.
The doctor has insisted that he never had sexual thoughts about patients and his use of a camera in the exam room was for legitimate medical purposes.
"He's telling these young ladies that he is taking photographs for a study," Hayes said. "If they are … in his storage facility, it doesn't give credence to his statements to them that he was using [the photos] for research or to publish studies."
Detectives have interviewed at least 117 women so far and presented the cases of 85 to the Los Angeles County district attorney's sex crimes unit for possible charges against the doctor. A grand jury is hearing evidence about Tyndall. It has yet to issue any indictments.
It is unclear whether the grand jury is evaluating the evidence seized from the storage unit. Most of the material were videos and photos showing women without a known connection to the university, sometimes having sex with Tyndall. The images appear to span a period of at least three decades, Hayes said.
Tyndall and his estranged wife ran a boudoir photography business called Glamourlight in the 1990s and 2000s. Police have not determined whether some of the images uncovered relate to that photo firm.
The process of identifying women who are pictured in what appears to be an exam room has been "tricky," Hayes said. Some photos seem to have been shot decades ago, making it difficult for detectives to compare with alleged victims today, he said. Detectives are reluctant to show the images widely for fear of infringing on the privacy of the subjects, Hayes said.
Investigators are focusing on timestamps on some images as well as distinguishing traits, such as tattoos and jewelry.
John Manly, an attorney who is representing scores of former Tyndall patients, said that between 10 and 20 of his clients were asked questions by police that seemed designed to identify them in photos.
"This plays into the worst nightmares of women," Manly said.
Detectives are also looking for evidence that the pictures were taken at USC. The student clinic was moved to a new facility in 2013 and the previous building torn down. Former clinic nurse Cindy Gilbert, who worked with Tyndall for years, said the LAPD questioned her at length about the old exam rooms, including the color of cabinets and the shape and upholstery of exam tables.
The Times revealed in May that USC allowed Tyndall to practice for 27 years despite a series of complaints from colleagues and patients about alleged misconduct during gynecological exams. In the 1990s, there were complaints about his photography in the clinic.
Anita Thornton, a medical assistant, previously said that the gynecologist took pictures with three cameras -- two that appeared designed for medical exams and a third "Canon-style" camera with a lens that he kept in a locked cabinet.
After medical assistants complained about his picture-taking, the clinic executive director ordered him to stop, according to Tyndall and clinic employees.
A creepy feeling, a sideways glance – patients of accused former USC gynecologist share their stories »
In interviews with The Times this spring, Tyndall said he took magnified pictures of cervical abnormalities and sometimes photographed the exterior genitalia to convince worried patients that they did not have genital warts. He denied any prurient purpose.
When Tyndall was forced out of the clinic two years ago, administrators found a box of pictures of patients' genitals in his office. An internal USC investigation found that the images were magnified and clinical in nature.
"There was nothing sexual about them," a USC compliance officer told The Times in May.
In a statement on Monday, USC said it is cooperating with the Los Angeles Police Department's investigation and that the university is not commenting "on any aspect" of the police inquiry.
"Our priority continues to be supporting our students, patients and entire university community by helping to bring resolution to this painful experience in a manner that respects the dignity and privacy of all of those impacted," the USC statement said.
In October, USC agreed to settle a federal class-action suit on behalf of Tyndall's patients for $215 million.
Hundreds of plaintiffs in state court lawsuits are expected to proceed, and many in those cases accused the doctor of improperly photographing them.
Joanna Massey, a USC alumna, alleged in a lawsuit that in 1990, her senior year, Tyndall directed her to spread her vagina while he photographed her genitals. Tyndall told her that he was looking into an "epidemic" of vaginal warts and that he needed the images "for research purposes" regarding sexually transmitted diseases among USC sororities, according to the suit.
During the exam, Tyndall also shared with Massey that he had collected photos of other sorority girls' vaginas, according to her lawsuit.
In addition to the photos, the police searches of Tyndall's condominium and storage unit turned up numerous computers and hard drives, Hayes said.
Detectives are conducting an ongoing forensic examination of the equipment, but Hayes said that there is "nothing to indicate" Tyndall uploaded any of the images to the internet.
matt.hamilton@latimes.com | Twitter: @MattHjourno
richard.winton@latimes.com | Twitter: @lacrimes
harriet.ryan@latimes.com | Twitter: @latimesharriet
Sign up for Essential California for news, features and recommendations from the L.A. Times and beyond in your inbox six days a week.
You may occasionally receive promotional content from the Los Angeles Times.