Grand jury is investigating USC gynecologist accused of sexually abusing hundreds of patients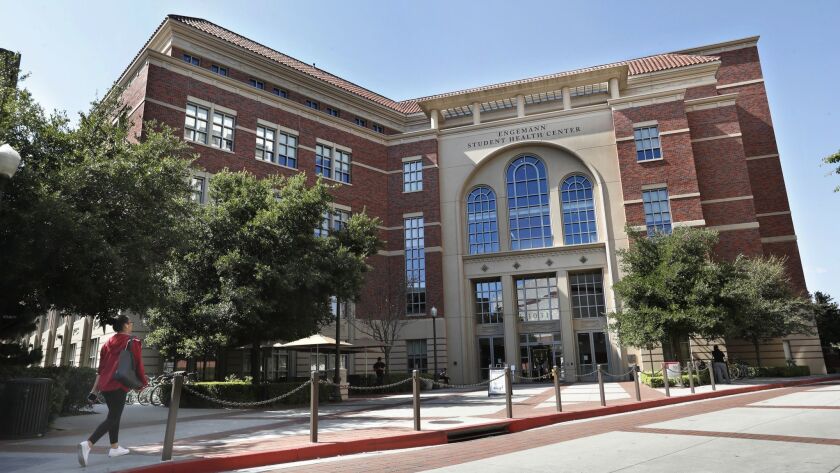 Los Angeles County prosecutors have convened a grand jury to hear evidence about Dr. George Tyndall, the USC gynecologist accused of sexually abusing hundreds of patients during three decades at a campus health clinic, according to two sources familiar with the case.
The panel began calling witnesses last month, the sources told The Times. On Wednesday, reporters observed the sex crimes prosecutor overseeing the Tyndall investigation in conversation with clinic employees outside the grand jury room in a downtown Los Angeles criminal courthouse. One of the clinic employees was summoned into the grand jury room for more than 90 minutes while others were told to return later to testify.
The prosecutor, Deputy Dist. Atty. Reinhold Mueller Jr., declined to comment on the grand jury, but confirmed that he and two other prosecutors were assigned to the case.
"Our office is thoroughly reviewing all complaints that have been presented to us," Mueller told The Times last week.
Tyndall, 71, has denied any wrongdoing. His attorney, Leonard Levine, declined to comment but said in a statement that "Tyndall welcomes any fair and objective examination of his conduct while he was employed as a gynecologist at USC."
Complete Coverage: USC former gynecologist Dr. George Tyndall accused of inappropriate behavior » »
LAPD detectives have been collecting evidence in the case since May, when The Times first revealed he had been accused repeatedly of inappropriately touching patients and making suggestive remarks about their bodies.
A team of investigators crisscrossed the country this summer and fall, interviewing scores of alumnae about their experiences with Tyndall. Detectives also scrutinized evidence seized from the doctor's apartment and a storage locker in a raid earlier this year.
Ultimately, detectives presented 85 cases to prosecutors for potential criminal charges, according to a spokesman for the Los Angeles County district attorney's office.
One woman who worked with Tyndall for several years said she was called before the grand jury last month.
"They had a lot of questions. A lot of questions," she said. A prosecutor told her not to discuss the proceedings, she said.
It is somewhat uncommon for state prosecutors to seek a grand jury indictment. Most suspects are charged in court papers and prosecutors then lay out their case through witness testimony at a public preliminary hearing. The accused are permitted to present a defense and call their own witnesses. It's up to a judge to decide whether there is enough evidence for a trial.
Grand jury proceedings, however, are secret, and in many cases defendants and their attorneys do not even know they are occurring. There is no cross-examination of witnesses.
Former sex crimes prosecutor Robin Sax, who worked in the L.A. County district attorney's office for a decade, said grand juries can allow prosecutors to assess the credibility of victims discreetly.
"It becomes almost [the district attorney's] own mock trial," said Sax, who is now in private practice. "If [a victim] can't make it with just the D.A. asking questions, then you are going to have serious issues with a defense attorney asking questions."
Grand juries can also speed the progress of cases, said Patrick Dixon, the former head of special operations and major crimes in the L.A. County district attorney's office.
"Typically a grand jury hearing that takes a week might take two, three or four weeks in a preliminary hearing because of cross- examination," Dixon said.
Part of the district attorney's evaluation of the Tyndall case entails re-interviewing each of the alleged victims, Mueller said. Those interviews are standard for sex crimes cases and allow alleged victims to feel comfortable with prosecutors and prosecutors to get a sense of their credibility and potential effectiveness as witnesses, he said.
"We are aggressively reviewing all the evidence," he said.
There are unique aspects to the Tyndall case. Most of the hundreds of women who have formally accused him of wrongdoing did so only after reading the newspaper's investigation into the physician. Some have said that Tyndall was the first gynecologist they had met and they had no point of reference at the time for what was appropriate in terms of a physician's touching and remarks.
It was mainly clinic staff members who accompanied Tyndall during physical exams who reported him to university administrators. In November, LAPD detectives and Mueller, the lead prosecutor, went to the USC campus to meet with staffers at Engemann Student Health Center, according to a person who attended the gathering. A group of employees, including nurses, medical assistants and doctors, were given an overview of the grand jury process and told they would probably be subpoenaed to appear before the grand jury.
In October, USC announced it would pay $215 million to settle a class-action lawsuit filed on behalf of Tyndall's patients, the first in what is expected to be a wave of payouts stemming from case.
Times staff writer Richard Winton contributed to this report.
Twitter: @MattHjourno
---
The stories shaping California
Get up to speed with our Essential California newsletter, sent six days a week.
You may occasionally receive promotional content from the Los Angeles Times.