Venice boardwalk crash suspect ordered to stand trial for murder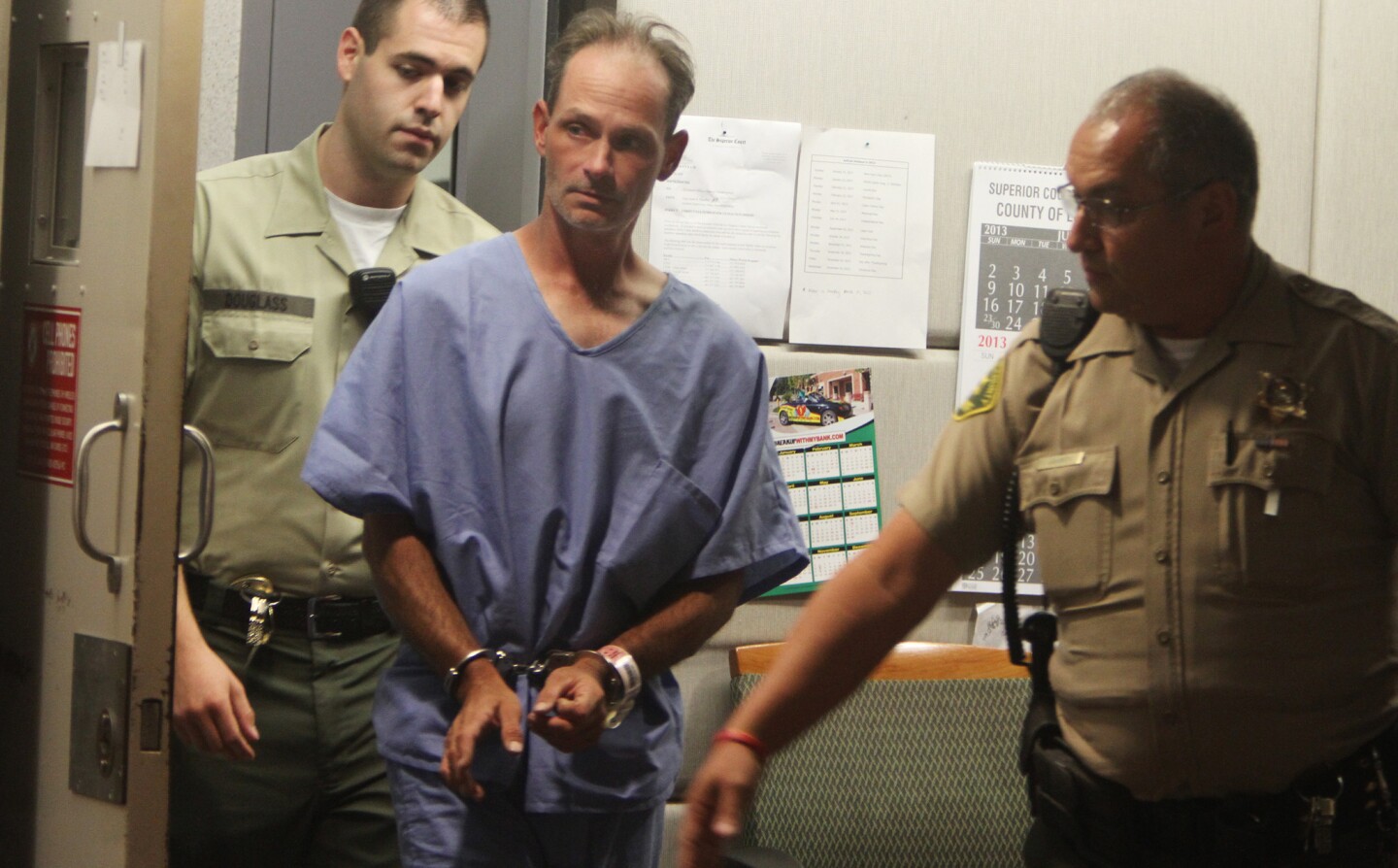 Deputies escort Nathan Louis Campbell at the Airport Courthouse, where he was arraigned Aug. 6, 2013, on charges of driving into crowds on the Venice boardwalk, killing a honeymooning Italian woman and injuring 16 others.
(Francine Orr / Los Angeles Times)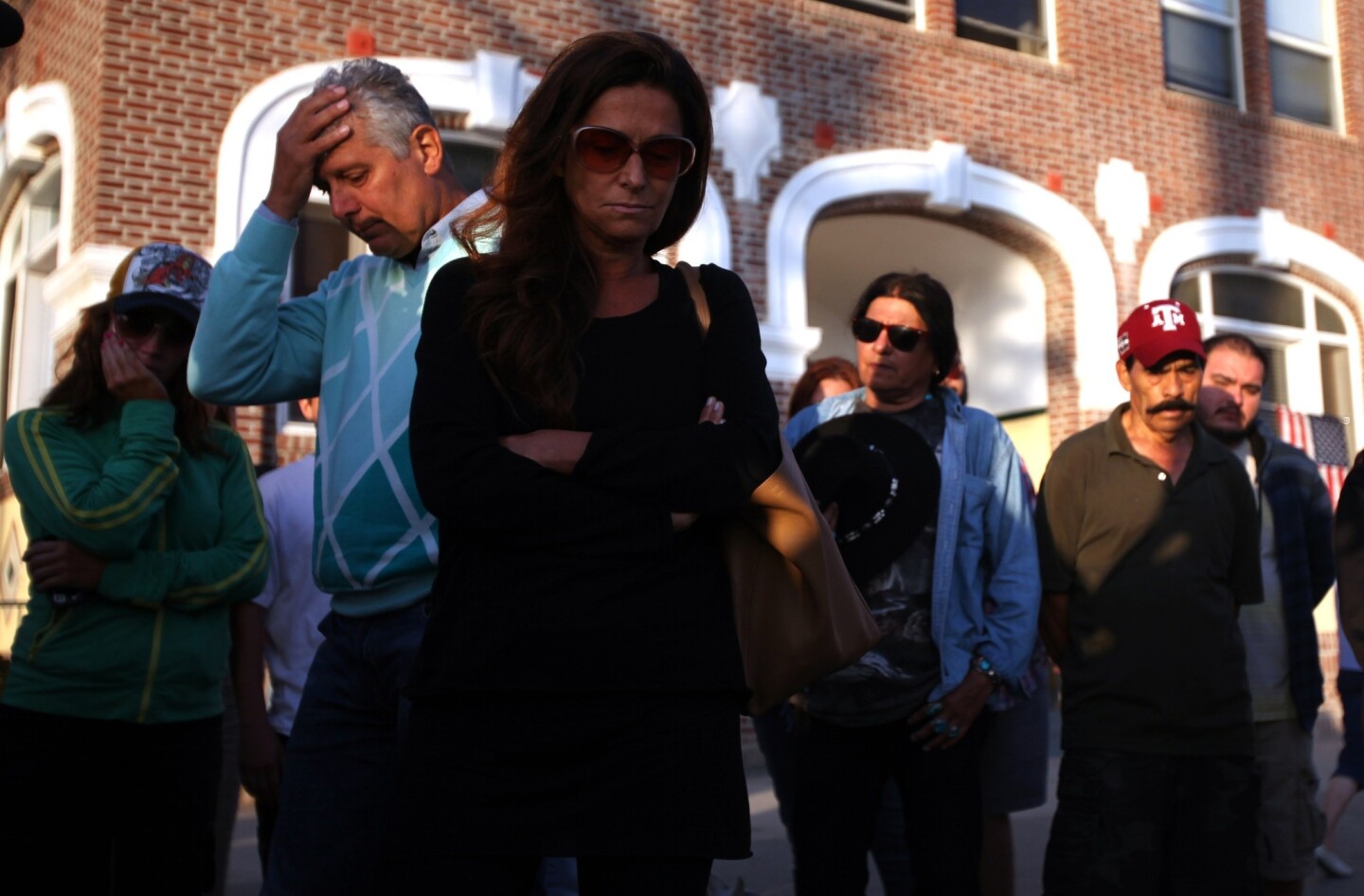 Piero Casadei, left, and Katia Gruppioni, the father-in-law and aunt of Alice Gruppioni, visit a memorial at the boardwalk on Aug. 5, 2013.
(Michael Robinson Chavez / Los Angeles Times)
People gather at the Venice boardwalk to remember the victims of the Aug. 3, 2013 crash.
(Michael Robinson Chavez / Los Angeles Times)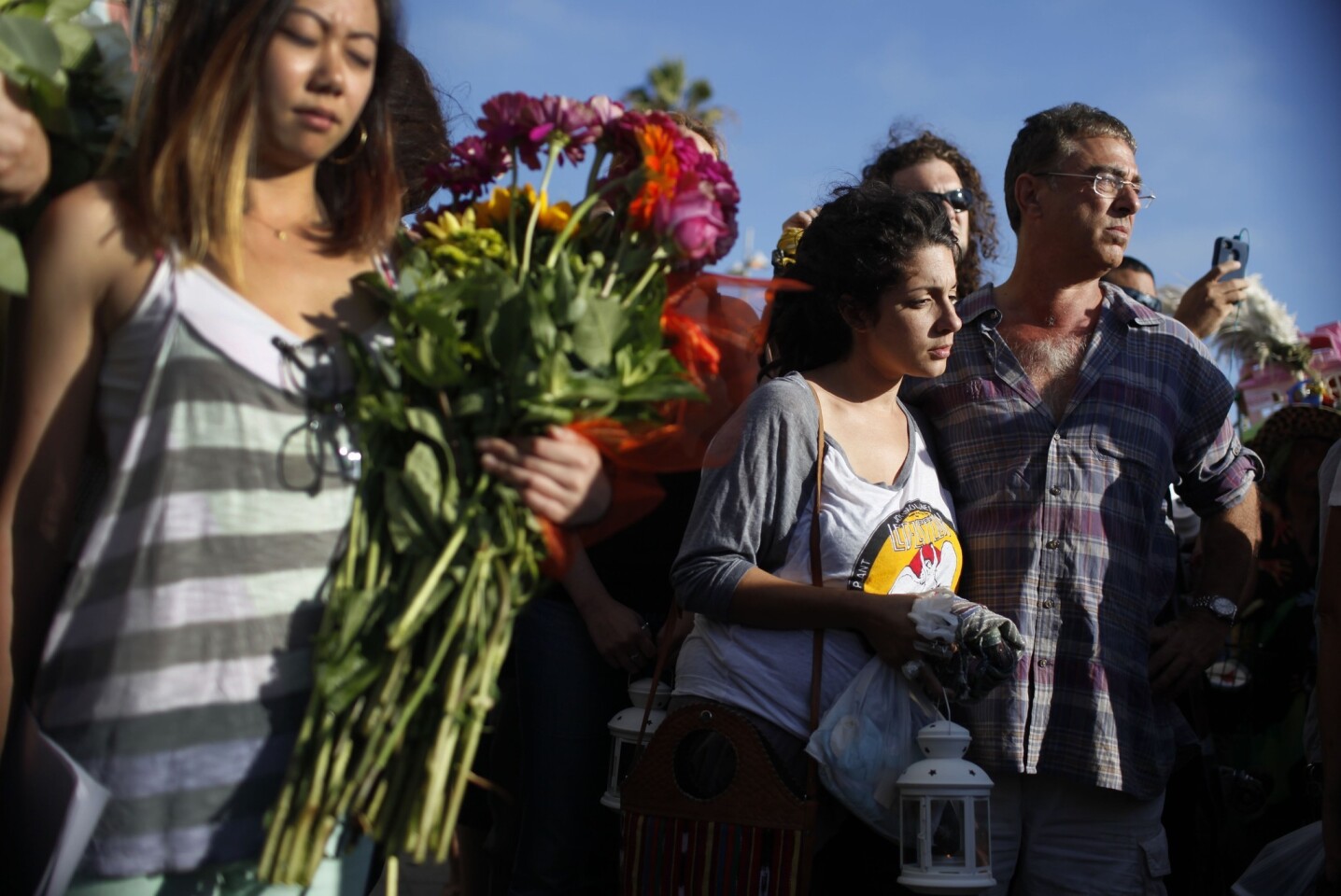 Venice residents were still trying to make sense of the tragedy.
(Michael Robinson Chavez, Los Angeles Times)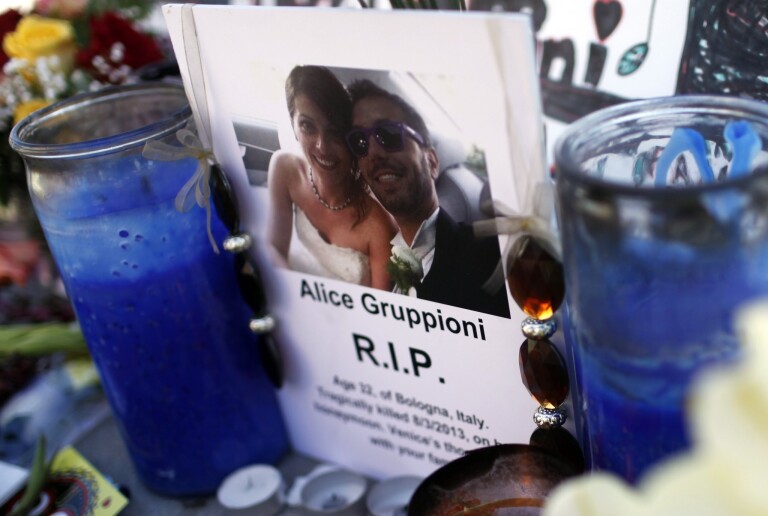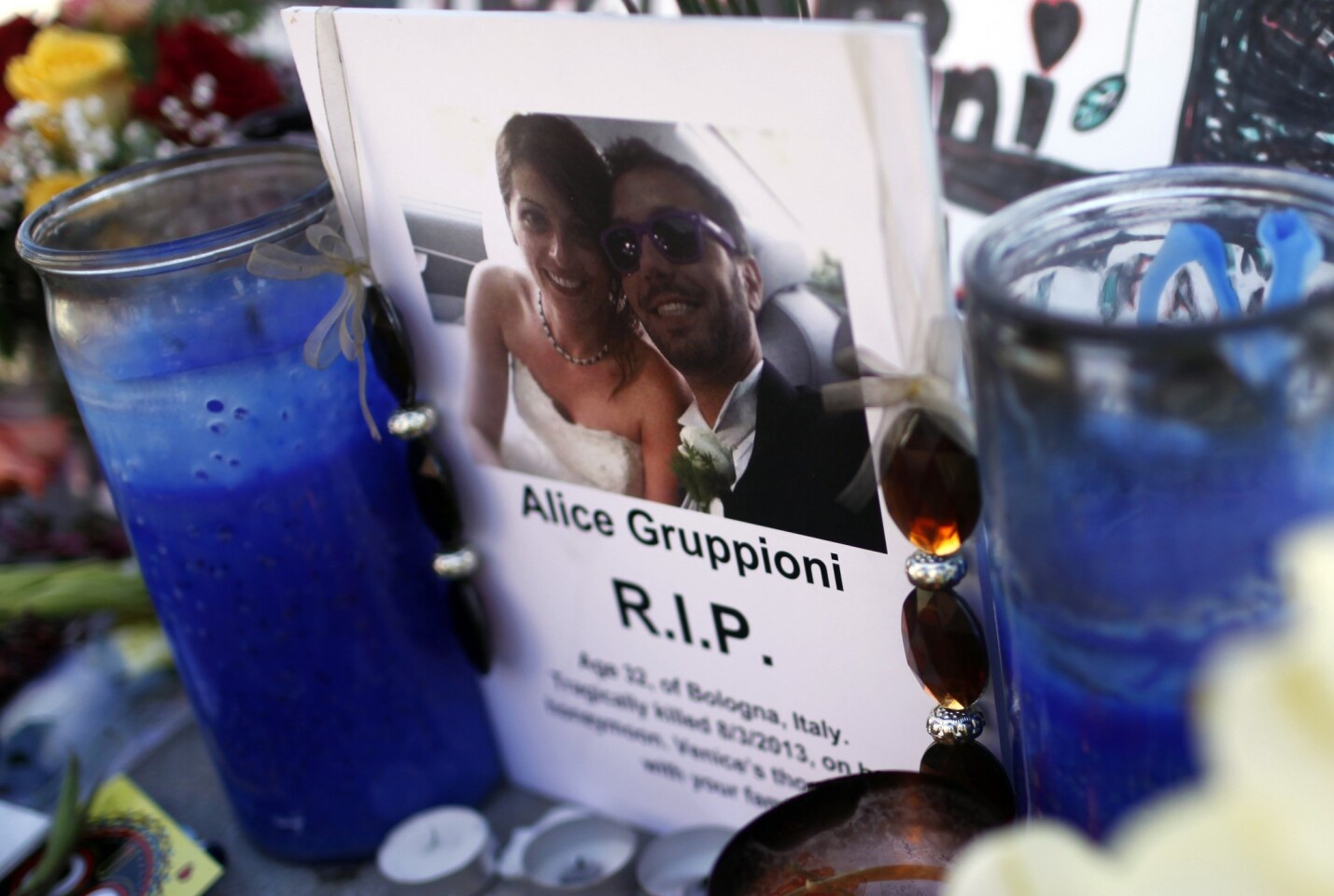 A card bears the photo of Christian Casadei and Alice Gruppioni, who were on their honeymoon when Gruppioni was killed and Casadei injured.
(Michael Robinson Chavez / Los Angeles Times)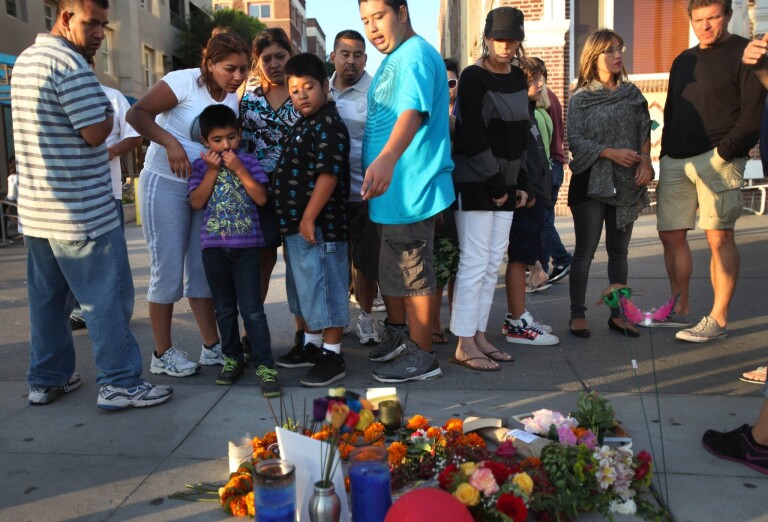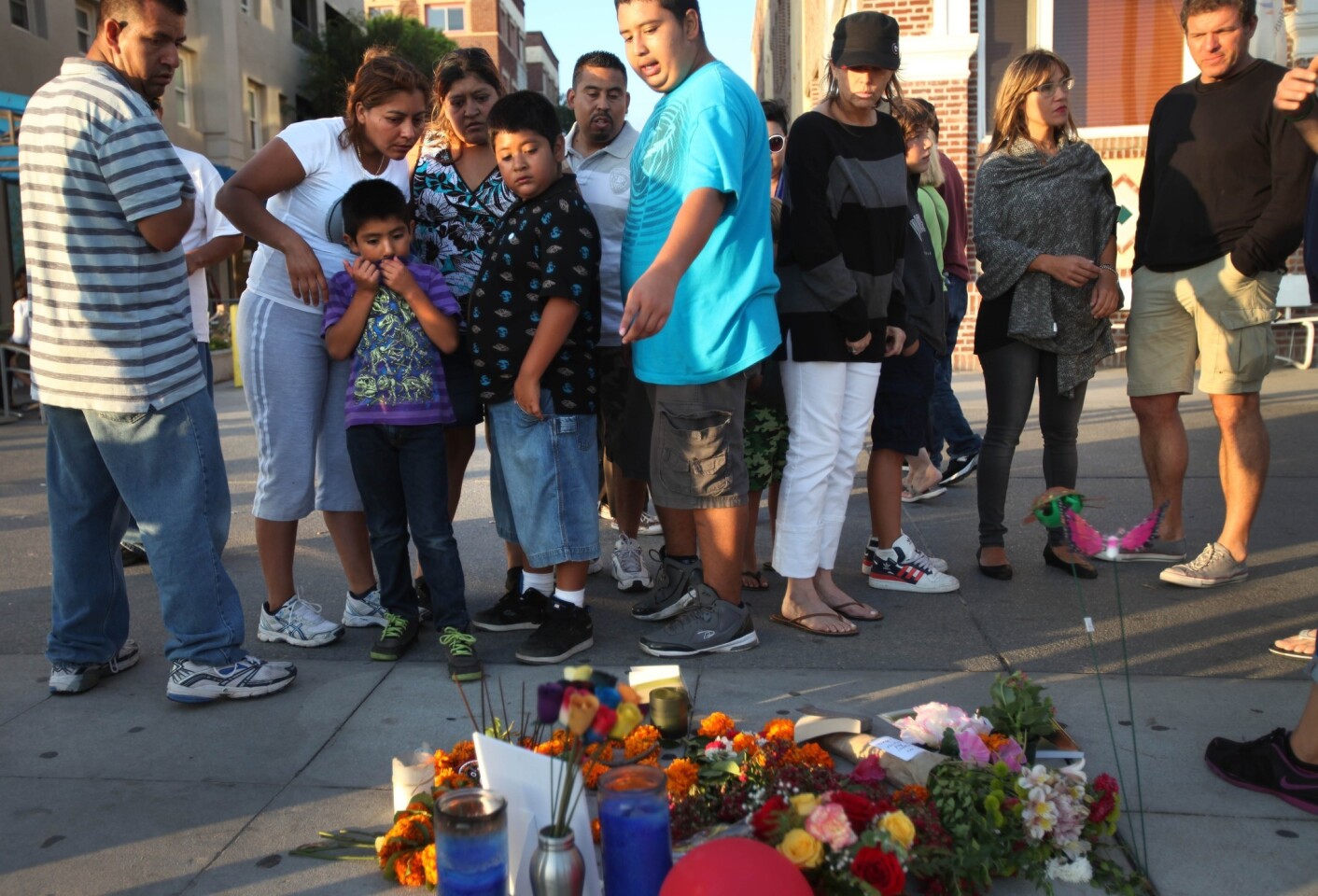 Visitors leave flowers and pay their respects at a memorial on the Venice boardwalk.
(Michael Robinson Chavez / Los Angeles Times)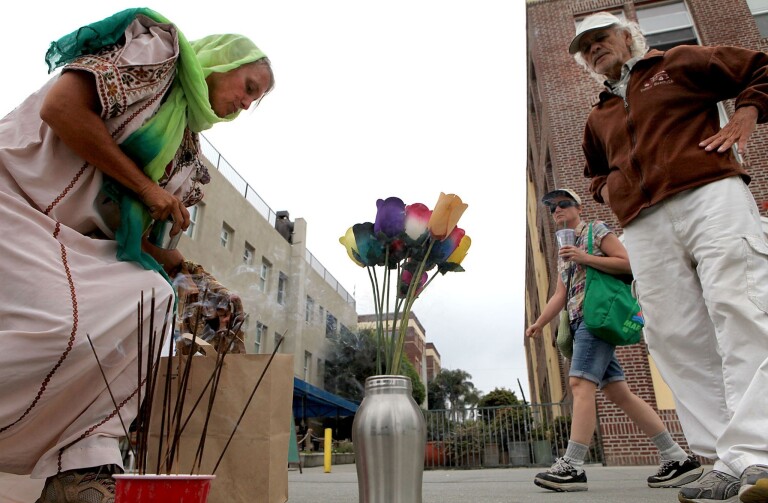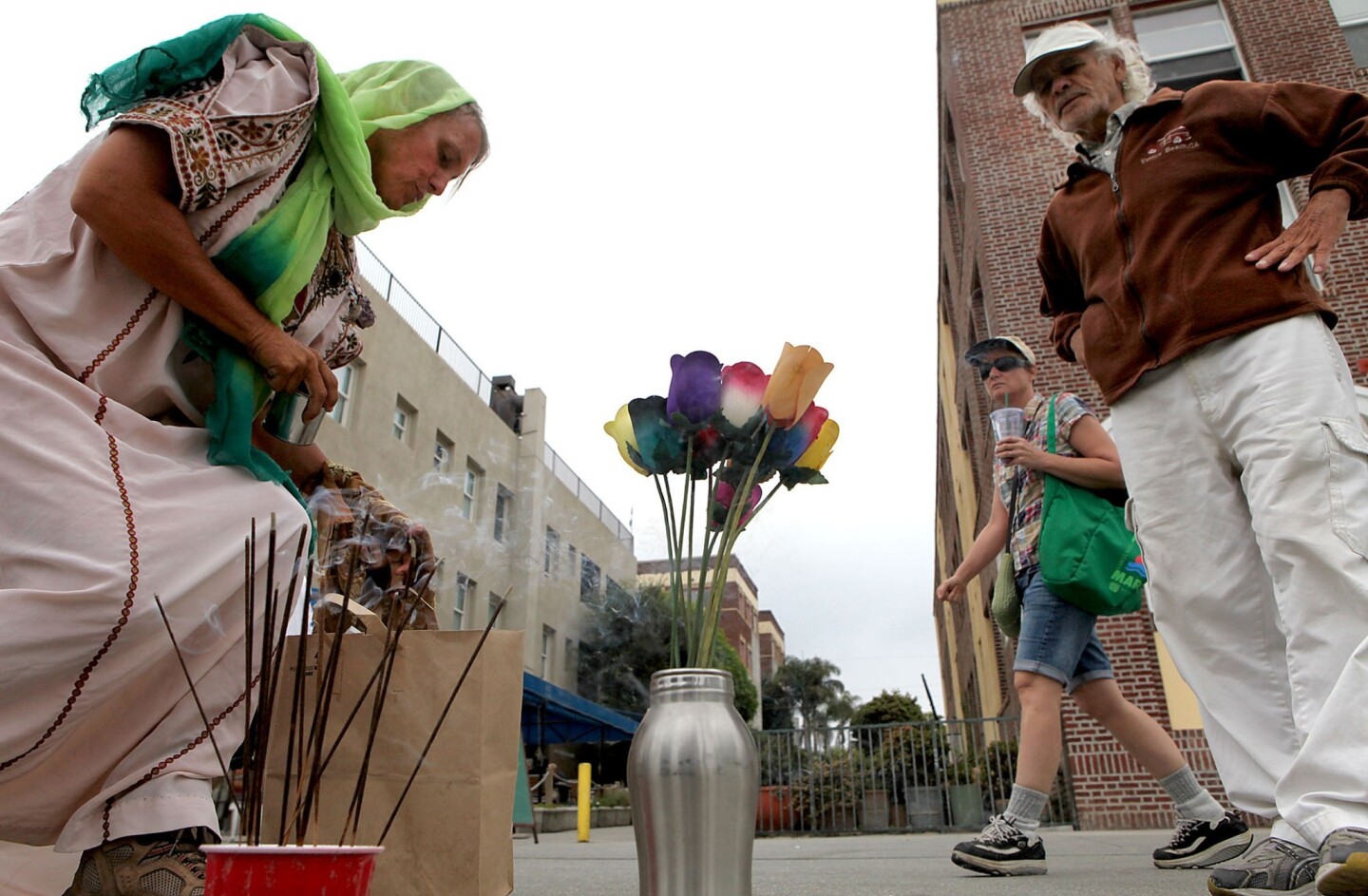 Lisa Green, left, and Toneey Acevedo, right, stop to place remembrances at a makeshift memorial on the Venice Boardwalk near Dudley Avenue.
(Brian van der Brug / Los Angeles Times)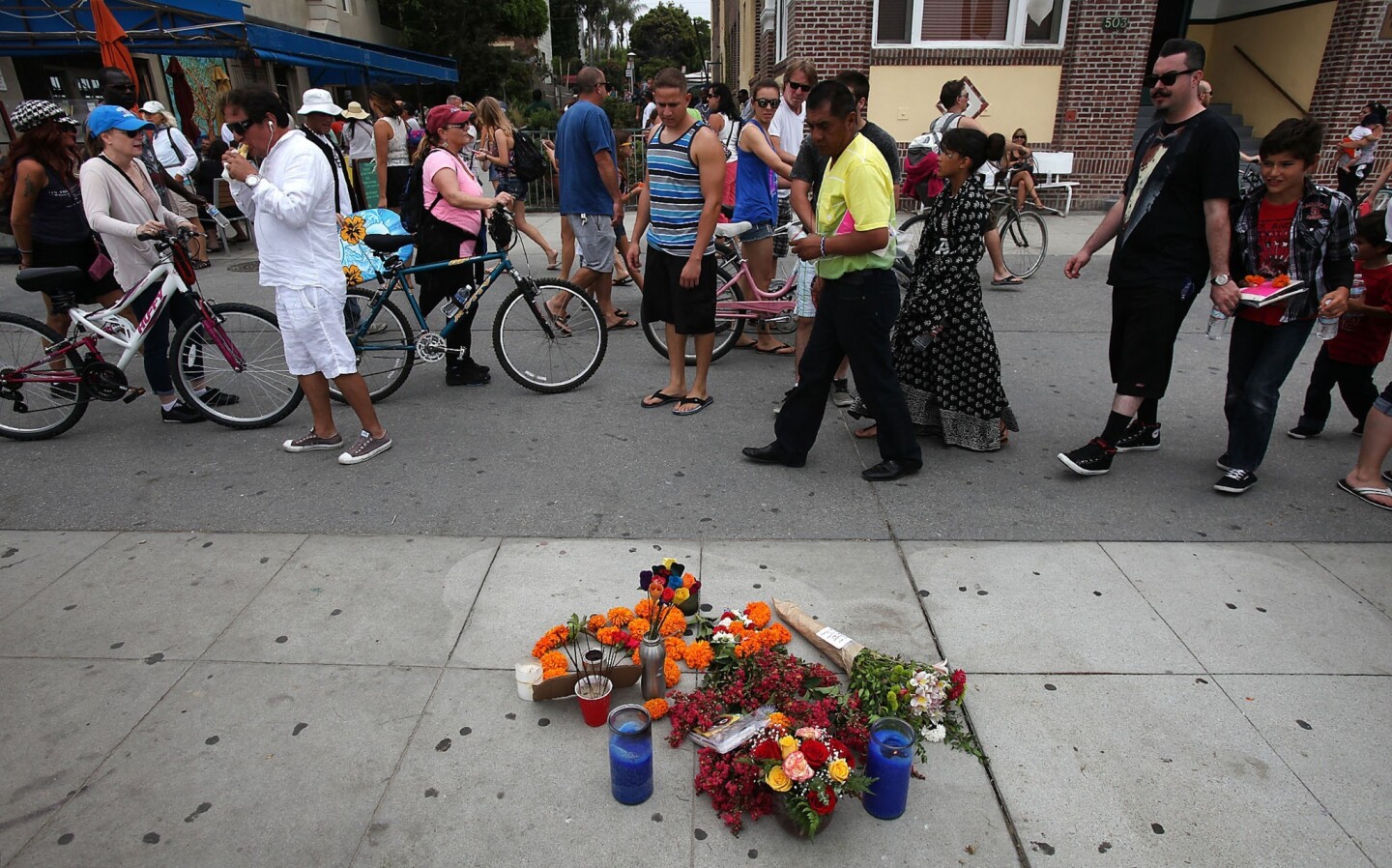 Remembrances and flowers at a makeshift memorial.
(Brian van der Brug / Los Angeles Times)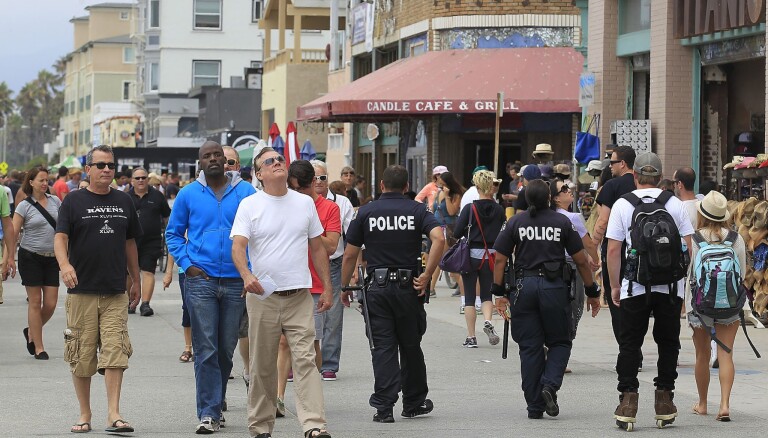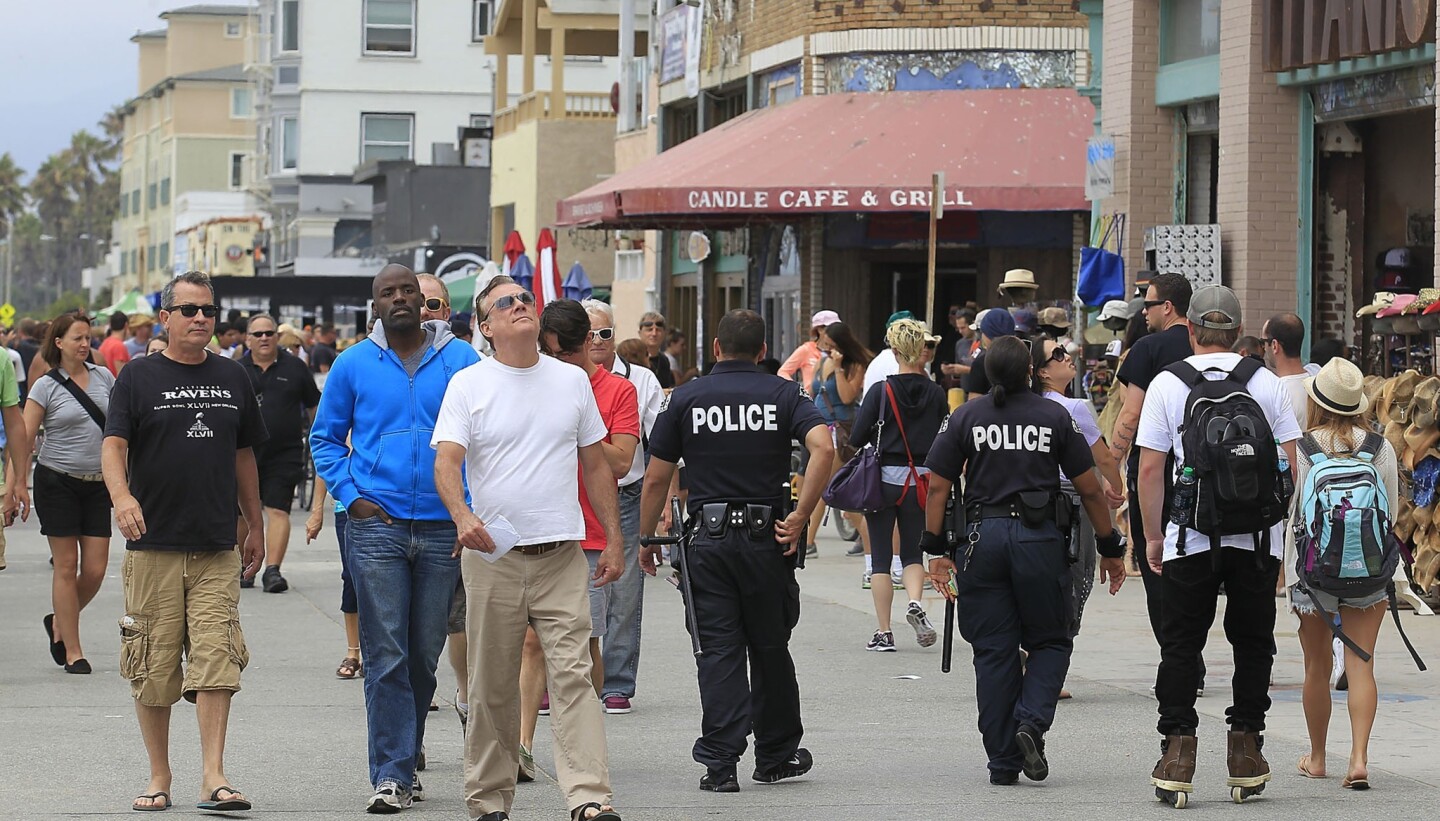 Life resumes on the Venice Boardwalk after a deadly crash.
(Brian van der Brug / Los Angeles Times)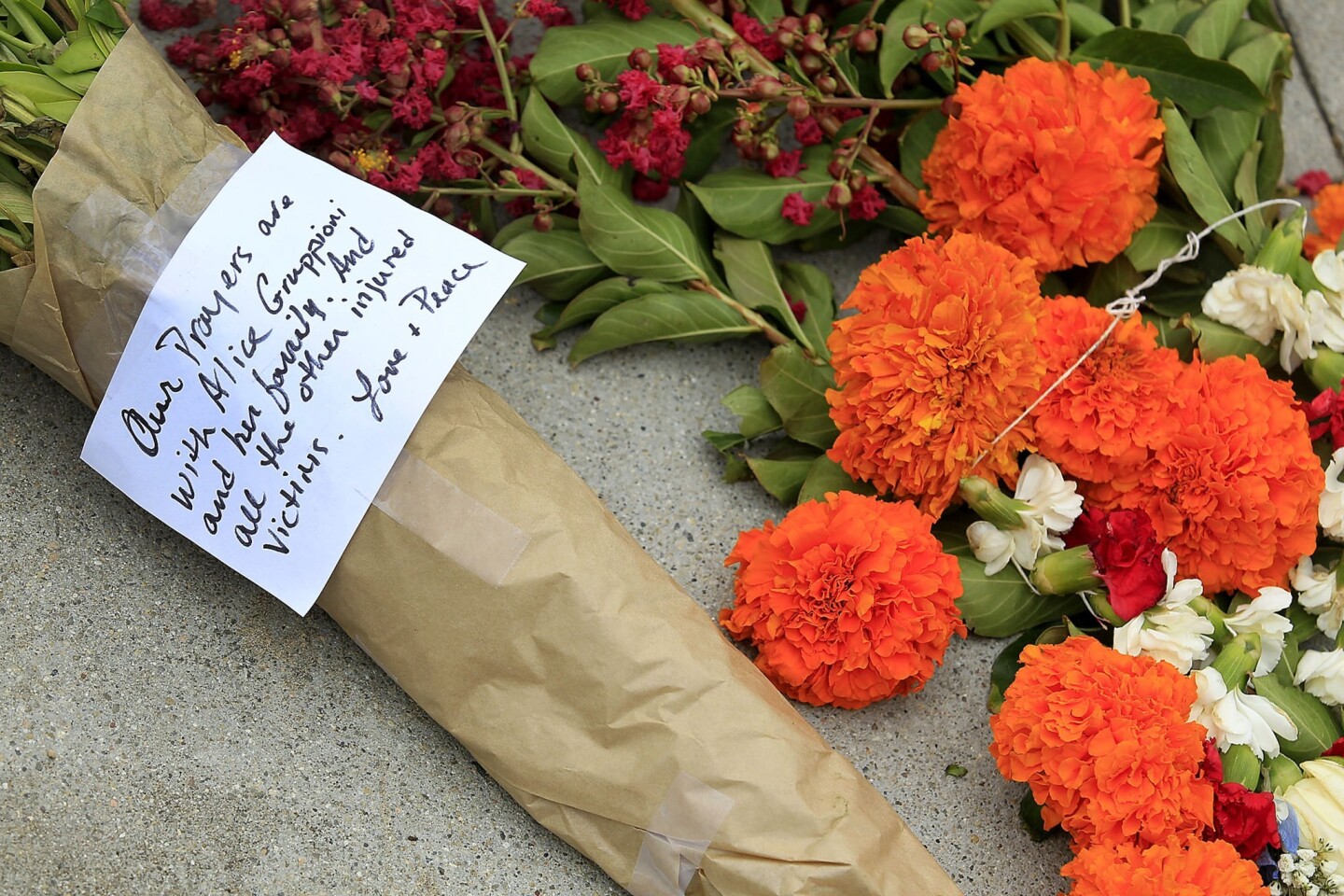 Witnesses described a blue Dodge zigzagging along Ocean Front Walk, striking pedestrians and vendors before speeding away.
(Brian van der Brug / Los Angeles Times)
First responders attend to the injured after pedestrians were struck at the Venice boardwalk on Aug. 3, 2013.
(Maarten Smitskamp)
A car struck a crowd of pedestrians, killing one, on the Venice boardwalk Aug. 3, 2013.
(Maarten Smitskamp)
A person at the scene sent this image of firefighters on the Venice boardwalk Aug. 3, 2013.
(Octavio Raygoza)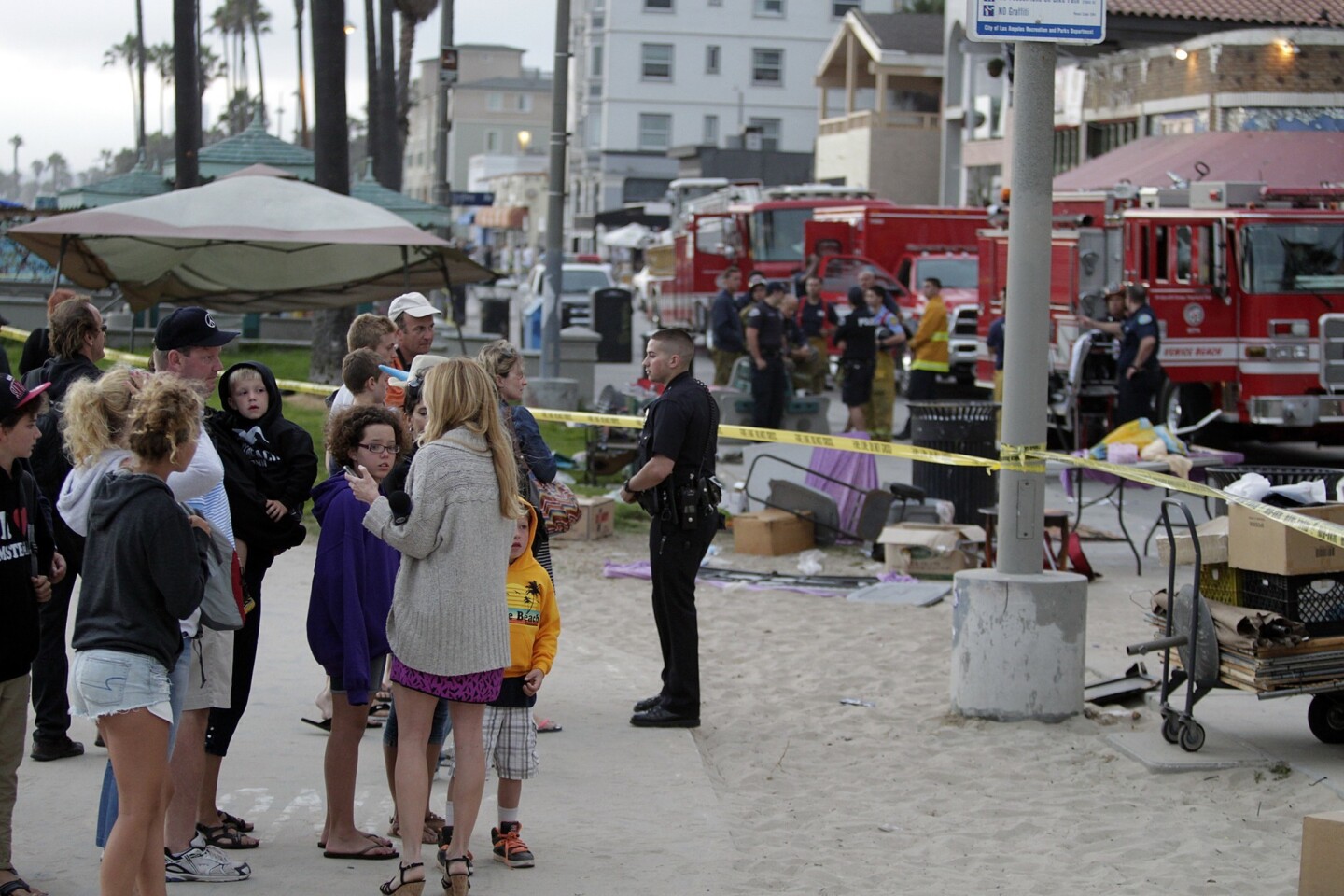 Bystanders, police and firefighters at the scene of the Aug. 3, 2013, incident in which a crowd of pedestrians was struck in Venice Beach.
(Allen J. Schaben / Los Angeles Times)
The man accused of using his car to kill an Italian honeymooner and injure 17 people on the Venice Boardwalk in August will stand trial for murder and other charges, a judge ruled Wednesday.
Los Angeles County Superior Court Judge Antonio Barreto Jr. found there was sufficient evidence for Nathan Louis Campbell, a 38-year-old Colorado native, to stand trial on one count of murder with a deadly and dangerous weapon for the death of Alice Gruppioni, 32, who was honeymooning with her husband at the time she was fatally struck.
Campbell also faces 17 counts of assault with deadly weapon, including three with great bodily injury, and 10 counts of hit-and-run. Prosecutors had previously listed the number of people injured in the alleged attack as 16.
Campbell turned himself in to Santa Monica police an hour after the incident Aug. 3.
Witness testimony bolstered surveillance video footage that shows Campbell's 2008 Dodge Avenger ramming past a barrier post onto the beachfront pedestrian walkway before striking people as it careened for at least half a mile. Witnesses testified the car appeared to deliberately strike people -- even as they tried to avoid it -- while zigging and zagging down the boardwalk. They said the driver didn't honk or offer any warnings.
The car rammed over an automated teller machine, turned over tents and tables and tossed jewelry and other wares into the air.
Public defender Philip Dube has argued the situation was an accident, contending the recently purchased car had issues with a spring on the shift lever and Campbell, who was parked illegally, struggled to get the vehicle out of its parking gear that day.
When the car pushed forward, Campbell, who has a history of alcohol abuse, panicked as he lurched onto the sidewalk and then left onto the boardwalk, Dube said.
On Wednesday, the judge declined to disregard evidence from a reputed drug dealer who said Campbell and an unknown individual approached him on the boardwalk to buy meth. Though the dealer failed to identify Campbell in court, the judge said there was sufficient reason to believe the dealer's testimony Campbell unsuccessfully tried to buy drugs before the incident.
Campbell is scheduled to be arraigned on the updated charges Jan. 22. He faces up to life in prison if convicted.
Twitter: @peard33
---
For reporting and exclusive analysis from bureau chief John Myers, get our California Politics newsletter.
You may occasionally receive promotional content from the Los Angeles Times.