L.A. to pay up to $14 million to settle lawsuits over deadly Venice Beach boardwalk crash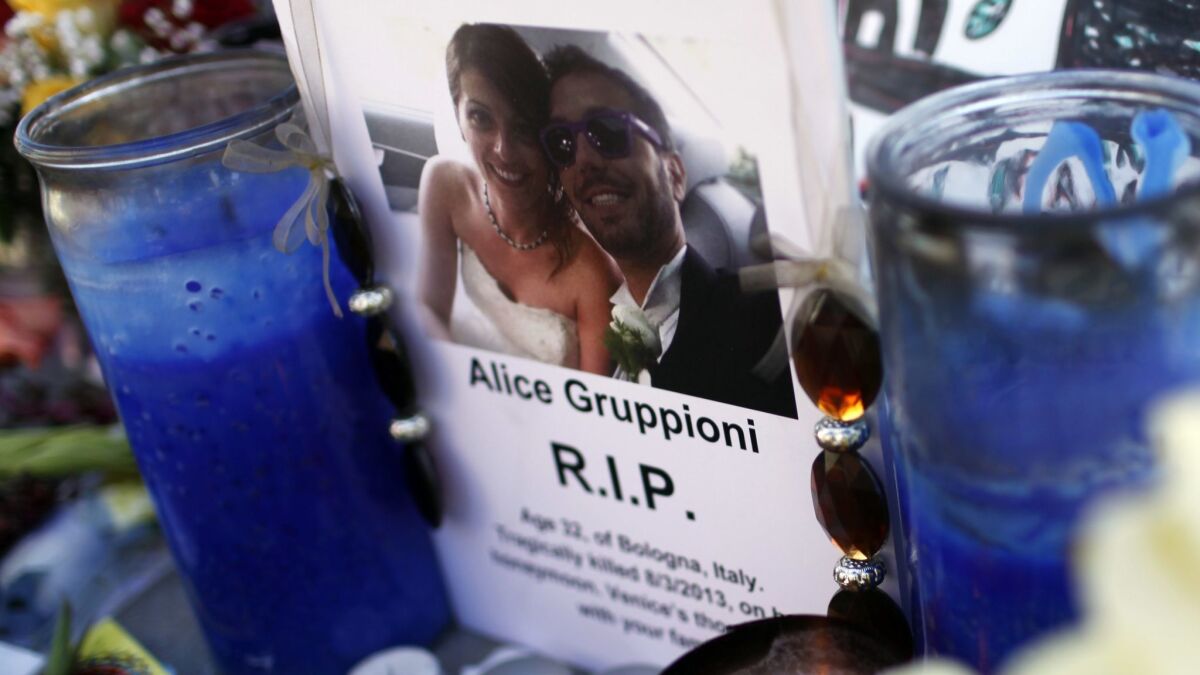 Five years ago, a driver plowed his car onto the Venice Beach boardwalk, wounding more than a dozen people and killing an Italian newlywed on her honeymoon.
The bereaved parents and husband of Alice Gruppioni sued the city of Los Angeles after her death. So did others injured in the crash, who accused L.A. of failing to install sufficient barriers or take other steps to protect people strolling along the famed walkway.
On Tuesday, Los Angeles lawmakers unanimously agreed to pay up to $14 million to end a trio of lawsuits over the deadly incident, including a settlement of as much as $12 million with the family of the slain 32-year-old woman. Two other cases, brought by a pair of Los Angeles County residents and a Parisian woman visiting the boardwalk, will be settled for up to $2 million.
"On what was to be the start of a wonderful new chapter in her life, Alice Gruppioni instead lost her life," Los Angeles City Atty. Mike Feuer said in a written statement following Tuesday's announcement. "I hope that in some way today's action will bring comfort to Alice's family and friends who have suffered such a tragic loss."
Gregory L. Bentley, an Irvine attorney representing the parents and husband of Alice Gruppioni, called it "a bittersweet day for the family."
"We're happy that the city has recognized that this family suffered a loss that is unimaginable — and that the city is going to take steps to make this boardwalk safe for the millions of people that visit the Venice Beach boardwalk each year," Bentley said.
The driver who barreled onto the walkway, Nathan Campbell, had steered around a set of bollards that were meant to block cars from getting onto Ocean Front Walk. At the time of the crash, there was a wide gap between the last bollard and the nearest building, according to a legal brief prepared by attorneys for the Gruppioni family.
Bentley said that Los Angeles officials had promised to put stronger barriers at entrance points to the boardwalk. Those measures are not part of the legal settlement, but "we really hope that the city will take seriously its promise to put sufficient barricades up to prevent such a tragic incident from happening again," Bentley said.
The Venice Beach walkway, lined with colorful shops and an eclectic array of street vendors and performers, is one of the most popular tourist attractions in Southern California.
Attorneys said that Alice Gruppioni and her husband had decided to stop there on their honeymoon, which was slated to stretch from the Grand Canyon to Bora Bora, because her favorite television show had once filmed there. She wanted to buy the same leather jacket that the cast had bought at a boardwalk shop on an episode of "The Bold and the Beautiful."
Immediately after the incident, the council voted to install temporary barriers at intersections along the boardwalk. At the time, City Councilman Mike Bonin said he had been informed that on average, more than 15 motorists had been driving onto Ocean Front Walk every day, "putting lives at risk and causing accidents."
Bonin spokesman David Graham-Caso said Tuesday that, in addition to adding temporary bollards, the city had also upgraded lighting along the boardwalk and pier, installed new security cameras and loudspeakers to direct crowds during an emergency, and erected new signs warning drivers following the incident.
The city has also allocated $250,000 in the coming budget year to design "permanent barriers to vehicular traffic," including art installations and bicycle racks, Graham-Caso added. Feuer spokesman Rob Wilcox said Tuesday that city officials were trying to strengthen the barriers while ensuring that police and the fire department have access for "daily emergencies."
City lawyers had tried to fend off such lawsuits by arguing that the Venice Beach boardwalk fell under a state code that relieves government agencies from legal liability for injuries on recreational trails. The boardwalk, they argued, is used to access the beach, a nearby bicycle path and recreational activities such as handball and volleyball.
Under the state code, "the city is absolutely immune from liability for any injury occurring on the boardwalk," city attorneys argued.
But those arguments failed to sway an appellate court, which agreed with a lower court that there was a "triable issue" over whether the Venice Beach boardwalk counted as a trail. The Gruppioni case was headed to trial before the settlement was reached.
Los Angeles has faced surging costs for legal payouts in recent years. By the end of this budget year, the annual total is expected to exceed $100 million, according to the city attorney's office. Last month, the office warned that "dangerous condition" payouts were projected to exceed $50 million for the second year in a row, an "unprecedented growth" in such liability.
The Gruppioni settlement could be paid out over several years, officials said Tuesday, a reflection of how the city has tried to manage the financial strain from big payouts.
Campbell, the driver who bulldozed into the crowd, was convicted of second-degree murder and other charges and sentenced to 42 years to life in state prison. The Gruppioni family also targeted him in their civil suit for battery and infliction of emotional distress. That part of the lawsuit is still pending, according to Bentley.
During his criminal trial, a prosecutor said Campbell was frustrated and angry after a botched effort to buy drugs when he decided to get into his Dodge Avenger, jump a curb and maneuver onto the packed boardwalk. At his sentencing, Campbell apologized but claimed it was an accident, spurring a rebuke from the judge.
In addition to safety measures, the Gruppioni family also wanted a memorial plaque to their daughter to be placed on the boardwalk. Bentley said that the city and the family are now planning for a placard or sign in her memory.
In a statement released Tuesday, her parents, Valerio Gruppioni and Barbara Michelini, called her "a light to us, to Italy, and to everyone she met."
Times researcher Scott Wilson contributed to this report.
Twitter: @AlpertReyes
The stories shaping California
Get up to speed with our Essential California newsletter, sent six days a week.
You may occasionally receive promotional content from the Los Angeles Times.