More rain on the way for Southern California this weekend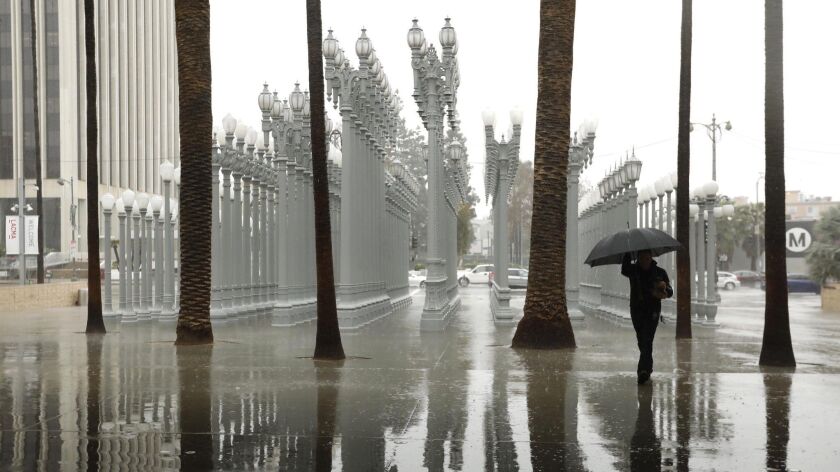 Southern Californians should keep umbrellas — and winter coats — on hand this weekend as another series of chilly storms makes its way into the region.
Forecasters said the Southland will experience a brief drying-out period early Friday — a welcome break after days of heavy rain — before the next system arrives in the afternoon.
The moisture-rich atmospheric river brought intense downpours to California earlier in the week, triggering widespread flooding that prompted evacuations and even unleashed a mudslide that sent one home sliding into another in Marin County. The latest series of storms adds to an already wet winter for Californians.
Downtown Los Angeles saw 2.12 inches of rain in the 24-hour period that ended at midnight Friday. The area has seen 15.5 inches of rain this water year, which began Oct. 1, surpassing the average for the entire year of 14.93 inches. This represents the region getting 173% of average precipitation for this time of year. Typically, the downtown area sees less than 9 inches in that time frame.
With 14 of the last 20 water years — prior to this year — having been drier than average, forecasters say it's not unusual for recent rainfall to surprise Californians.
"We've been lulled into a new normal with so much drought in the last several years," said Miguel Miller, a meteorologist with the National Weather Service. "Now when it does rain normally it seems like a lot. We're not on a record pace, but we are definitely well above average."
The next series of storms, stemming from a low pressure system that originated near Alaska, will bring colder temperatures and lower snow levels, but much lighter rain than the atmospheric river, forecasters said.
Scattered showers are expected to arrive Friday afternoon and could bring roughly half an inch of precipitation to Los Angeles County through Saturday. Snow levels are expected to fall to 3,500 feet by Friday night and down to 1,500 feet on Sunday.
Forecasters predict up to 2 inches of fresh powder will fall on the Grapevine by Saturday morning, which could make weekend travel difficult.
Another storm is set to arrive on Saturday and linger through the day in San Diego, though forecasters predict that Los Angeles and Orange counties likely won't see much moisture out of the system.
Temperatures will dip into the mid-50s in Los Angeles during the day Sunday as a third weekend storm makes its way into the region. Overnight lows are likely be in the 30s across most coastal and valley areas Sunday night, according to the weather service.
It is not clear how much rain the Sunday storm will deliver, but forecasters are expecting scattered showers rather than pounding rain.
"These storms don't have quite the copious moisture of the tropical systems we've had," Miller said. "It'll be more showery rather than prolonged widespread rainfall that doesn't stop."
Staff writer Rong-Gong Lin contributed to this report.
Twitter: @Hannahnfry
---
The stories shaping California
Get up to speed with our Essential California newsletter, sent six days a week.
You may occasionally receive promotional content from the Los Angeles Times.