Gay mayor accused of sexual harassment as #MeToo reckoning comes to West Hollywood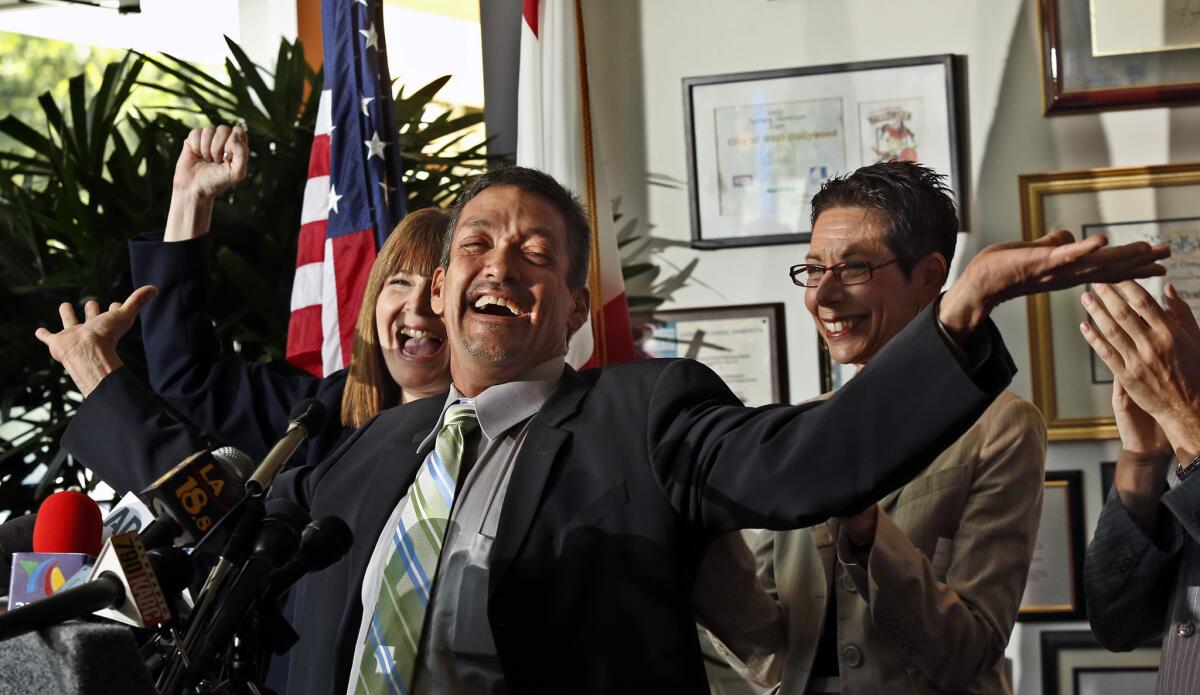 For years, Mayor John Duran has been a public avatar for West Hollywood's cheekily sexual culture.
From the City Council dais, he joked about wearing gold lamé underwear and announced a public forum on anal cancer named Booty Call to Action. But he was also accused by another councilman of looking for sex on the dating app Grindr during public meetings.
Even after the city paid $500,000 in 2016 to settle a sexual harassment lawsuit brought by Duran's former council deputy — whom Duran hired after meeting on Grindr and having sex with him — Duran was reelected.
For many, it seemed West Hollywood was the town that #MeToo forgot.
But now, amid new allegations of sexual harassment against Duran by members of the Gay Men's Chorus of Los Angeles, some West Hollywood residents and politicians are saying enough is enough and that times have changed. Three of the city's five council members have called on Duran to resign, saying he has become a distraction.
Protesters are planning to converge on the City Council meeting Tuesday to call for Duran's ouster and seek action in another scandal: the recent deaths of two gay black men in the West Hollywood apartment of Ed Buck, a white, wealthy Democratic donor and LGBTQ activist. For several years, Duran worked as an attorney for Buck.
Last week, Robert Oliver resigned as vice chair of the city's Public Safety Commission in protest after other commissioners declined to condemn Duran.
"It is time that the #MeToo movement comes to West Hollywood," he said.
Duran, 59, has refused to step down, describing himself as a proudly sensual gay man who lived through a sexual revolution colliding against a prudish #MeToo movement that's too quick to judge. Bawdiness is just part of who he's always been, Duran said, and he's not going to change now.
"There's a culture clash going on," the mayor said. "If somebody expresses himself or herself sexually, that doesn't make it harassment, per se."
"People are thinking that anything sexual is harassment because somebody feels it is unwelcome, but you have to open your mouth and say, 'No, I don't want this.' … Otherwise, how are any of us able to navigate the sexual politics of 2019? I just think there are bigger, more complex issues at play, that everyone needs to take a timeout and slow down. It can't be accusation equals guilt."
Three current or former members of the Gay Men's Chorus have accused Duran, the longtime board chairman, of crude sexual comments and engaging in unwanted touching.
Chorus member Brian Phillip Nichoalds said Duran slipped his hand inside Nichoalds' waistband and made sexually charged comments. Joey Firoben, a former member, said Duran made inappropriate comments to him too.
Jason Tong, 23, who was both a singing member and part-time employee of the chorus, said that, in October, Duran came up behind him and put two fingers inside his waistband, near his hips, in a changing room before a show in Glendale. Tong said he turned around and made eye contact with Duran, who silently left the room.
"I sort of went into a shocked state," Tong said. "It all happened very quickly, five seconds or so. … I went to the next changing room over and told a couple of my friends what happened. Only then did I realize I had been violated by someone."
Tong said he was upset Duran was trying to blame a generational difference and that he "knows lots of older gay men who definitely understand the idea of consent."
"No matter how old you are," he said, "it's very easy to ask first."
Oliver, 29, said the accusations against Duran went beyond "gay culture" and colorful language.
"It's his generation that made it possible for me to be an out, proud, liberated, married gay man today," Oliver said. "But it's my generation's responsibility to take the lessons that we have learned collectively as a society and bring those to our LGBT community and teach his generation."
On Tuesday, City Council members Lindsey Horvath, Lauren Meister and John D'Amico posted similar statements to their individual Facebook pages calling for Duran to resign.
"Our City cannot focus on the work of the people when we have to address new and numerous allegations of sexual misconduct, including whether our Mayor used his title to solicit sexual favors," Horvath wrote.
City Atty. Mike Jenkins said state law did not allow the council of a general-law city to remove one of its members.
Duran told The Times that he thought his colleagues violated the state's open-meeting law, the Ralph M. Brown Act, by coordinating the statements, which were all posted within four minutes of each other. Jenkins said in an email that "the statements reflect the individual views of each council member and are not the result of a coordinated effort."
Councilman John Heilman is the only member who has not publicly addressed the allegations.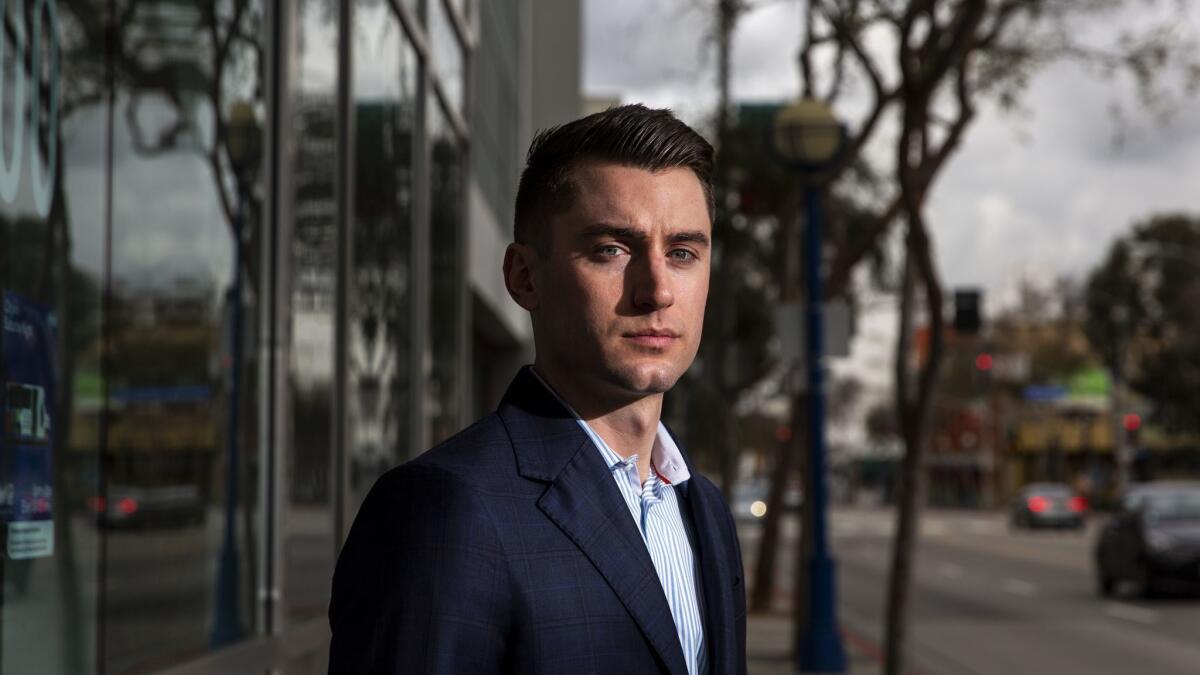 Duran has been on the council since 2001 and has served four terms as mayor, a largely ceremonial title that rotates annually.
In a Facebook statement Wednesday, Duran wrote that gay people fought hard in the 1970s and 1980s for "the right to maintain sexuality in the midst of plague and to come out on the other side into marriage equality. … Am I the only gay man in town who uses bawdy sexual humor? Or says inappropriate things? Nope."
"So, will I resign? Those of you who know me — well know the answer. HELL NO."
Jeremy Goldbach, director of the Center for LGBT Health Equity at USC, said a certain level of off-color and gallows humor was part of life for many gay men who survived the AIDS crisis and that one of the defining characteristics for the LGBTQ rights movement was a willingness to push the boundaries on sexuality.
"But I don't think the historical experiences in the LGBT community somehow provide permission for the way somebody acts today," he said. "We're in a different time now, especially when people are in positions of power. … In those situations, it doesn't matter if you think something is offensive. What matters is the experience the other person is having."
Steve Martin, a former West Hollywood councilman who is gay, said gay elected officials had to "follow the established rules" because they represented everyone, not just the LGBTQ community.
"Wrapping yourself in the flag of gay sexual liberation is just a dodge for irresponsible conduct," Martin said. "Elected office is a public trust; this ain't no nightclub, this ain't no disco, as the song goes. Bathhouse conduct is not appropriate at City Hall or in any professional setting."
In October, Mike Gerle, the city's events services coordinator, formally complained to West Hollywood's human resources department about Duran. Gerle said he was working at a city-sponsored protest at West Hollywood Park with a giant balloon depicting President Trump as an infant when he heard Duran make a sexually charged comment to a photographer lying on the ground, saying he was "always on his back."
Gerle, 53, also formally complained that Duran made inappropriate sexual advances toward his boyfriend, Dennis Gleason, on Grindr during a city-funded trip to a National League of Cities event in Washington, D.C., in 2018.
In Grindr screenshots provided to The Times, Duran asked to come to Gleason's room. Gleason declined, saying it was "a little too close to home" and that he worked for Los Angeles City Councilman Joe Buscaino and was dating Gerle.
Duran wrote: "Oh my god. I didn't realize that. Disregard!"
A few minutes later, he wrote: "[Oral sex] shouldn't count. But Gerle would Hate me." A few minutes later, he asked again for a sex act, then wrote, "Oh come on. That was slightly funny."
Gerle, a former International Mr. Leather, said he and Gleason had an open relationship and that his boyfriend could have sex with whomever he wanted — but that Duran crossed a line because he kept pursuing Gleason even after Gleason indicated he was uninterested.
"It's about consent. … He has this sense of entitlement that because we're gay, 'I can do whatever I want with you because that's our culture.' He's decided that's our culture. He doesn't understand that every gay man gets to decide what interactions he has. You don't get a pass."
Gleason, 37, the policy director for Buscaino, said Duran's statements about a generational divide "sounds like the same thing, to me, as 'locker-room talk.' "
In a Feb. 11 letter to Gerle, the city said his complaints were unsubstantiated and that Human Resources "recommends continuing to limit your interaction with Mayor Duran, per your request, without diminishing your job responsibilities or opportunities for advancement."
In an interview with the WeHo Times, a local news website, Duran dismissed his accusers from the chorus. Duran said that before Tong made a complaint, he had never heard of him.
"I looked him up on Facebook and of course, he's a skinny Korean kid with pimples on his cheek. … Look at this guy. It's just not happening. It's not credible," Duran told the publication.
API Equality-LA, an Asian and Pacific Islander LGBTQ rights organization, condemned Duran's "victim-blaming and racist statements," saying "Asian men have long been discriminated against in gay communities."
Estevan Montemayor, president of the board for Christopher Street West, the nonprofit that produces L.A. Pride, said Duran's comment was "very Trumpian."
"He has dismissed his accusers because of the way they look and who they are. It's the same tactic. It is deplorable," said Montemayor, who said he had long considered Duran a friend.
Tong said he felt like he was being body shamed but that "like every skinny, queer person of color who happens to be relatively young, it's not like I haven't been victimized like this before."
And besides, Tong added: "I'm not Korean; I'm Chinese."
Times staff writer Jessica Gelt contributed to this report.
Sign up for Essential California for news, features and recommendations from the L.A. Times and beyond in your inbox six days a week.
You may occasionally receive promotional content from the Los Angeles Times.