Warmer weather means fewer beds, more challenges for L.A.'s homeless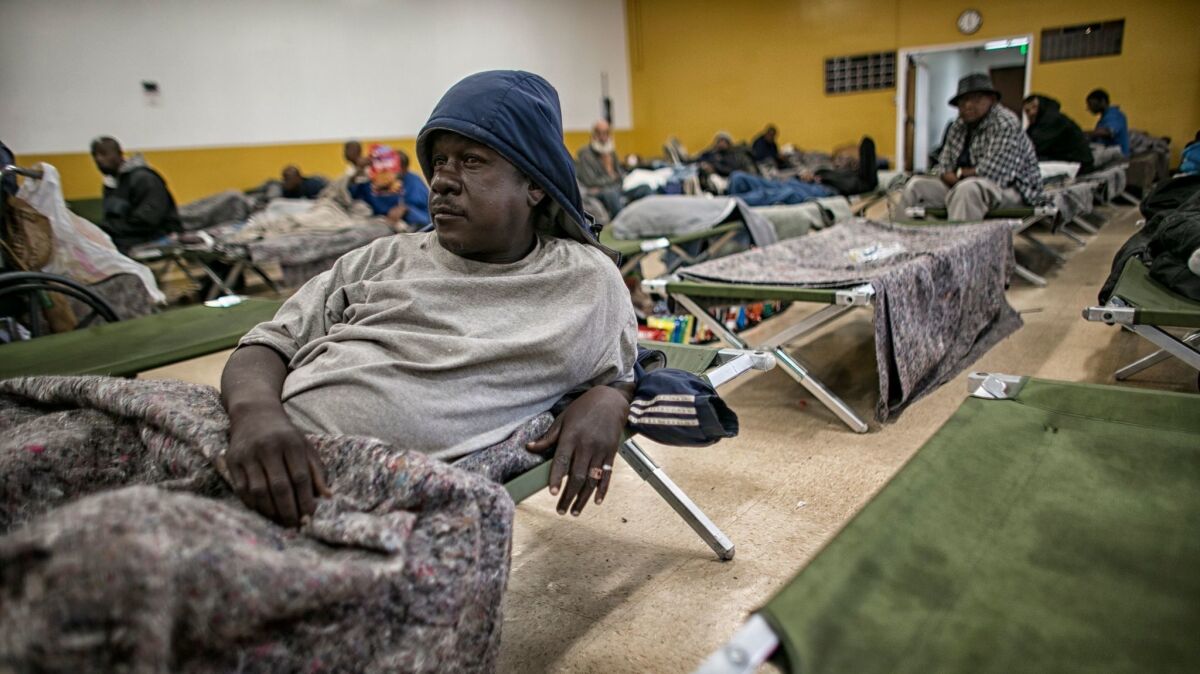 The driver was pulling away with a nearly full cabin of seven men, three women and several giant suitcases when a commotion caused him to hit the brakes.
A young man pushed a wheelchair in front of the van, yelling in a desperate voice, "Can you take him?"
The driver tried to wave him off. "The ramp doesn't work," he said.
The older man in the wheelchair — with one leg missing, a tremor in his hands and pain on his face — pleaded. The driver's resolve melted. He and an assistant got out and lifted the man, who grunted pathetically, up the four steps to a seat.
He was the last passenger to board the last shuttle that since December had collected the downtrodden of skid row, seven days a week, for the ride to the winter shelter at Bethel AME church in South Los Angeles.
After a one-month extension because of the heavy rain early in March, all but one of the winter shelters took in their last clients Thursday afternoon and closed their doors Friday morning.
The last is set to close April 15, eliminating a total of 1,259 beds from the county's overburdened shelter system and forcing hundreds of men and women to scrounge for a bed or a place on the sidewalk.
This year's program wound down amid a bureaucratic commotion set off when the Los Angeles Homeless Services Authority sent an email Tuesday to nine shelters floating the possibility that they could be extended until December, in effect making them year-round.
"Due to the adverse weather this season along with their being a need for more year-round shelters in Los Angeles, the city has recently approved to extend winter shelter an additional 8 months," the email said. "I am writing to see if you all would be interested in participating in this extension."
Though given only a day to respond, seven of the shelter operators jumped at the offer.
"That wasn't even a question," said Quanetha Hunt, program director for the Bethel shelter. "We would be more than happy to extend it."
A follow-up email the next day chilled her enthusiasm. There wasn't actually money for an extension. The email had been precipitated by a query from Los Angeles City Councilman Jose Huizar, who is exploring the possibility of funding the winter shelters year-round. He wanted to know if the operators were interested.
"We sent out the email, which had some unfortunate language," said Chris Callandrillo, director of programs for the homeless authority. "We didn't intend to say it was approved."
The mix-up highlighted the view of some shelter operators that the winter program needs to be re-examined.
"I'm hoping that they will continue their internal conversations and come back to the shelters and say can you reopen," Hunt said. "There are clients that are out there in the street as of this morning."
"We need more shelters and they need to be in people's communities," said Monica Alcaraz, a volunteer with Recycled Resources for the Homeless. The Highland Park nonprofit founded and helps run the 35-bed winter shelter in All Saints Episcopal Church.
After a one-month extension because of the heavy rain early in March, all but one of the winter shelters closed their doors for the summer. Residents of Bethel AME church in South L.A. discuss their situations.
The shelter opened in late 2015 as a refuge for dozens of people who had been displaced from makeshift camps in the Arroyo Seco. But this year, Alcaraz said, it became overwhelmed by the closure of the winter shelter in Glendale.
"It was hard," she said. "Sometimes we had just up to 70 people coming."
They came from Hollywood, MacArthur Park, South Los Angeles, skid row and Pasadena, Alcaraz said.
Lately a shuttle has been provided to take some people to the shelter in West Los Angeles.
"Ideally we would want a permanent shelter," Alcaraz said. "Not at the church; it's just an old church with so many people using the restroom."
The winter shelter network, with 14 locations from Pomona to West Los Angeles, was conceived as an emergency response to provide comfort and save lives during the harshest weather. Consequently, it is not funded to provide the level of services and 24-hour accommodations that year-round shelters do. Shelter doors open in the afternoon and close early in the morning.
Most of the programs provide shuttle service. At Bethel, men and women come from two stops in South Los Angeles and one downtown to sleep on rows of Army-style cots in the church social hall. The women stay in a separate location. In the morning some disperse into the immediate community at 79th Street and Western Avenue. Others ride the bus.
Despite the daily disruption, Bethel is home for the men who spend their nights there, Hunt said.
"It's a community," Hunt said. "These are friends that they can talk to, that they can hang out with. It's a relationship that's built inside of the shelters. They leave early in the morning together. They come back in the evening. They eat dinner, they talk to each other, they watch TV. They try to figure out how to survive in the midst of all this."
As the days counted down, their ranks dwindled from an average in the high 90s to the mid-60s, and those remaining pondered their next move.
Many spent their last two weeks searching for a year-round shelter that would accept them. Others drifted back to the streets, or found friends to take them in.
Asked earlier in March what they would do after the shelter closed, many residents said confidently that they had taken advantage of the free lodging to save up money and they would be moving into apartments.
"That's their wish," Hunt said, rolling her eyes. "Half these men are in a state of trauma survival."
Mike Brown said he planned to apply to a crisis housing shelter.
Kenneth Sampay carried paperwork showing he would receive $500 a month from the county.
He was looking for an apartment.
Art Reeder, who moved around in a wheelchair, said he was planning to call a year-round shelter the next day.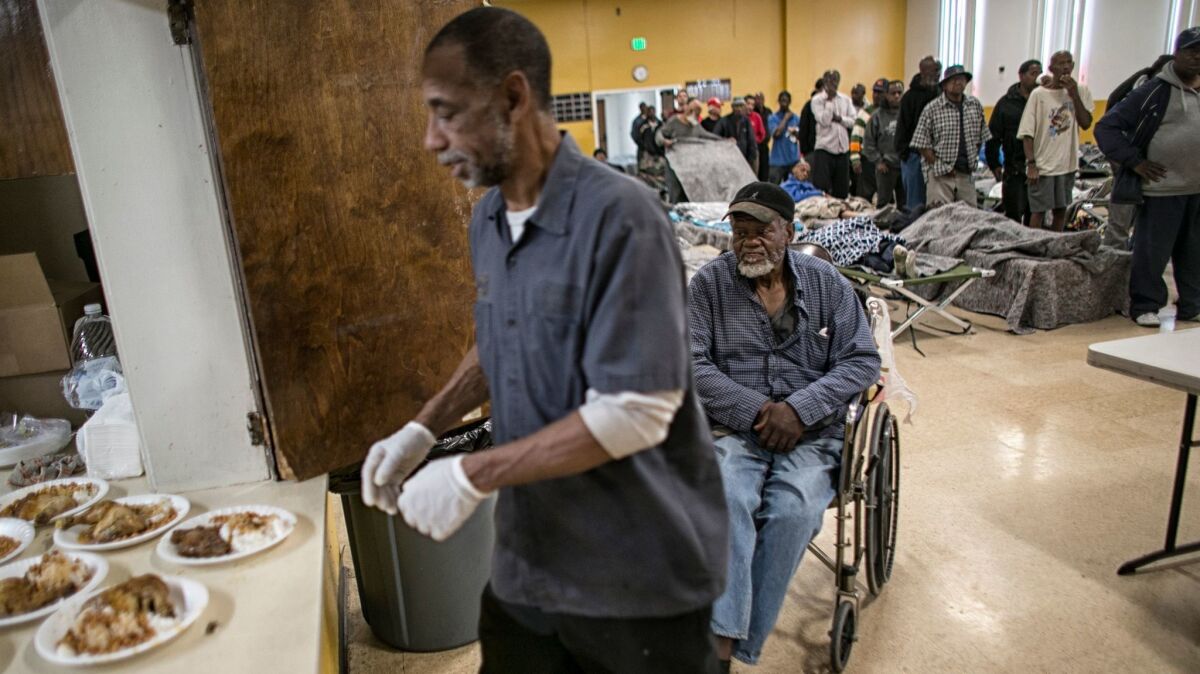 After finishing a chess game, Carl Trammell said he would go back to the streets of Hollywood.
Those who find spots in year-round shelters, where case managers and housing navigators are ready to work with them, have a chance at getting permanent housing. But Hunt doesn't think that necessarily means home.
"This is one of the challenges," Hunt said. "If you take them outside and house them, they're glad to be housed, but these are their friends. Now they have a home, they have a place to stay, but they don't have their community."
Housing will not be in the immediate future for most, however.
As he waited to be checked in for his first night at Bethel, and what would be his last this season, the man in the wheelchair said he had a plan for the following day.
He would go to an office on skid row — he didn't recall the name — where they would try to get him help.
But he didn't like it there, he said, because the guards made faces at him.
Twitter: @LATDoug
---
Life is stressful. Our weekly mental wellness newsletter can help.
You may occasionally receive promotional content from the Los Angeles Times.