Lull in winds could give firefighters the upper hand against Woolsey blaze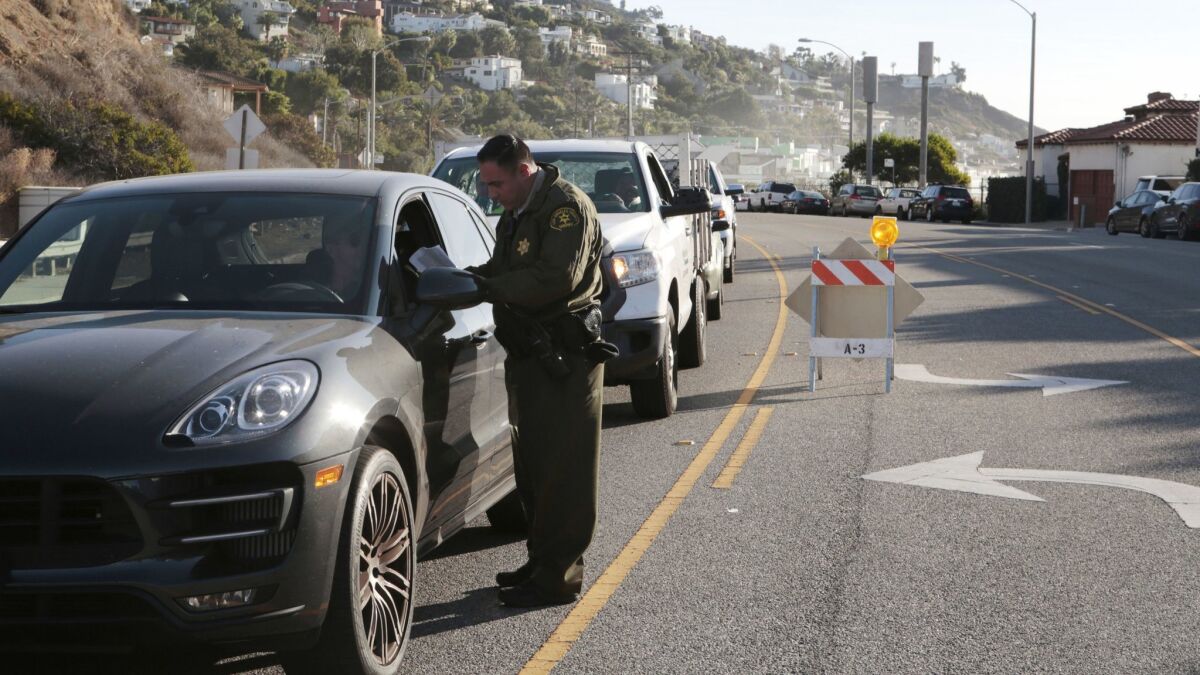 As the battle against the Woolsey fire entered its seventh day, fire officials were optimistic Thursday that improved weather might help them get the upper hand against the devastating blaze.
The Woolsey fire has charred 98,362 acres in Los Angeles and Ventura counties since last week. The remains of three people whose deaths are considered fire-related have been discovered, and more than 500 structures have been destroyed.
Firefighters stopped the fire's expansion and increased containment to 57% overnight. The boost in containment comes as strong winds that had battered the region for three consecutive days finally diminished. It was a welcome development for those on the front lines, said California Department of Forestry and Fire Protection spokesman Chris Anthony.
"I think we're all hoping today will be a turning point for us in this fight," Anthony said. "But we're not ramping down. This is a huge fire, and there's still a lot of containment that needs to be done."
Despite the good news, authorities are urging residents to stay cautious as the rainy season approaches and to prepare for potential mud flows in burned-out areas.
Rain could arrive in the Los Angeles area late next week, according to extended weather forecasts. But meteorologists with the National Weather Service said it's too soon to tell how much rain — if any — to expect.
Authorities told Malibu residents this week that Cal Fire's watershed emergency response team would be surveying areas most at risk for mud flows in the event of a storm.
President Trump is expected to visit California on Saturday to survey damage and meet residents affected by the fires. The president was criticized for a recent tweet that incorrectly stated the fires were the result of poor forest management. Trump since has spoken with Gov. Jerry Brown, saying he was "completely behind California."
On Thursday, Brown toured burn zones from the Hill and Woolsey fires. He then met with U.S. Interior Secretary Ryan Zinke and state fire officials in Camarillo.
Zinke and Brown had toured the scene of the Camp fire that devastated Paradise in Northern California on Wednesday.
At a news conference, Zinke and Brown pledged to work together to help those recovering from the state's fire siege.
"This is my fourth time to California, all of which have been fires," Zinke said. "And every time I come back, I say this is the worst fire I've seen. Yesterday is the worst fire I've seen."
"Paradise unfortunately likely will not be the same city."
In light of the large-scale fires that have devastated California communities in recent years, Brown emphasized the importance of designing safer cities to mitigate the effects of climate change.
"There are fires and there are going to be more fires," Brown said. "California is a rich state, but we have to take intelligent precautions with how we design our cities."
Zinke suggested the importance of prescribed burns and removing dead trees in order to make sure fuel supplies are reduced.
Meanwhile, the Woolsey fire is expected to transition from being wind-driven to terrain- and fuel-driven. Humidity hovering in the single digits means that shrubs, trees and other potential fuels are as dry as the fire wood sold at hardware stores.
Northeast winds will drop to around 15 to 25 mph early Thursday but will shift around noon. A sea breeze will blow off the ocean and up the coastal canyons through the evening until a light round of northeast winds returns overnight, meteorologist Rich Thompson said.
Officials say the winds won't be nearly as severe as the 50 mph gusts that previously fanned flames toward homes.
"Definitely a lot less wind out there today than we have seen the last several days, but it's still very dry out there," Thompson said.
Anthony said firefighters will continue to build containment lines around the fire and extinguish hot spots in an effort to prevent spot fires like the one that broke out in the Santa Monica Mountains on Tuesday.
"We have to be aware," Anthony said. "As we saw, it didn't take much for the fire to get going again."
While crews continue to grapple with the fire, some residents who were evacuated from their homes last week are beginning to return.
On Wednesday, about 50 people gathered at a town hall meeting in Thousand Oaks. Ventura County Fire Chief Mark Lorenzen asked the crowd how many had lost homes. A third of the hands went up. About half of the room knew someone whose home had been destroyed.
In Ventura County, 95 structures were lost to fire. Lorenzen emphasized that despite the damage, many homes had been saved.
"We legitimately had everybody that was available out there protecting your families and your homes," he said. "I'm deeply sorry for your loss. I am so thankful that you're all here to join us and that we can share in this process and help you on the road to recovery."
But on Thursday, people trying to cross into Malibu near Saratoga Hills were turned away by California Highway Patrol officers, frustrating residents who had been away from their homes for nearly a week and others who were trying to replenish supplies.
Perched on Kanan Road just above Malibu View Court, the officers set up a roadblock where they allowed only utility workers to pass. Southern California Edison did not want residents going into the area because there were downed power lines, CHP officials said.
"Everyone has to turn around, even if you're a resident," one officer said through a megaphone.
Residents waited along the road, their trucks and SUVs parked in the dirt near the hillside. The faint smell of smoke lingered in the air.
Ali Reza Ahmadian, 34, was trying to get supplies to his father and sister, who live across the street from Zuma Beach. The downtown Los Angeles resident was able to get food and water to his dad earlier this week, but he couldn't get through Thursday.
"They were letting people with local driver's licenses in [previously]," he said. "Then they had escorts. Now it's a hard shutdown."
His father's house was in a mandatory evacuation area, but the family stayed because they though its proximity to the beach made it safe.
Among the supplies Ahmadian purchased were an extension cord, water and "an exorbitant amount of bananas" that his father wanted to hand out to neighbors. The generator that had kept power on at the house recently failed, Ahmadian added. He bought tools to fix that as well.
As he spoke, a disgruntled resident walked up and handed him a pamphlet.
"RESIDENTS!" it read. "Make calls to get evacuations lifted."
The flier listed talking points for people to take up with elected officials, including the governor's office and the Malibu mayor's office.
Randy Couch, a resident of the Seminole Springs Mobile Home Park, evacuated at 3 am Friday and hopped from park to park in his RV, until they were forced to stay in the parking lot of a Home Depot in West Hills.
He managed to sneak back into his neighborhood Tuesday, but now he and his wife are waiting for the blockade to be removed so they can retrieve their cat, which is still in their RV and needs to be fed.
"The highway patrol doesn't know anything, other than Edison doesn't want people in," he said as a large truck drove by with a downed power pole in tow.
"Nobody knows what's happening. Every day we're waiting for news.... [Edison] should have a representative here."
Couch said his house smells like smoke, but otherwise there is no damage. The flames came within 10 feet of his deck, he said.
"It's a miracle," he said. "Ours is a survival story."
Times staff writer Soumya Karlamangla contributed to this report
Twitter: @Hannahnfry
---
UPDATES:
1:40 p.m.: This article was updated with information about President Trump's visit to California and the potential for mud flows in burn areas.
12:10 p.m.: This article was updated with information from Gov. Jerry Brown and Interior Secretary Ryan Zinke and comments from residents in Malibu who were turned away at a California Highway Patrol roadblock.
This article was originally published at 10:20 a.m.
The stories shaping California
Get up to speed with our Essential California newsletter, sent six days a week.
You may occasionally receive promotional content from the Los Angeles Times.