L.A. judge reverses order barring journalists from describing appearance of murder defendants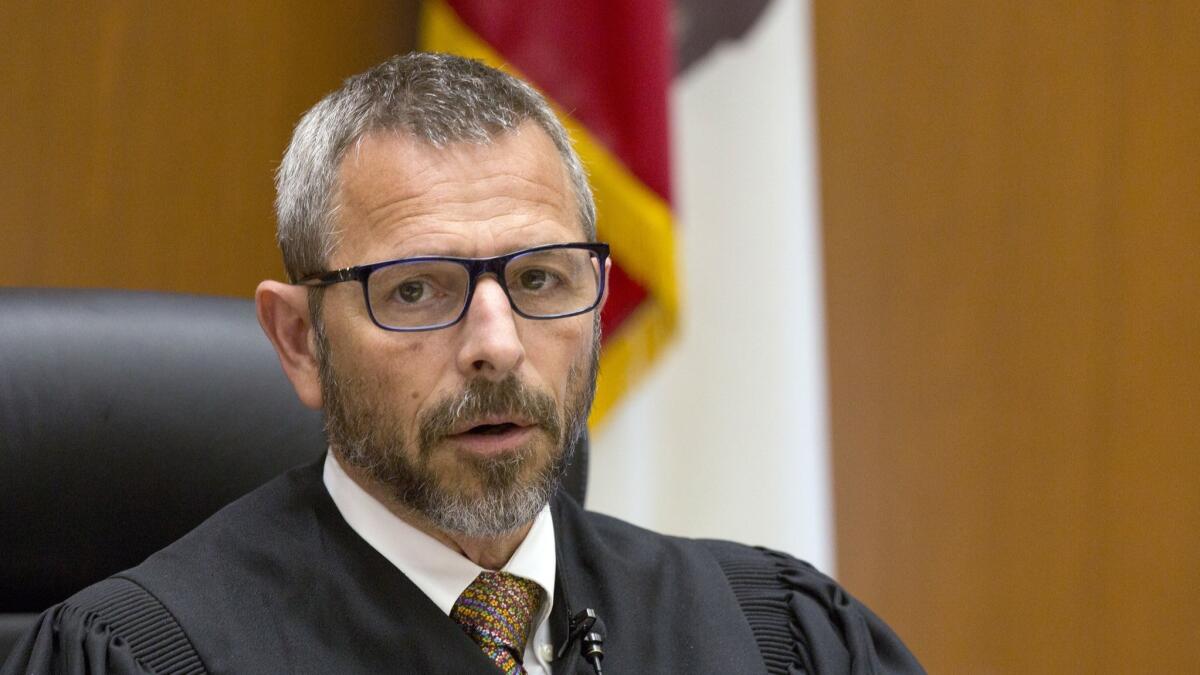 A Los Angeles County judge Friday reversed an order he issued two days earlier that barred journalists from publishing a description of two men charged with murder who have appeared in open court.
The reversal came after The Times challenged the order on grounds that it was an unconstitutional prior restraint on free speech.
Superior Court Judge Gustavo N. Sztraicher acknowledged he did not fully understand the scope of an objection he sustained from a defense attorney Wednesday that any "descriptors" of a defendant not be published in the media because doing so could unduly influence potential witnesses.
Alternate Public Defender Ernesto Pacheco clarified Friday that he didn't want details including the gender, race, height, weight, hair color or tattoos on his client, Dejone Wright, to be publicized. Wright's age, height, weight, hair color, eye color and race are listed on a public online roster of county jail inmates.
In reversing his order, Sztraicher said "any observations made by a reporter who is lawfully in court … may be reported and disseminated."
The move marked the second time in less than a month that Sztraicher reversed an order he made prohibiting journalists from publishing aspects of a court proceeding.
Last month he allowed photos to be taken in court of a man charged with killing multiple homeless people but later told journalists they were not permitted to publish the images. He soon undid his order after The Times and the Associated Press said it violated the 1st Amendment.
At a proceeding Wednesday attended by Times reporter Cindy Chang, Sztraicher addressed a request from The Times to take photographs in the courtroom. Pacheco asked the judge to deny the picture request and to prohibit journalists from publishing any descriptors of his client.
Sztraicher disallowed photographs and sustained the objection about the descriptors.
On Friday, Pacheco said he did not know "to what extent [witness] identification is critical" in the case, but he argued that any information about his client's appearance, if published, "would affect the outcome of a jury trial."
Dan Laidman, an attorney for The Times, told the judge that Pacheco's reasoning was "too speculative" and that general concerns about witness identification issues were not sufficient to allow for an infringement on speech.
"No court has ever approved of prior restraint on those grounds," Laidman said.
Wright, a slight, dark-skinned 20-year-old with close-cropped black hair in a blue jail uniform, stood handcuffed in an enclosed space in the courtroom.
He and Brandon Dixon, 23, were each charged with one count of murder and four counts of premeditated attempted murder in the July 1 death of Garry Dorton, a 48-year-old gang interventionist. The pair also face firearms charges.
A third suspect was charged in juvenile court with one count of murder, four counts of attempted murder and a count each of assault with a firearm and shooting at an occupied vehicle.
The judge's order and reversal applied to Wright and Dixon, with Pacheco representing both Friday during the hearing. Dixon waived his appearance.
The U.S. Supreme Court has held — perhaps most memorably in the case that allowed the press to publish the Pentagon Papers in 1971 — that the government is generally forbidden from prohibiting speech. Numerous other rulings have said members of the public cannot be barred from publishing what they observe in court.
"It takes a very great deal for a judge to be able to order the media not to report what is in the public record, whether it stems from observing someone in court or based on a journalist's own research and interviews," said Eugene Volokh, a 1st Amendment law professor at UCLA.
John Eastman, a constitutional law professor at Chapman University, said it would not be unheard of for a judge to bar publication of certain elements of a court case to preserve witness identification, but it would only be justified if there was specific evidence that the risk of an unfair trial to a defendant was extraordinary.
In 2010, a California appellate court overturned an order that blocked The Times from publishing images of a murder suspect.
A judge in that case had authorized pictures to be taken in court but later ordered the images not be published after a defense attorney said the photos could jeopardize his client's right to a fair trial. A three-judge appellate panel said the defendant failed to prove his rights would be violated and ruled the order unconstitutional.
The next hearing in the case involving Wright and Dixon is Oct. 24.
Twitter: @mayalau
Sign up for Essential California for news, features and recommendations from the L.A. Times and beyond in your inbox six days a week.
You may occasionally receive promotional content from the Los Angeles Times.