Court orders new trial over claim that Led Zeppelin stole 'Stairway to Heaven'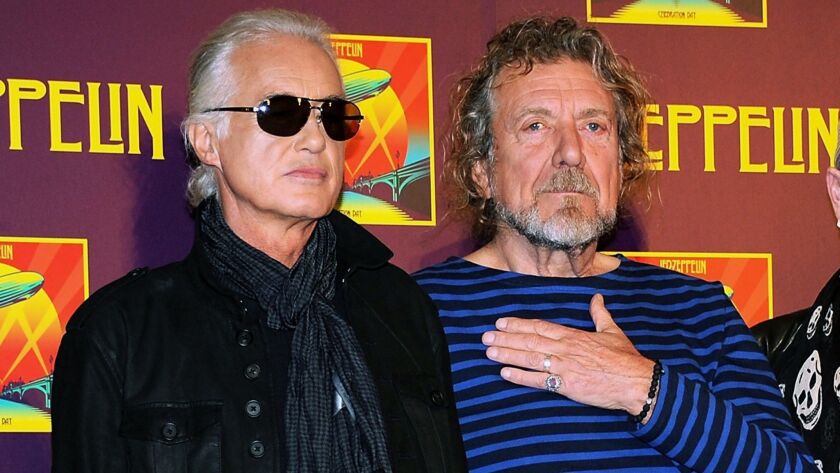 A federal appeals court decided unanimously Friday to overturn a jury's decision that the British rock band Led Zeppelin did not copy another band in making the hit "Stairway to Heaven."
A three-judge panel of the U.S. 9th Circuit Court of Appeals decided a new trial was needed because the judge who presided over a 2016 trial had given erroneous and prejudicial instructions to the jury.
The ruling stemmed from a lawsuit that accused Led Zeppelin of stealing portions of "Stairway to Heaven" from a song called "Taurus," which was written by Randy Wolfe of the Los Angeles-based band Spirit.
A trustee of Wolfe's estate sued for copyright infringement, charging that the opening notes of "Stairway to Heaven" were substantially similar to those in "Taurus."
After a five-day federal trial in Los Angeles, a jury found no copyright infringement.
The 9th Circuit said Friday that the trial judge should have told the jury that the selection and arrangement of some musical elements can violate copyright law.
The court said the judge erred by telling the jury that common musical elements, such as "descending chromatic scales, arpeggios or short sequences of three notes," were not protected by copyright.
In fact, a limited number of notes or an original combination of music elements may have copyright protection, even if those elements alone already were in the public domain, the court said.
The court also said the jury should have been permitted to hear the album recording of "Taurus."
"There is a low bar for originality in copyright," Judge Richard A. Paez wrote for the 9th Circuit panel.
Work created independently with minimal creativity may be protected, the court said. It pointed to a prior ruling that concluded seven notes were sufficient to garner copyright protection.
The dispute over the timeless "Stairway" stemmed from a passage 45 seconds into "Taurus," an instrumental song from Spirit's 1968 debut album.
The notes, which evoke centuries-old Renaissance folk music, sound similar to the opening guitar tones of "Stairway," which was released three years after "Taurus."
"Spirit and Led Zeppelin's paths crossed several times in the late 1960s and early 1970s," the 9th Circuit said.
Both bands performed at a concert in Denver in 1968 and at the Atlanta International Pop Festival, the Seattle Pop Festival and the Texas Pop Festival in 1969.
There was no direct evidence that Led Zeppelin band members listened to Spirit's performances on any of those dates, though a Spirit band member testified that Spirit had played "Taurus" the night both bands performed in Denver.
There also was evidence that Led Zeppelin lead singer Robert Plant attended a 1970 Spirit concert. Late the following year, Led Zeppelin released its fourth album and one of the tracks was "Stairway," written by Plant and guitarist Jimmy Page.
The jury's decision in favor of Led Zeppelin came a year after another Los Angeles jury awarded millions of dollars to the family of R&B singer Marvin Gaye in a copyright infringement case.
Gaye's family charged that pop stars Robin Thicke and Pharrell Williams infringed on Gaye's earlier hit "Got to Give It Up." Gaye's family was awarded $7.4 million, a figure later reduced by the judge to $5.3 million.
Following the Led Zeppelin verdict, experts in copyright law said it might help other artists defend their work against claims of infringement.
Wolfe, nicknamed Randy California by Jimi Hendrix, wrote music and performed with Spirit. The band became popular in the late 1960s and '70s for its novel fusion of rock with jazz and other music styles. Wolfe died in 1997.
Francis Malofiy, the lawyer for the Wolfe trust, said Friday's ruling confirmed that "we didn't have a fair fight."
The four members of Led Zeppelin — Plant, Page, John Paul Jones and John Bonham and — created one of the most influential bands in history, "but unlike other bands, they failed to give credit where credit was due," Malofiy said.
He said the band lifted from many musicians of the '60s and '70s, and "their plagiarism stains their whole legacy." Another trial is anticipated, he said.
A lawyer for Led Zeppelin could not be reached for comment.
Twitter: @mauradolan
---
UPDATES:
1:50 p.m.: This article was updated with reaction from the lawyer for the Wolfe trust.
1:05 p.m.: This article was updated with background and additional details from the decision.
This article was originally published at 11:15 a.m.
---
For reporting and exclusive analysis from bureau chief John Myers, get our California Politics newsletter.
You may occasionally receive promotional content from the Los Angeles Times.