L.A. County supervisors admonish Sheriff Alex Villanueva for rehiring deputy accused of abusing and stalking woman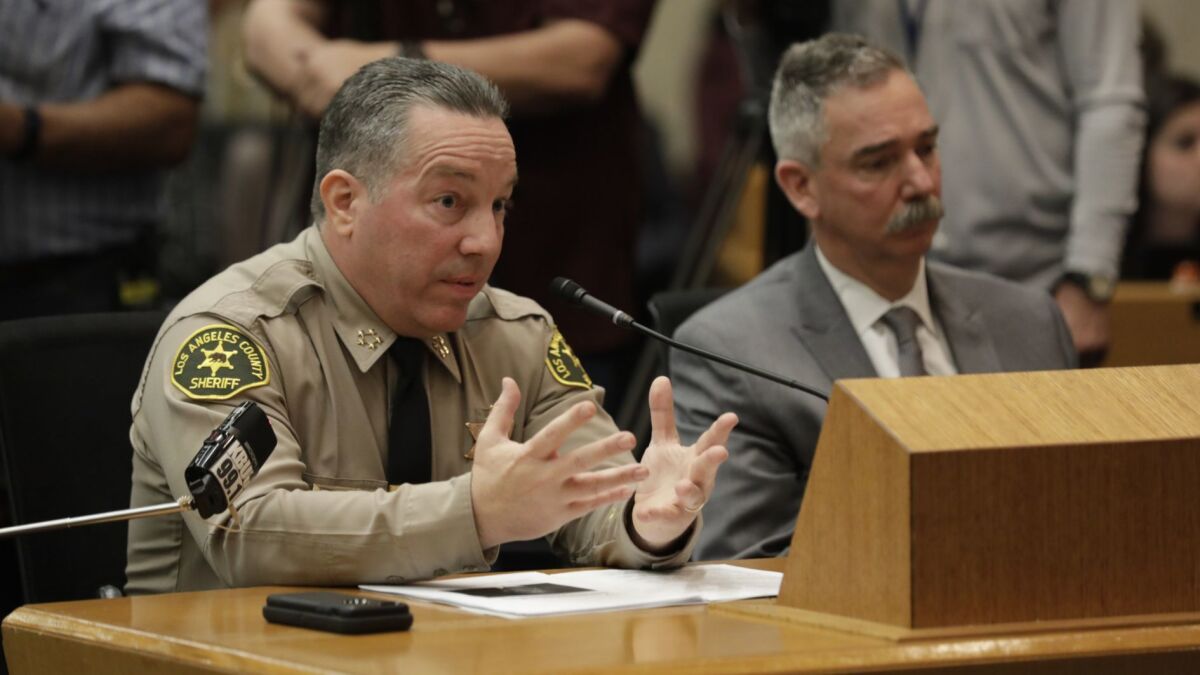 In a rare and stinging public rebuke, Los Angeles County supervisors criticized new Sheriff Alex Villanueva on Tuesday over his reinstatement of a deputy accused of stalking a woman, with some of them questioning whether he was abusing his power.
The Board of Supervisors' move heightened a political crisis for Villanueva, who was elected just two months ago in an upset victory but has generated alarm from watchdogs for opposing some reforms implemented in the department after a series of corruption scandals.
The county's governing body voted to send a letter to Villanueva expressing concern over his rehiring of a deputy who was fired in connection with allegations of domestic abuse and later served as a volunteer on Villanueva's election campaign, which The Times reported earlier this month. The letter also criticized Villanueva for attacking the credibility of an alleged domestic violence victim.
The board also directed county counsel to examine some of the legal issues surrounding the reinstatement, including whether Villanueva acted within his authority in overriding a decision by a county appeals board to uphold the deputy's firing. The supervisors also want to get a waiver from the deputy so they can access confidential personnel and investigatory files regarding his case.
Villanueva, who appeared before the supervisors on Tuesday, told them they would have a more sympathetic view of the matter if they knew all of the facts. Villanueva said he felt misrepresented after it was reported that he said the alleged domestic abuse victim had credibility issues because she waited to come forward and seemed hesitant to testify.
"I do care about the victims of domestic violence and I will do everything in my power to ensure their voices are heard and the people that are responsible are brought to justice," Villanueva said. He said the case against the deputy "failed on so many different levels" and was the result of a broken disciplinary process that brings false charges against deputies.
He said the deputy, Caren Carl Mandoyan, would waive his confidentiality of the case files.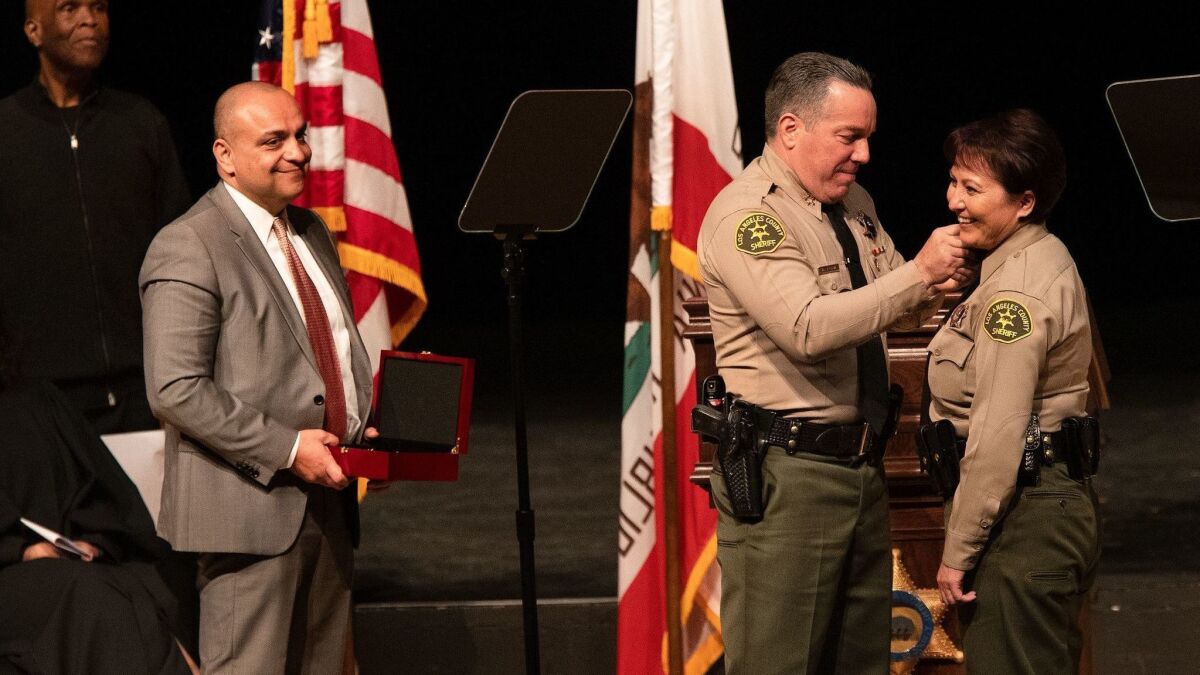 The issue has become an early test of leadership for Villanueva, who hadn't supervised more than 100 deputies before taking over the 16,000-member department.
Supervisors have rarely disputed the personnel decisions of the sheriff, who is independently elected and does not report to the board.
Supervisors Kathryn Barger and Sheila Kuehl, who co-wrote the motion, both called their move "unprecedented."
It passed with their votes and a vote from Supervisor Hilda Solis. Supervisors Mark Ridley-Thomas and Janice Hahn were absent.
Jorja Leap, an adjunct professor at UCLA who studies the relationship between law enforcement and the community, said the supervisors' move is stunning because writing a motion that will remain in the county's historical record is so deliberate and leaves no room for ambiguity.
"The Sheriff's Department has a credibility problem to begin with, and this adds fuel to the fire," she said. "The fact that they're taking this stance this early in (the sheriff's) tenure means they are putting him on notice."
During his campaign, Villanueva often spoke of being unjustly blocked from ascending in rank throughout his three-decade-long career and lamented that many deputies were being treated too punitively. He was supported in his long-shot bid by $1.32 million from the Assn. for Los Angeles Deputy Sheriffs, the union that represents rank-and-file deputies and has voiced similar concerns about deputy treatment.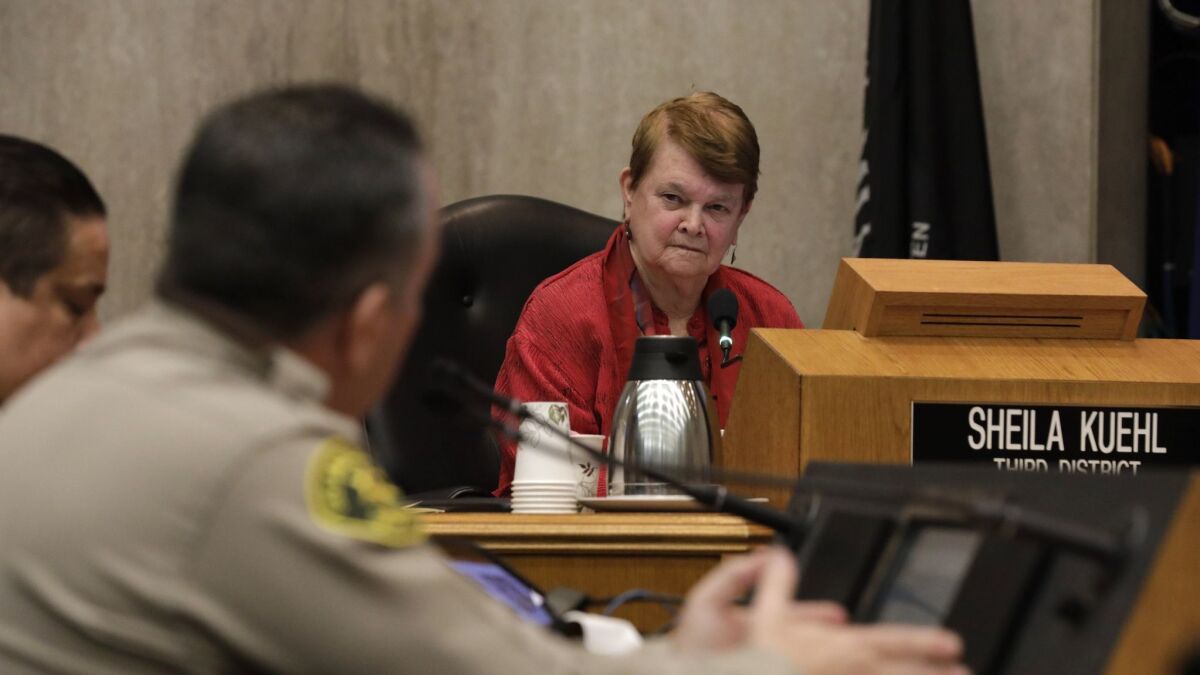 Kuehl said she was troubled by Villanueva's swift action in reinstating the deputy, whose firing had been upheld by the Civil Service Commission.
"It is not the case that any department head, in my opinion, including the sheriff, though you're independently elected, can simply do anything they want after there has been a finding by the Civil Service Commission," Kuehl told Villanueva.
"None of us is so independent that we can do anything we damn well please," Kuehl said.
The county appeals board is known to take a more lenient view of discipline than the department, often recommending that a firing be modified to a 30-day suspension, Barger said. That the Civil Service Commission voted in favor of discharge signaled there was something serious about the case, she said.
"To have to take this motion and make it public frustrates me, but I had no choice," said Barger, whose husband is a retired deputy sheriff. "As part of a board represented by a majority of women, it would have been irresponsible to sit back and do nothing."
Mandoyan was fired in 2016 by then-Sheriff Jim McDonnell after a fellow deputy alleged in an application for a restraining order that Mandoyan grabbed her neck, pushed her face down into a couch, harassed her in text messages and admitted to listening to her conversations. She alleged the physical assault by Mandoyan, who she said was her ex-boyfriend, happened in September 2014.
The district attorney's office evaluated the woman's claims and said she provided photos of bruises and redness on her neck and arms as well as video recordings of Mandoyan attempting to enter her house. Prosecutors declined to charge Mandoyan with intimate partner violence, citing a lack of sufficient evidence. Mandoyan did not respond to requests for comment.
Mandoyan served as Villanueva's driver during his campaign to unseat incumbent McDonnell and helped persuade rank-and-file deputies to rally behind Villanueva. He also appeared onstage at Villanueva's swearing-in.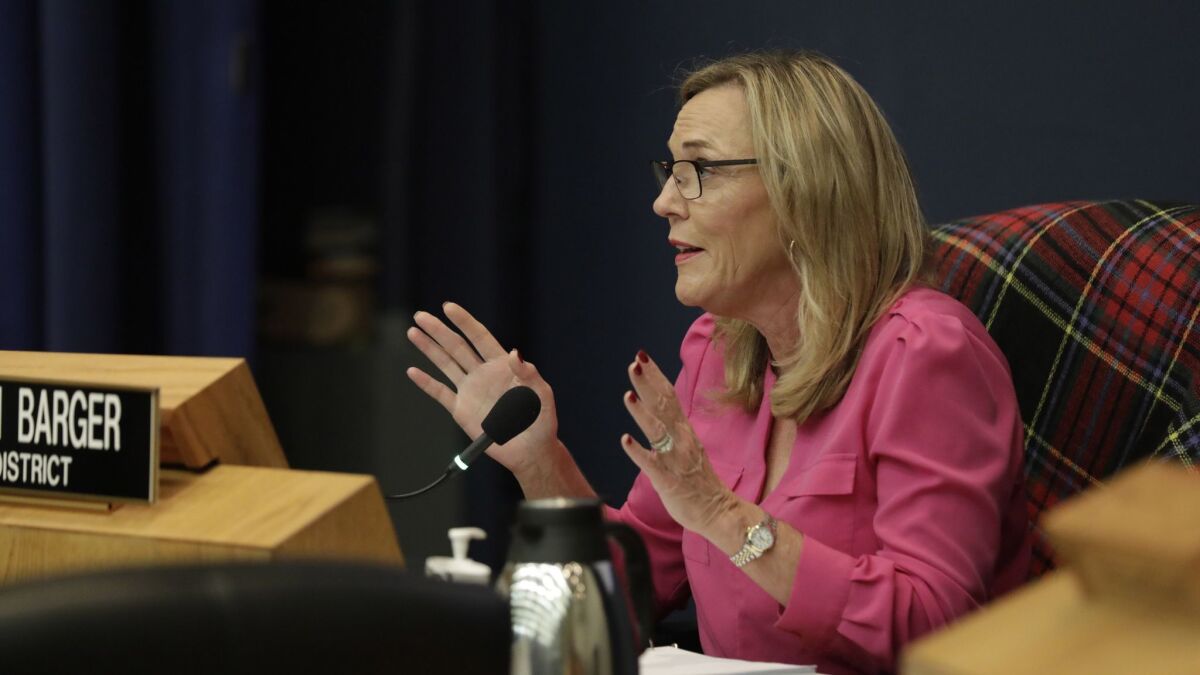 Tom Yu, a retired Sheriff's Department detective who now practices as an attorney, said he has known Mandoyan for over a decade and has personal knowledge of his case. He said Mandoyan authorized him to speak on his behalf and that Mandoyan denies the claims against him.
"He is a very hardworking street cop," Yu said. "He would take his shirt off his back for you. The termination ruined his life, and there was a point in his life where he couldn't afford to fix his car. He was desperate for a job."
Yu said Mandoyan's is a "classic example" of a case in which evidence was mishandled or withheld. He said Mandoyan and his accuser had a dispute, but that it didn't rise to the level of misconduct that would result in discipline.
Villanueva told the Sheriff Civilian Oversight Commission last week that the reinstatement was justified and noted that the deputy's accuser waited nearly a year to report her allegations and quit the department before she was to testify. Several commissioners expressed concern about his comments.
Villanueva said at the oversight meeting that county counsel recommended he hire an outside attorney to vet Mandoyan's reinstatement, which he said he did. A member of the county counsel's office, Lawrence Hafetz, said before the board Tuesday that his office learned of the potential rehiring just before the holidays and advised the Sheriff's Department not to move forward until there was a full investigation and more time to review the case. That consultation did not happen, he said.
Villanueva said as part of his reinstatement, Mandoyan would receive back pay made retroactive to 2016. In 2015, the last full year he was a deputy, Mandoyan earned $129,000, according to county records.
Ridley-Thomas said in a statement that he was troubled when he heard about Villanueva's "unilateral decision" to rehire the deputy.
Twitter: @mayalau
The stories shaping California
Get up to speed with our Essential California newsletter, sent six days a week.
You may occasionally receive promotional content from the Los Angeles Times.