Maywood residents look to new leaders to turn around troubled city
The Maywood City Council chamber was nearing capacity, with generations of residents making their way inside for the officials' swearing-in.
Scattered throughout were leaders present and past, as well as council members from other Southeast Los Angeles County cities.
In a region dogged by political malfeasance, 1.18-square-mile Maywood arguably takes the top prize among poorly run municipalities.
It is millions in debt. Its leaders have been the targets of federal and county investigations. In 2010, after becoming embroiled in a salary scandal involving neighboring Bell, Maywood outsourced all of its city services and disbanded its police department. In the last three years, the council majority has violated open meeting laws, lost three city managers and three city attorneys, rescinded anti-marijuana dispensary ordinances, approved controversial salary increases and hired an engineering firm that was at the center of a federal probe.
And then there's Ramon Medina, who while serving as mayor earlier this year had his home and business raided — along with two other officials — by the L.A County district attorney's anti-corruption unit. Shortly after, Medina was convicted of animal abuse.
In September, a legal dispute between the city and its waste hauler resulted in the trash piling up. Men in pickup trucks were sent to collect the garbage while the city looked for a new hauler.
The problems became so intolerable that in November residents went to the polls to vote in leaders they believed would put the interests of the city first.
And so, bunched together on a recent night, they gathered in Maywood City Hall to witness the long-hoped-for transformation of their town.
"We reached our limit," Rose Torres said. "Finally we're disassociating ourselves from the people who have ruined our city, and I have a lot of faith in these new leaders."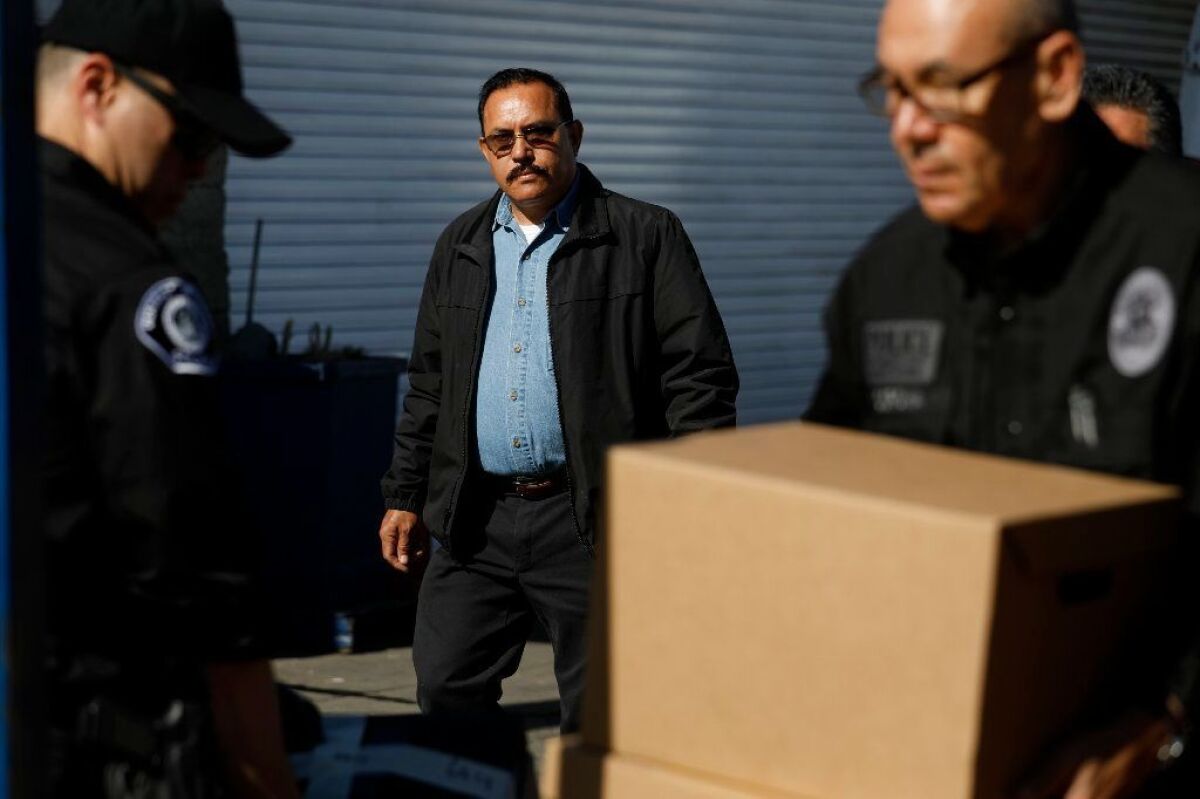 One of those leaders Maywood residents are counting on is Ricardo Lara.
The community activist moved to the city six years ago with his wife and two children. He became known for his public service — volunteering at schools, taking part in food drives and fundraisers to help the needy. He even participated in community cleanups.
It didn't take long for him to realize the extent of the civic problems.
"It was shining a bad light on us all," Lara said. "We can't have people representing us like that."
In November's election, Lara and two other men — Councilman Eduardo De La Riva and Heber Marquez, an English teacher and running coach at Maywood Center for Enriched Studies — ran as a slate, hoping to become the new majority on the five-member council.
While campaigning, they knocked on doors with the help of residents, including some high schoolers who felt burdened by Maywood's problems.
"Other schools would make fun of us," said Juan Sanchez, student body president at MACES. "They'd call us Mayweed. It was embarrassing."
It's difficult to say when the city of about 30,000 became a governing mess, but residents point to 1999 as a potential marker.
At the time, the Maywood Police Department was conducting sobriety checkpoints to increase traffic safety and boost revenue.
A report by the state Department of Justice would later find that the policy had led to the exploitation of Latinos, particularly those living in the country illegally.
The checkpoints continued until the fall of 2005, when council members were replaced by several activists with more liberal ideas.
Under the new leadership, the checkpoints ended and the city's traffic department was dismantled. The council also declared Maywood a "sanctuary city."
Two years later, the DOJ found that the police department had become a haven for bad cops — some with criminal pasts. Officers were accused of using excessive force in violation of civil rights laws and engaging in sexual misconduct.
A Los Angeles Times investigation also found that a towing company had given kickbacks to police and city officials in exchange for lucrative contracts.
The state called on Maywood to reform its police department.
By 2009, the city was struggling financially, its $5 million in reserves were gone and the budget was in a deficit. A consultant discovered that Maywood was losing $1.1 million a year because of rising costs of policing its next-door neighbor, Cudahy. The consultant told the city to sign a new contract.
Overwhelmed by lawsuits and growing debt, Maywood's insurer echoed that suggestion and laid out other conditions for the city to follow or lose its coverage.
But the council delayed taking action, saying that its members wanted to study forming a regional police force with Bell and other cities.
Unable to get the council to listen, Maywood's top administrator resigned. Its insurer terminated coverage. The City Council laid off every employee and dismantled its police department.
Things only got worse when a massive civic salary scandal broke out in Bell. Among those at the center of the scheme was Angela Spaccia, the city's administrator who also had taken over the post in Maywood. She resigned from both cities and was arrested along with seven other officials on corruption charges.
Maywood found a new administrator but continued over the next few years to take on debt.
In October 2016, a state audit found that Maywood was more than $15 million in the red. Auditors said political infighting, wasteful spending, questionable hiring decisions and poor administrative controls were at the root of the problem.
Council members Medina, Sergio Calderon, Thomas Martin and Ricardo Villarreal blamed past leaders even as they carried on the tradition of mismanaging the city themselves.
Medina, serving as mayor, pushed to hire as an administrator a former Boeing project manager who was a client of his mechanic shop and had no municipal experience. He also voted to boost his and others' pay — including the city treasurer, who was his sister. Martin and Calderon eventually resigned, and Carlos Alvarez — Medina's soon-to-be son-in-law — was appointed to the council.
In February, the homes of Medina, Calderon and Villarreal were targets of search warrants by the L.A. County district attorney.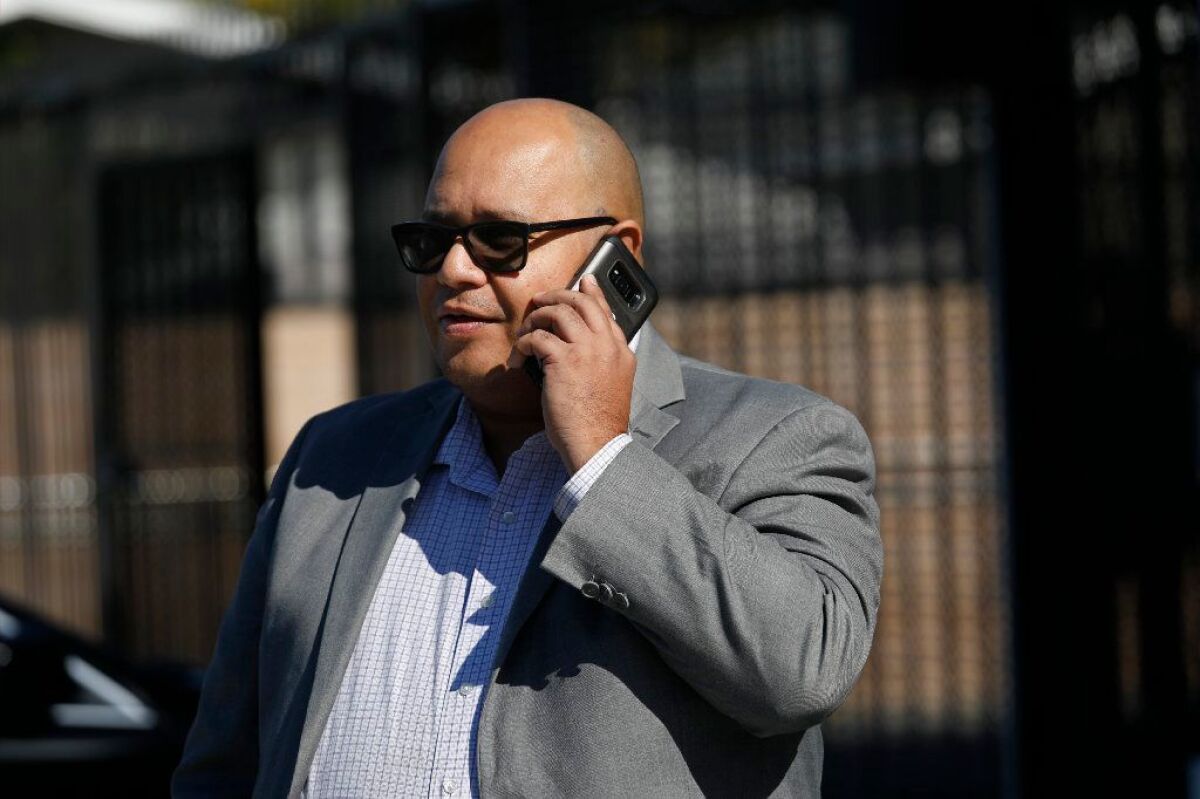 At meetings, residents complained. De La Riva raised concerns about questionable billing invoices. The councilman posted examples of wasteful spending on his website, claiming more than $450,000 had been drained from the city's coffers.
In an effort to finally bring about change, Lara, De La Riva and Marquez — who said he was removed from the Maywood Planning Commission for disagreeing with Medina — joined forces.
They wanted to restore trust, cut wasteful spending and bring back city services that had been lost.
"The moment I decided to run, I knew what I was getting myself into. I knew what kind of issues I had to address," Lara said. "And that's the spark that made me run, to be in this position where I can help out and try to control as much of the madness as possible."
Marquez said he felt a little overwhelmed by the responsibility that comes with running a city, particularly one with such a troubled past. But, he said, the new leadership plans to follow through and make things better again.
And so the men stood with their right hands raised as they were sworn in. De La Riva will serve as mayor through 2022.
When they walked onto the dais for the first time, people cheered.
"We hope they won't disappoint us like others in the past have," said longtime resident Desiderio Vallos, "and remain committed to what they told us they would set out to do."
For more Southern California news, follow @latvives on Twitter.
---
The stories shaping California
Get up to speed with our Essential California newsletter, sent six days a week.
You may occasionally receive promotional content from the Los Angeles Times.