Could the Northern California fire really have killed 1,000 people? The staggering number of missing haunts Paradise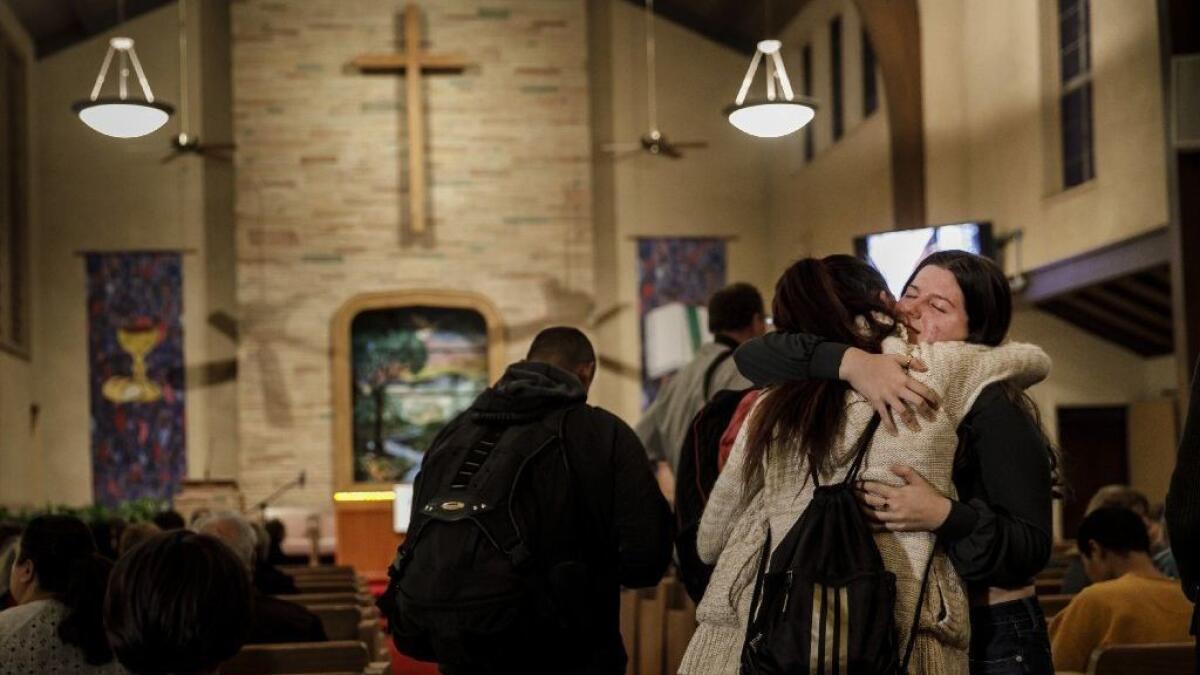 Reporting from CHICO, Calif. —
They were as young as 8. As old as 101. At its height Sunday, the list stretched on for 26 pages, offering a staggering 1,202 names.
Most were linked to towns where they may have lived, only about a third had ages. It appeared to include whole families. Seven people from Paradise with the same last name, the oldest 72. A couple in their 80s, another in their 60s and possibly their mother.
The list is a culmination of all the people who were reported missing — and remain unaccounted for — since the devastating Camp fire erupted in Butte County in the early hours of Nov. 8, consuming entire neighborhoods in just hours. That number dropped Sunday for the first time in days, from 1,202 to 993. But it raises a startling question: Could that many people really have died in the blaze?
Authorities say probably not.
The data are far from perfect. Some people may be listed twice, or more. Others may be safe somewhere, unaware that someone is looking for them.
"This is a dynamic list," Butte County Sheriff Kory Honea told reporters. "It will fluctuate both up and down, every day."
The death toll from the Camp fire, which has scorched 150,000 acres, has risen to 77, according to the California Department of Forestry and Fire Protection. The blaze is 65% contained.
LIVE UPDATES: The latest on the California wildfires »
What was making an already horrific situation worse was that day by day before Sunday, the number was getting higher. And authorities have not offered a clear indication of how accurate the figures really are and what they could mean for the final death toll. Aileen and Berry Moeller were on the list. So were Aileen and Berry Moller. Darel and Joan Brunn, along with Daryle and Joan Burn.
The list was growing at an alarming rate in recent days, much faster than investigators could check off names. On Wednesday, 130 names were on the list, while more than 200 others had been found safe. By Friday, investigators had been able to locate 329 people, but the list had exploded to 1,011 names.
Moments before a news conference Saturday, a woman showed up at the Silver Dollar Fairground and told sheriff's officials that she and her husband were on the list, but they were both safe. Her name, she said, was listed twice. By then, authorities had crossed off 714 people, but more than 1,200 still were missing.
Paradise Mayor Jody Jones said she hadn't had a chance to go through the list, but at least one person she knew who was missing has turned up alive. She said she wouldn't speculate on how high she thinks the death toll could go. But the fluctuation has stoked anxiety and confusion for those searching for loved ones.
"When you don't know, the grief is suspended," said Mary Kearns, a chaplain with the First Christian Church of Chico, where a vigil was held Sunday evening. "People have said to me it's like treading water and you can't get to one side of the pool or the other."
At one point, more than half of the 430 names with ages listed were in their 70s and 80s. Some ages listed were squishy. Virginia Church: 90? Linda Dickinson: 58? Nick Clark: 70+. Mary Frost: 67 to 75.
Maurine Johnson said she can't bring herself to scan the list. She already knows a couple who died — Paula and Randall Dodge — and two other couples who are missing.
"Nobody knows where they are," Johnson, a longtime Paradise resident who turns 80 in a week, said at the vigil. "I haven't looked at the missing persons list. I'm afraid I'll know more people."
Only one of the two couples she identified to The Times, Barbara and Bill Schacht, are on the list. She said knowing her friends are dead is just as awful as not knowing if they survived.
"I'm sick of platitudes, of people saying, 'Something good will come of this,' or 'God has a plan,'" she said. "Shout it out if you've got a plan, God. I don't see it."
Track key details of the California wildfires »
Authorities are collecting names three ways: through calls to the missing person hotlines, emails to the Butte County Sheriff's Office and by mining through reports generated at the peak of the chaotic evacuation. As the fire raged through Paradise and neighboring communities, dispatchers were fielding dozens of calls and quickly plugging names into their system.
So the data are raw — and that leaves investigators with the arduous task of combing through it, figuring out which names are duplicates, which are misspelled or mistakenly listed. The day-to-day surge was because of their "increased capacity to take calls, gather information from emails, and go back through the initial calls for service to mine the data," said Megan McMann, spokeswoman with the Sheriff's Office.
"We are making progress on cleaning that up," she said.
Judy Peterson called the Sheriff's Office on Sunday with information about her 83-year-old mother-in-law, Betty, who was No. 5 on the list as of Saturday night. The two haven't spoken for 18 years, but through the grapevine, the younger Peterson heard her mother-in-law was safe.
"Somebody seen her yesterday at Feather Falls Casino," said Peterson, 64, of Sacramento. "I've already told them a little bit ago, somebody seen her."
Judy Peterson hadn't been terribly worried.
"I knew she would leave. When they tell you to evacuate, you get out, you go," she said. "Good to hear that she wasn't missing after all. We don't get along, but still, it's good that she's been found."
Carmen Titus and her husband, Tim, also somehow wound up on the list. They live in Portland, Ore., but own a home in Paradise. She figures someone came across their names while sifting through the titles of homes that were destroyed.
"Obviously I am not missing," she said, with a laugh. "We don't know how our name got on that list. But we are OK."
She said her friend has reached out to the Sheriff's Office to let investigators know.
These are the victims of the California wildfires »
Some people took the search into their own hands. For nearly a week, Laura Cartwright and her brother looked for their 71-year-old reclusive uncle from Helltown, a small community just north of Paradise.
They tried calling him by phone when the Camp fire broke out, but they couldn't get through. Even on normal days, cell service there is spotty. They checked the American Red Cross shelter's online list to see whether their uncle had marked himself safe. He hadn't.
By day three, they were worried. By day five, they couldn't sit at home anymore and drove up from Concord to the disaster zone. They ended up roaming a tent city in a Walmart parking lot, asking if anyone had seen their uncle.
A volunteer with family in Helltown overheard them and called his cousin: Was Brian Moriarty there?
"He's there?" the volunteer asked.
Cartwright placed her right hand over her heart.
"He's there?" she said, crying.
"Yes. We found him," the volunteer said.
The siblings hugged.
"You can't imagine the thoughts I had," Cartwright said. "We were sure he had lost his life."
alene.tchekmedyian@latimes.com
Twitter: @AleneTchek
Twitter: @marialaganga
Twitter: @latvives
Sign up for Essential California for news, features and recommendations from the L.A. Times and beyond in your inbox six days a week.
You may occasionally receive promotional content from the Los Angeles Times.