A new Nipsey Hussle shooting mystery: Gunman injured 2 women at memorial vigil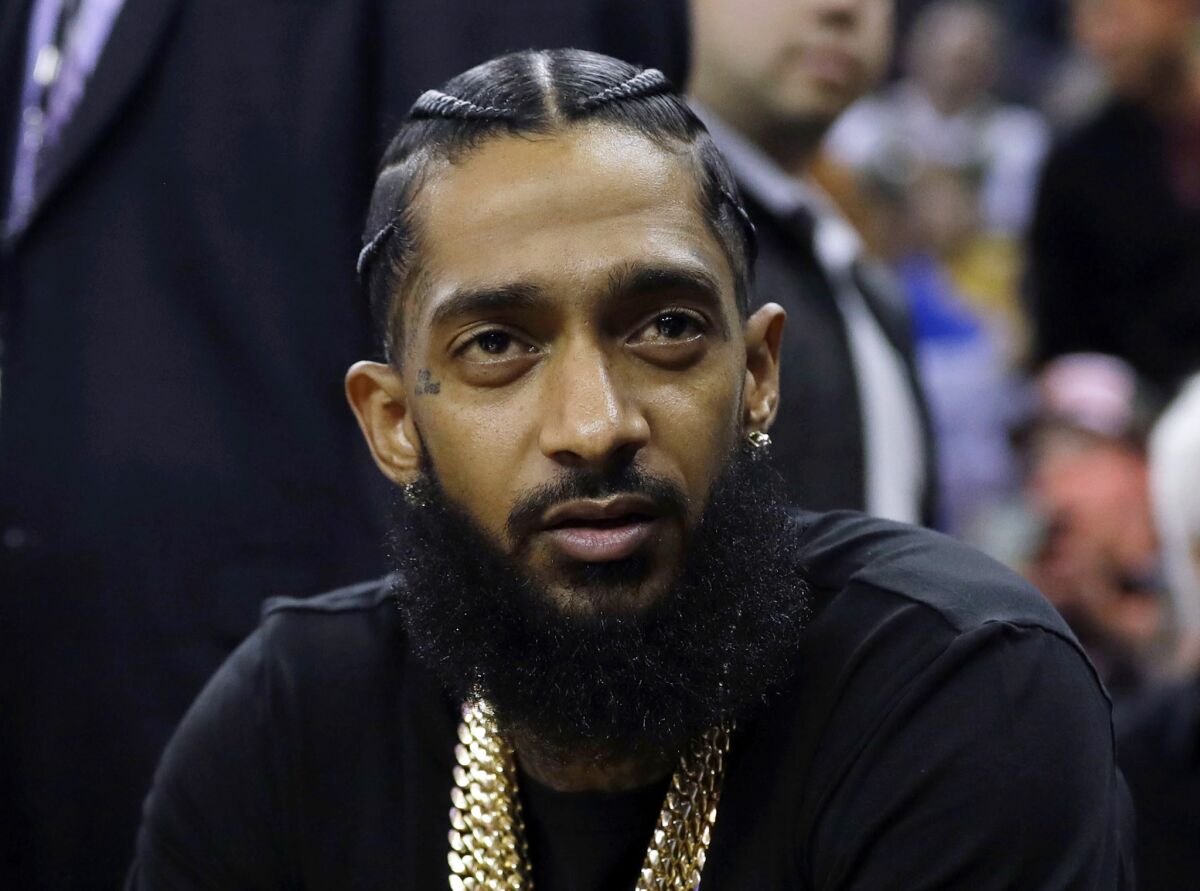 Los Angeles police suspect that a gunman tried to kill another person at a vigil outside Nipsey Hussle's store, another burst of violence in the same spot where the rapper was fatally shot the day before.
The shooting on the night of April 1 left two women wounded and occurred amid a massive stampede that injured 19 people, according to a search warrant affidavit filed in Los Angeles Superior Court.
L.A. Police Chief Michel Moore had publicly denied last week that gunfire erupted outside Hussle's store, the Marathon. But the affidavit, submitted by a longtime gang investigator, offers evidence of a brazen attack during the crowded vigil at Slauson Avenue and Crenshaw Boulevard.
Investigator Scott Swanson wrote in the affidavit that one woman was struck in the left elbow and another in her lower back. Both women told police they were attending the vigil in the strip mall parking lot when they saw a crowd "running toward" them and heard screams.
The woman who was struck in the back told police she heard a "loud, rapid succession of gunshots from an unknown direction." She fell to the ground, felt pain on the right side of her back and realized she had been shot.
The other woman said she was trampled in the chaos, then felt "a strange sensation to her left arm" after she stood up, according to the affidavit. A passerby told her she had been shot. That woman then drove herself to California Medical Center. The other victim said a friend drove her to the hospital.
The Times is not naming the two women because they are victims of a crime that involves potential gang activity. The search warrant was first reported by TMZ.
The LAPD presented the affidavit to a judge to obtain a search warrant that allowed police to review security camera video from the businesses in the shopping center, including Hussle's famed store.
In the past, those businesses have refused to turn over surveillance video to police, according to the affidavit filed by Swanson. On the night of the vigil, police tried to get the Marathon and other businesses to voluntarily hand over video of the incident, but the merchants declined.
LAPD Cmdr. Al Labrada said any recordings will help investigators determine what unfolded that night. Labrada attended the vigil but said he didn't hear gunshots. Some witnesses claimed to have seen a man brandishing a gun.
Swanson portrayed the strip mall where Hussle opened his store as a popular meeting ground for members of the Rollin' 60s gang, a large Crips gang in southwest Los Angeles.
He wrote that he had personally investigated Rollin' 60s gang members who were arrested "for numerous firearms violations," according to the court filing. He also told the judge that Hussle's Marathon store was a known location for Rollin' 60s members and that it had been ensnared in prior investigations where staff and management deleted surveillance video before police arrived.
Hussle was gunned down shortly after 3 p.m. March 31. Two other men were wounded outside his store after Hussle and his assailant became involved in a verbal altercation that resulted from a personal dispute, police said.
The suspect in Hussle's killing, Eric Holder, was captured April 2 after the LAPD released his photo to the public. A resident spotted Holder on Artesia Boulevard in Bellflower, and he was detained in the parking lot of a mental health clinic.
Prosecutors have charged Holder with murder, two counts of attempted murder and being a felon in possession of a weapon. Through his attorney, Christopher Darden, Holder has pleaded not guilty. He remains in jail in lieu of $5 million bail.
---
The stories shaping California
Get up to speed with our Essential California newsletter, sent six days a week.
You may occasionally receive promotional content from the Los Angeles Times.