Powerful storm brings a traffic nightmare; motorists urged to limit nonessential travel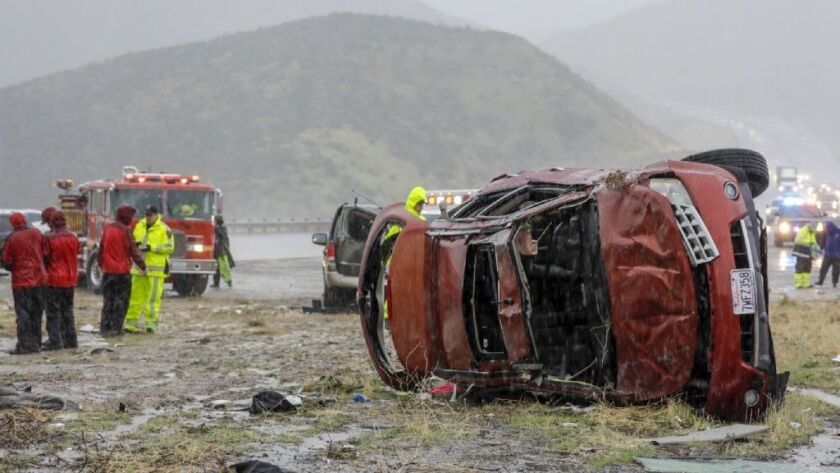 The rainstorm is causing a miserable traffic day across Southern California on Saturday with numerous roads closed.
The Los Angeles Fire Department urged drivers to "consider limiting nonessential travel" Saturday due to the rain. Those who must drive should "expect congestion and delay across the region."
Among the roads reported blocked were:
—101 Freeway in Montecito
—Kanan Dume Road from Pacific Coast Highway to the 101 Freeway
—Pacific Coast Highway from Broad Beach Road to Las Posas Road
—Decker Road at Rainsford Place
—Trabuco Canyon Road at Trabuco Creek
—Country Club Drive in Burbank
—Southbound 5 Freeway at the 170 Freeway in the San Fernando Valley
—Malibu Canyon Road between Piuma and Malibu Crest roads
—Lindero Canyon Road between Thousand Oaks Boulevard and Blackbird Road
Caltrans also reported numerous accidents and flooding that was slowing traffic.
"Need a reason to stay home or stay where you are? Here it is. It's a little rough on roads now...PLEASE sit tight for a few hours (if all possible)," Caltrans said in tweet with a map dotted with icons showing accidents and closed roads.
Forecasters urged people to stay home Saturday amid the big storm. But if you do go out, here are some tips from The Times archives:
Turn on headlights
"If your windshield wipers are on, you should have your headlights on," California Highway Patrol Officer Juan Galvan said.
Not only do headlights help you see potential hazards ahead, they also help other people see you, Galvan said. Plus, the law requires a car's headlights to be on when the windshield wipers are in use.
Slow down
"Drive at those speeds that you can maintain control of the car," Los Angeles Police Department spokesman Drake Madison told The Times. Often that means going below the speed limit.
How can a driver tell how fast is too fast? Don't outpace the flow of traffic, Madison said, and "if you feel you're not adhering to the road very well, if you're slipping and sliding, that's a clue."
Also, make sure not to drive so fast that rain collects on the windshield faster than the wipers can clear it away, Galvan said.
Don't tailgate
It takes longer for vehicles to stop on wet roads, so leave even more distance than usual between your car and the one ahead, Galvan said.
Avoid standing water
"Don't be the first one to drive through it, and don't follow another vehicle — just because they make it doesn't mean you're going to make it," Galvan said.
"Your engine can stall and then you'll be stuck in there. If it's a strong current, you might even get swept through that water."
Plan ahead
Do preventive maintenance to minimize the odds of breaking down and becoming part of an accident, Galvan said. Before heading out in the rain, he said, replace windshield wiper blades if needed and check tires and fluids.
Pay attention
"Keep your eyes on the road and be aware of your surroundings," Galvan said. "Accidents are not caused by the rain. It's how we drive in the rain."
---
The stories shaping California
Get up to speed with our Essential California newsletter, sent six days a week.
You may occasionally receive promotional content from the Los Angeles Times.