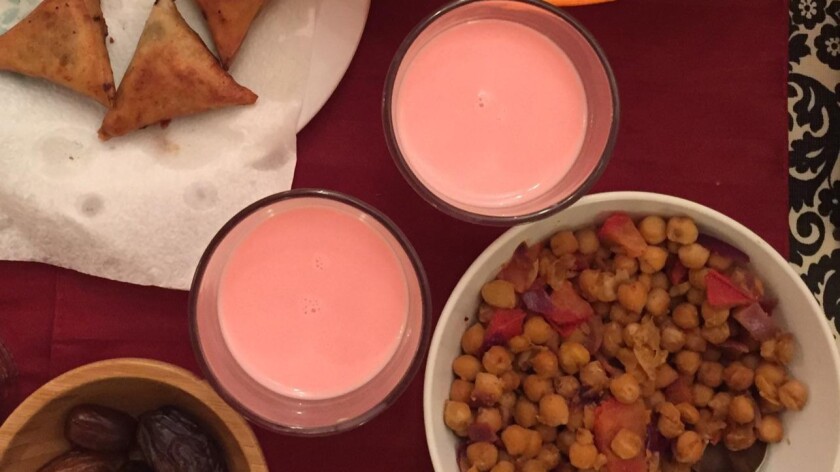 Ramadan, the Islamic month of fasting, ends Tuesday evening. Those who participate in the fast say it has been particularly arduous this year because it has occurred during the season with the longest days, including the summer solstice.
For the last month, observant Muslims in California have risen before 4 a.m. to eat while it is still dark. During the day, no food or drink can be consumed. The fast is intended to strengthen one's relationship with Allah, cultivate self-discipline and increase empathy for the poor.

Each evening, the fast is broken with an iftar meal.
The ways in which bread is broken are as diverse as the Muslim community in California. Although adherents of Islam constitute only 1% of the U.S. population, they come from at least 68 countries.
Across many backgrounds, the fast is concluded with dates, as was the tradition of Prophet Muhammad. But after that, the iftar meal can be samosas if you have an Indian background, or a sambusa if you have roots in Somalia, or simply pizza if you're an Indian-Pakistani American.
We asked readers to share how they mark iftar.
Ramadan brings the family much closer.
Reza Islam
My wife, two boys and I sit at the dinner table a few minutes ahead of the time to iftar. We quietly say a prayer thanking God that we were able to fast properly and for the well-being of others. At iftar time, we turn on a beautiful azaan on YouTube (a call to prayer, which, by the way, was done in L.A.) and break fast with yogurt, juice and dates. This is followed by evening prayer and dinner.
Reza Islam is an engineer in Sunnyvale, Calif.
It's as special to me as Thanksgiving dinner.
Susan St. Martin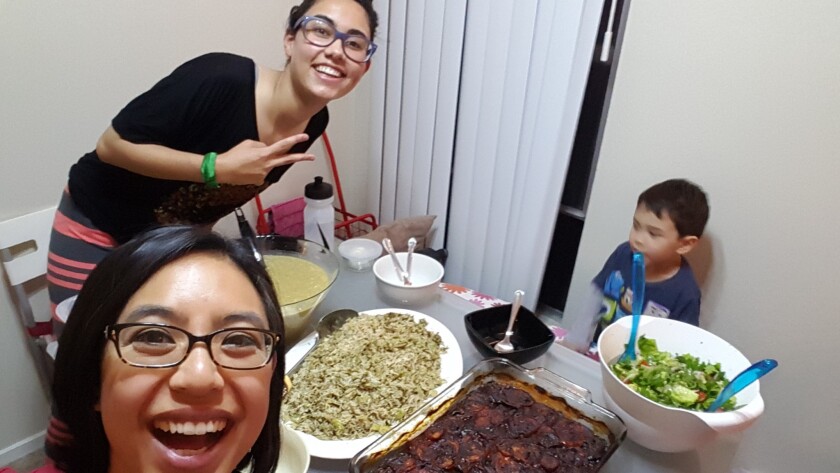 When Ramadan rolls around, although I am not Muslim and do not fast, I look forward to joining my Iraqi friends' family for one iftar feast. It's as special to me as Thanksgiving dinner. I realize that I'm a total wimp and don't even fast on the two fast days during Lent. I am in awe of the mental, physical and spiritual discipline it takes to fast during Ramadan, especially when Ramadan falls during the summer. It makes the feasts all the more delicious.
Susan St. Martin is a biotech research assistant living in San Francisco. She is Filipina American.
It's a time for everyone to get together and share a meal.
Dalal Chamas
The consul general of the United Arab Emirates, Abdulla Alsaboosi, hosted Emirati students for an iftar before a soccer championship. Emirati food is a reflection of the nation's trading heritage. Traditional food is infused with spices and ingredients from throughout Asia. Cinnamon, saffron and turmeric, along with nuts, limes and dried fruit, heighten the flavor of the dishes.
Dalal Chamas is the media coordinator for the United Arab Emirates consulate in Los Angeles.
Follow me @dhgerson on Twitter.
ALSO:
Twenty-two years after Northridge quake, hope for a Panorama City neighborhood
Bosnian Muslims in Southern California may not fit the stereotype but they feel the prejudice
Carnitas Michoacan #3 in Boyle Heights is set to close after 33 years to make way for Panda Express
---