After two huge earthquakes, these Ridgecrest residents are afraid to go back into their house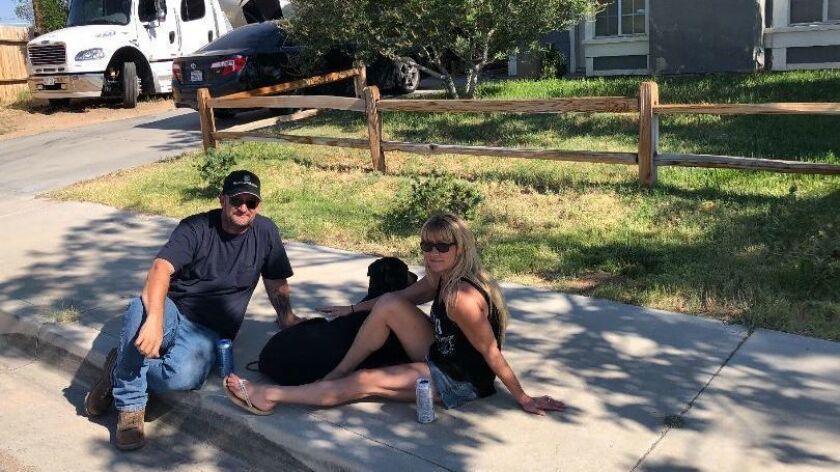 Reporting from RIDGECREST, Calif. —
Matt and Denise Warren sat on the curb in front of their home on West Dolphin Avenue as they petted Hallie, a 4-year old lab.
They feared going inside their home because of so many aftershocks.
On Wednesday, the couple took their camper to a friend's property to stay the night in the desert after driving all around.
They had returned home Friday and opened the garage. That's when the 7.1 quake struck.
He said Thursday's quake cannot quake cannot be compared to last night.
FULL COVERAGE: 2nd major quake in two days hits Southern California »
"I immediately shot out of the garage," Matt Warren said. "I stood at the end of the driveway and held on the stop sign. The house was rolling and making noises. It was loud."
"I grabbed the dog, who was shaking like nuts," Denise Warren said. "We were scared."
Once the shaking stopped, cars were racing to get out of the neighborhood and weren't stopping at stop signs, he said. "We knew it was time to get out of here. This was more like a roll with a jarring at the end."
The mine superintendent and escrow agent said they're still afraid to enter the house because of aftershocks.
"Hallie freaks out if you try taking her in. She does nothing but shake," Denise Warren said.
"These aftershocks put you on edge," he said. "I don't know what we're going to do."
Earthquake risk elevated in Southern California. Here's why and what you can do »
After looking through the door, Denise Warren said cupboards opened up and some trinkets fell on the floor, but she couldn't find widespread damage.
The couple said it's time for them to move out of this military and mining town filled with single-family homes on wide lots. Ford and Chevy trucks, along with recreational vehicles, are found on most streets.
After living here for 20 years, Matt Warren said the couple can't stay and deal with the aftershocks predicted to last a year or longer.
"We've been wanting to get out of here anyhow," he said . "The time is right."
Denise Warren called Ridgecrest a "tight-knit community where neighbors look out for each other."
Employers, she said, have been telling workers to stay home and remain safe.
Here are the biggest earthquakes in California history »
"As people were leaving last night, they stopped to ask if we were all right," she said, petting Hallie, who was shaking.
She predicted the earthquakes will damage the real estate market, adding: "It might be hard to sell a house now."
Matt Warren said his camper is filled with water and food and still hooked to his truck.
"I bet we'll be in the trailer tonight," he said. "I'm on pins and needles."
Several miles away, fire vehicles and utility trucks are staging at the Desert Empire Fairgrounds. Crews from Los Angeles, Orange County, Fresno and the Governor's Office of Emergency Services were unloading equipment and waiting to see if they would be dispatched across the city.
---
The stories shaping California
Get up to speed with our Essential California newsletter, sent six days a week.
You may occasionally receive promotional content from the Los Angeles Times.