Elevated earthquake risk in Southern California: Here's why, and what you can do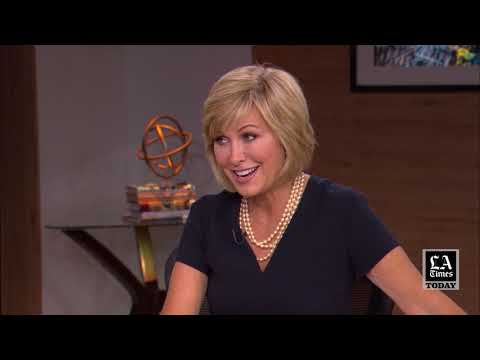 L.A. Times Today airs Monday through Friday at 7 p.m. and 10 p.m. on Spectrum News 1. 
It was the news no one in Southern California wanted to hear.
After experiencing two major earthquakes in little more than a day — one 6.4 magnitude and the other 7.1 — seismologists said more significant quakes were likely and there was even a chance of another huge temblor.
Friday's quake was felt over a wide area, much of the Southland and even into the Bay Area and Nevada. That got everyone's attention.
But the forecast for potential more big seismic activity has people on edge.
Why is the quake risk so high now?
There's a constant in earthquake science: Earthquakes make other earthquakes more likely.
It's particularly obvious for a large temblor — a magnitude 7 is likely to be followed by one or more magnitude 6 aftershocks, many more magnitude 5 aftershocks and many, many more magnitude 4 aftershocks, and so forth.
FULL COVERAGE: 2nd major quake in two days hits Southern California »
What's the risk of a bigger earthquake coming after a temblor?
There's also another well-known relationship — generally a 5% chance that any particular earthquake will be followed up by something larger.
That 1-in-20 odds are based on a mathematical observation scientists know. Nineteen out of 20 times, any particular earthquake won't be followed up by something more powerful.
On Friday, we happened to be unlucky. The 8:20 p.m. magnitude 7.1 quake Friday night was a result of seismic forces that worsened following the nearby 4th of July temblor of magnitude 6.4.
The chances that a future quake will surpass Friday night's magnitude 7.1 temblor are roughly 8% to 9%, said Caltech seismologist Lucy Jones.
More likely is that the Owens Valley will experience another temblor of magnitude 6 or greater. And more quakes of magnitude 5 or greater are a near certainty.
Why L.A.'s early warning system didn't send an alert before the magnitude 6.4 quake »
"It is clearly a very energetic sequence, so there's no reason to think we can't have more large earthquakes," she said.
Even a quake in the magnitude 5 range can be felt far from Ridgecrest, located near Naval Air Weapon Station China Lake. A magnitude 5.4 aftershock of the Independence Day quake woke some people up early Friday in downtown Los Angeles 125 miles away.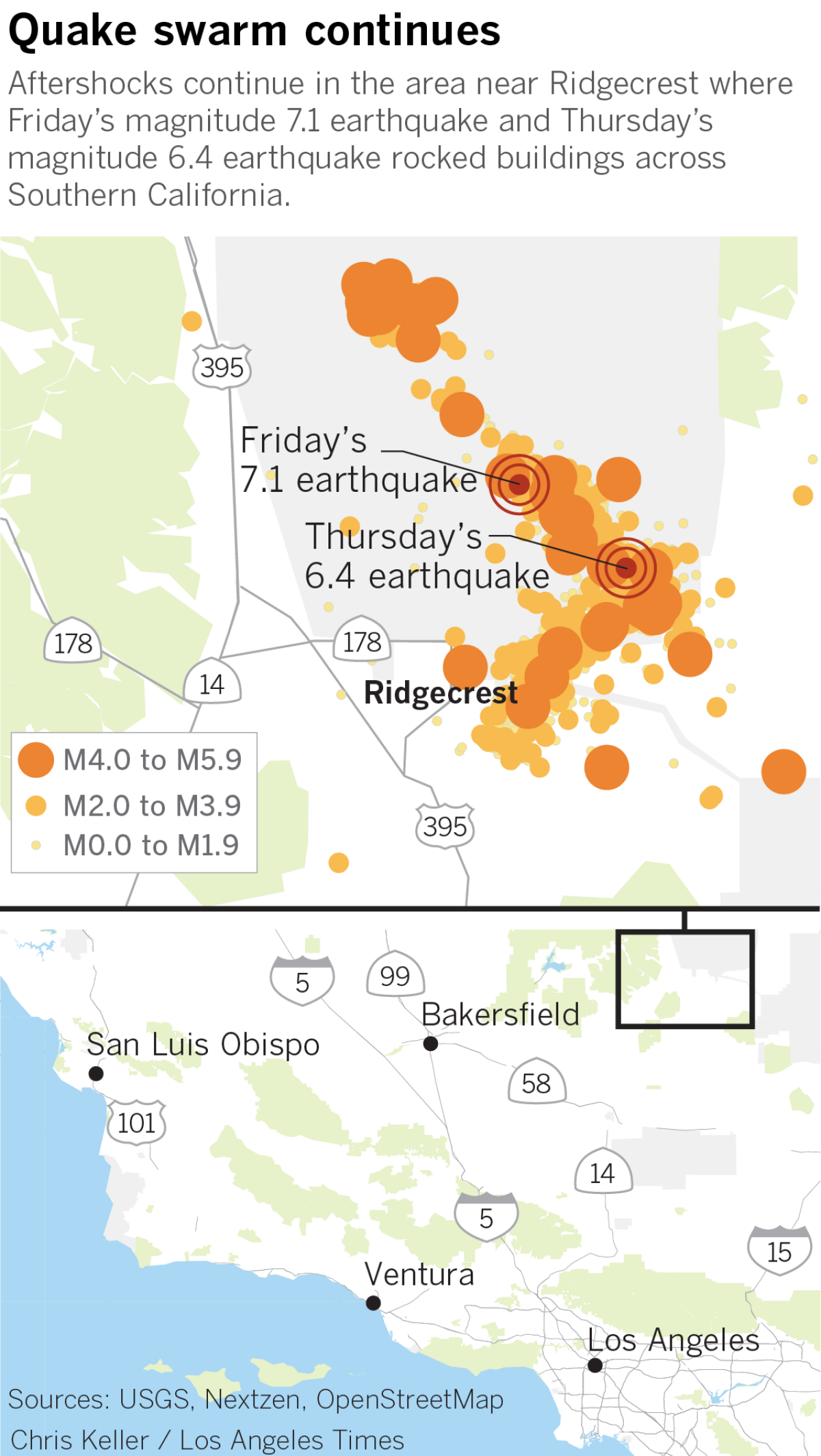 What's the chance of this quake triggering the Big One on the San Andreas fault?
It's not likely. The San Andreas fault is roughly 100 miles away at its closest point — much too far away for there to be a high chance of these recent quakes to cause the southern San Andreas to unleash a supersized earthquake.
The southern San Andreas fault is much closer Los Angeles, running at its closest just 25 miles northeast of downtown through the San Gabriel Mountains, and is capable of unleashing a magnitude 8.2 quake throughout all of Southern California, from close to the Mexican border to Monterey County.
Ridgecrest earthquake was intense. Exactly how strong was it? »
How long will this earthquake sequence last?
Years, probably.
Follow-up smaller magnitude quakes are more likely. But scientists wouldn't be surprised if, say, a follow-up magnitude 6 quake hits anywhere from tomorrow to several years from now.
The aftershock sequence from the magnitude 6.7 Northridge earthquake took years before the trembling calmed down.
A swarm of 1,000 earthquakes hit Southern California — how nervous should we be? »
How bad was the shaking, and how many felt really bad shaking?
The worst shaking — "violent," or intensity level 9 on the Modified Mercalli Intensity Scale — was limited to a geographically small and unpopulated region in the Mojave Desert.
"Severe," or intensity level 8, shaking was felt in Ridgecrest, population 29,000. That was worse shaking than what was felt on Independence Day.
The highest-populated areas of California on Friday night only felt either "weak" or "light" shaking of intensity level 4 or less, including Los Angeles and San Francisco, as well as Las Vegas.
Here are the biggest earthquakes in California history »
When was the last time California experienced this powerful of a quake?
The last time California experienced a quake of this size with an epicenter inside the state was in 1999, when the magnitude 7.1 Hector Mine quake struck the Mojave Desert. There were minor injuries and no deaths.
In 2010, an Easter Sunday earthquake of magnitude 7.2 near Mexicali was felt widely across Southern California, damaging towns on both sides of the border.
There's actually been an earthquake drought lately in California, part of the normal rhythms of seismic behavior — sometimes scarce and sometimes busy.
"In California, we expect to have a magnitude 7 once every 10 to 20 years, and the last one was 20 years ago," Jones said. "Think of this as a return to what California is supposed to be doing."
Earthquake preparedness: What to do before - and during - a big one »
Should we be on guard for more shaking, whether we're near Ridgecrest or in Los Angeles or San Francisco?
Yes. Now is the time to do everything you already should've done — secure or mount bookcases and TVs using straps you can buy at the hardware store; install child safety locks on kitchen cabinets; re-mount glass framed art with quake-resistant hooks.
What can we do to prepare?
In general:
- If you're an owner of an older home or building, retrofit it if it needs it, and if you rent, ask the landlord about it.
- Stock up on enough food, water and medicine to be self-sufficient for two weeks.
- Plan for your workplace to have a continuity plan. The Los Angeles County Economic Development Corporation has a template on how to do it at https://laedc.org/eq/
- And keep an eagle eye wherever you live or work, and imagine all the possible things that could fall on yourself, your loved ones and pets. Head to your hardware store's earthquake prep section to find ways to bolt bookcases down and keep large objects from falling on you when the shaking comes.
Sign up for Essential California for news, features and recommendations from the L.A. Times and beyond in your inbox six days a week.
You may occasionally receive promotional content from the Los Angeles Times.