L.A. immigrant detained while taking his daughters to school is released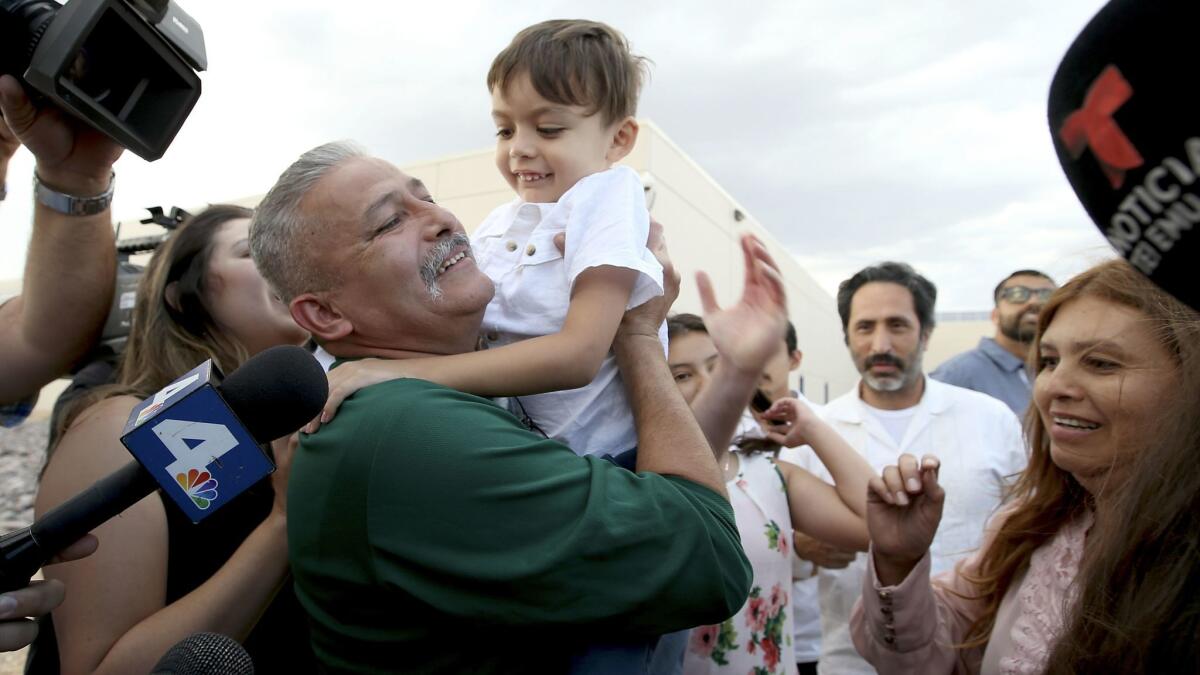 The call they had been waiting for came just before the sun set on a blazing day.
Romulo Avelica-Gonzalez told his wife, Norma, that he was finally getting out of the immigration detention facility.

For the record:
4:25 a.m. Dec. 11, 2023An earlier version of the main photo caption with this article misspelled grandson Kelvin Cibrian's name as Kevin.
"Your dad is out!" she told her four daughters.
Six months ago, Avelica-Gonzalez, 49, an immigrant in the country illegally, was arrested while taking his daughters to school in Lincoln Heights. One of his daughters videotaped the encounter, which caused a furor.
On Wednesday, a judge announced that Avelica-Gonzalez was eligible to post a $6,000 bond. The 5 p.m. call to his wife set off a scramble as the family piled into a van and sped toward the Adelanto Detention Facility in San Bernardino County. His eldest daughters, Brenda and Jocelyn, spotted him first — being led out by an immigration agent.
They yelled for the driver to stop the van. Brenda, 24, got to him first, wrapping her arms around him in a bear hug. Then the rest of the family piled on.
"I'm just happy that he's finally out," Jocelyn, 20, told reporters, breaking into tears. "I can't wait to see him at home."
When the family reached their hotel in nearby Victorville, the first thing Avelica-Gonzalez did was shower in privacy. The showers in detention had no curtains, he said. Nothing was private. He pulled on a new outfit — a gray polo shirt, jeans and tennis shoes — before heading to church.
"I'll never forget this day," he said. "It was a difficult time, but today was good. I don't even know how to explain it. I just want to be in my house."
The reunited family headed to a church in Los Angeles so that Avelica-Gonzalez could thank Jude the Apostle, the patron saint of desperate cases and lost causes, for his good fortune.
Avelica-Gonzalez was detained in late February, minutes after he dropped off his 12-year-old daughter, Yuleni, at school. Another daughter, still in the car when he was pulled over in Lincoln Heights, took cellphone video of his arrest by immigration agents, which went viral. Fatima, now 14, sobbed as she recorded the ordeal.
This month, an immigration appeals court threw out his final deportation order, kicking the case back to the local immigration court.
It could take years for a judge to enter a new decision. The backlog of cases pending at immigration courts around the U.S. topped 610,000 in June, according to the Transactional Records Access Clearinghouse at Syracuse University.
Avelica-Gonzalez, a Mexican citizen, has lived in the United States for more than 25 years. His case drew national attention, with critics citing it as an example of President Trump's aggressive and sweeping stance on illegal immigration.
Supporters of Trump's hard-line approach emphasize that immigrants like Avelica-Gonzalez broke the law by coming to the country illegally and further undermined any claim to live in the U.S. when they committed crimes, however minor.
In June, lawyers settled Avelica-Gonzalez's decades-old misdemeanor convictions — for driving under the influence and for receiving stolen car tags — that prompted the deportation order that led to his arrest. He pleaded guilty to lesser vehicle code violations, which would ordinarily not make him deportable.
The Wednesday bond hearing that would determine whether he would be released was tense. His four daughters sat in a row on a bench as the judge questioned Avelica-Gonzalez about his family, his years in the U.S. and his criminal history. They were wide-eyed, on the brink of tears.
An attorney for U.S. Immigration and Customs Enforcement requested a bond of at least $7,500, saying Avelica-Gonzalez had skipped court hearings in the past. She said he had an extensive criminal history and called him a flight risk.
His lawyer, Alan Diamante, said he was not a flight risk because his greatest goal is to remain with his family. He said that two misdemeanor convictions hardly constituted a long criminal history, and requested the lowest possible bond amount of $1,500.
After less than 30 minutes of questioning, the judge decided on a compromise. Avelica-Gonzalez was to be released by 7 p.m. Once the decision sunk in, his daughter Brenda broke down, causing a chain reaction of tears among Avelica-Gonzalez's other daughters.
"This was something we carried on our shoulders for six months," Brenda said to a crowd of reporters in temperatures that exceeded 100 degrees.
Avelica-Gonzalez and his wife have submitted applications for U visas, which are available to victims of crime and their immediate family members, based on a crime that Norma was the victim of in December 2016. Diamante said the next step was to ask an immigration judge to temporarily stop Avelica-Gonzalez's deportation proceedings while the U visa application is pending.
After the hearing, the family went to a Mexican restaurant in Victorville to celebrate and pass the time before Avelica-Gonzalez's release. A hostess asked whether they were celebrating something special. David Abud with the National Day Laborer Organizing Network answered:
"Yeah. Their dad is getting out of immigration jail."
---
UPDATES:
8:20 p.m.: The story was updated with details of Avelica-Gonzalez's release.
6:15 p.m.: The story was updated with additional comments and details from the immigration hearing.
The story was originally published at 12:30 p.m.
Sign up for Essential California for news, features and recommendations from the L.A. Times and beyond in your inbox six days a week.
You may occasionally receive promotional content from the Los Angeles Times.