Suspect arrested in series of attacks on homeless men in San Diego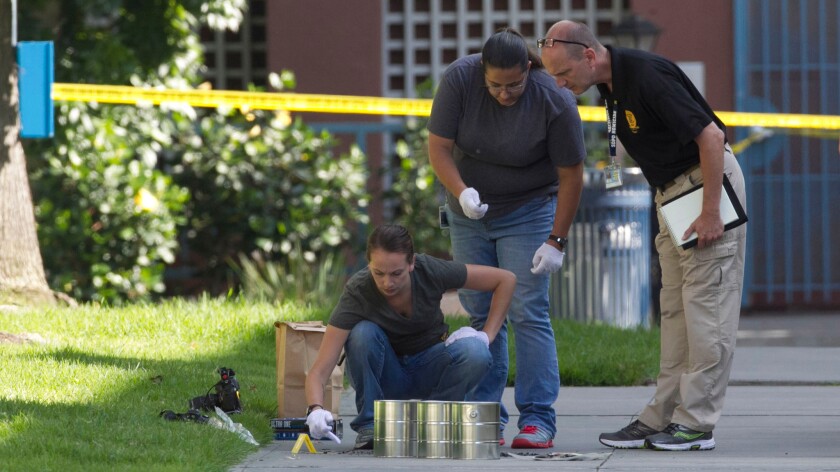 Reporting from San Diego —
A man who police say was responsible for killing two homeless men and critically injuring two others was arrested Thursday.
Anthony Alexander Padgett, 36, acted alone in the series of attacks that started early Sunday morning, San Diego homicide Capt. David Nisleit said during a Thursday evening news conference. He declined to disclose a motive for the attacks.
The arrest came after police received tips from the public based on grainy pictures and surveillance footage of the suspect.
Police also served search warrants at several undisclosed locations and checked trolleys and bus stops because they believed the suspect was using public transit to get around.
Two to four officers positioned themselves at trolley stops throughout the region; Padgett was arrested about 10 a.m. near the H Street trolley stop off Broadway in Chula Vista, where he lives.
"We have probable cause to arrest Mr. Padgett for these heinous crimes," Nisleit said. "Public safety is our No. 1 priority and we are doing this to prevent another possible case."
He said police still had much work to do, including finding and interviewing witnesses and analyzing physical evidence.
A police source said a San Diego County deputy district attorney recognized photographs of the suspect as a person linked to a previous arson case.
Padgett was sentenced to four years in state prison in 2010 for lighting a homeless man on fire in Chula Vista and charring almost 30% of his body. His release date from prison was unavailable.
Padgett denied responsibility for the attacks during a Thursday night interview with KGTV Channel 10 news outside police headquarters.
"We're innocent, innocent," he said. "We look like the person. We're innocent … I look like that person, I'm innocent."
News of Padgett's arrest came as a surprise to his former boss at Johnny V, a Pacific Beach restaurant and nightclub where he had worked as a part-time dishwasher from April to June last year.
"No body language ever indicated that he would ever do something like that," said the manager, who did not want to be named.
He described Padgett as a quiet person who kept to himself and did his job. The manager said Padgett left the job on his own accord.
Padgett's Facebook page shows that he worked at the Bullpen Bar and Grill in Clairemont starting in June of last year, then at the Jonathan Beach Club in Santa Monica beginning in December. Supervisors at the restaurant declined to comment and a manager at the Santa Monica club did not respond to requests for comment.
The announcement of Padgett's arrest created a sense of relief among San Diego's homeless population Thursday night and the nonprofit agencies that counsel and assist them, said Bob McElroy of the Alpha Project.
"I know what to do for people when it's pouring rain or super hot, but this had me freaking out," McElroy said. "This was creepy."
McElroy and Nisleit said it was important for homeless people and police to remain vigilant.
"I still believe there are other witnesses out there that might now be compelled to come forward and give us their story or give us some information to help continue to develop this case against Mr. Padgett," Nisleit said
He said officers would continue their recent practice of informing and updating the homeless community, showing them photos of the suspect, working to connect people with services and shelter and advising them to be particularly aware of their surroundings.
"We're going to still consider those other attacks that have been happening over the past few weeks," Nisleit said. "We need to determine if Mr. Padgett is involved or if we still have another suspect out there attacking the homeless population."
Since Sunday, the early morning attacks had prompted many in the city's large and vulnerable homeless population to sleep during the day and stay up all night.
Some also armed themselves with knives, bats and other weapons, while others congregated in larger-than-normal groups.
Each of victims suffered similar and significant trauma to the upper torso, officials said. Three of the four victims had been sleeping.
The two men who were critically injured have not regained consciousness since their attacks.
Nisleit said Padgett would be charged with multiple counts of murder and multiple counts of attempted murder.
The violence began Sunday with the death of Angelo De Nardo, 53, who suffered major injuries before being set on fire under an Interstate 5 bridge.
On Monday about 4:50 a.m., Manuel Nunez Mason, 61, was critically injured in the Midway District. At 6:10 a.m. the same day, Shawn Mitchell Longley, 41, was found dead of injuries in Ocean Beach.
Then at about 5 a.m. on Wednesday, witnesses heard loud noises and saw one man set another on fire along a walkway between condominium complexes in downtown San Diego. The victim, whose name has not been released, suffered major upper body trauma. Investigators said a towel had been ignited on top of the man, but a witness grabbed it away before the victim was burned.
Police have stopped short of calling the assailant a serial killer.
The recent attacks came less than a month after six transients were hit over the head while sleeping on the streets near Horton Plaza, and two months after a homeless man was set ablaze in front of a Rite Aid in Oak Park.
In April, a 50-year-old homeless man was beaten and kicked to death near his encampment in Santee. Three people have been charged in that case.
Police said there is no evidence suggesting any of the attacks are linked to this week's incidents, but advocates said the steady uptick of violence has taken its toll on those living on the streets.
david.garrick@sduniontribune
Garrick writes for the San Diego Union-Tribune. Staff writers David Hernandez and Lyndsay Winkley contributed to this report. 
ALSO
Rapper's latest song laments Bay Area's soaring rents
Your chance of winning the Mega Millions jackpot is .0000000039% Still feel lucky?
FBI investigating after cellphone video shows police fatally shooting unarmed man in Fresno
---
UPDATES:
10:08 p.m.: This article has been updated throughout with additional details.
8:52 p.m.: This article has been updated throughout with details.
This story was first published at 6:08 p.m.
---
The stories shaping California
Get up to speed with our Essential California newsletter, sent six days a week.
You may occasionally receive promotional content from the Los Angeles Times.