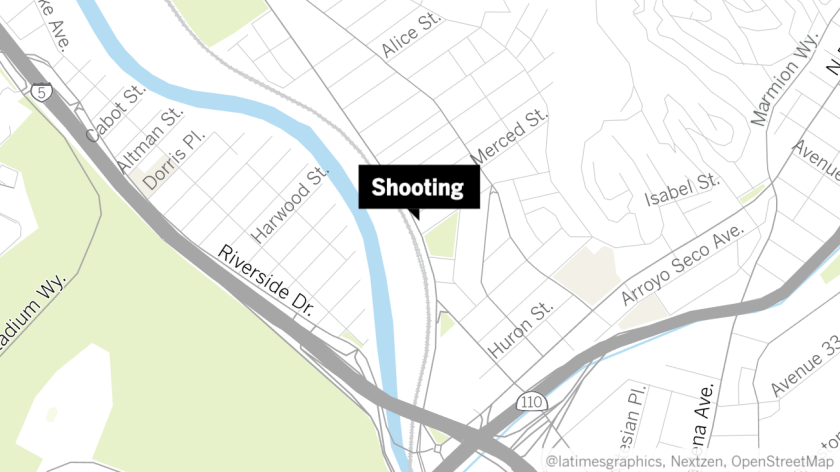 A shooting in the Cypress Park neighborhood in northeast Los Angeles on Saturday evening left six people wounded, including one critically, authorities said.
About 7:20 p.m., a person flagged down LAPD officers at the intersection of San Fernando Road and Merced Street to report a shooting. Police found three gunshot victims outside an automotive repair shop, said LAPD Sgt. David Armas of the Northeast Division.
Initial reports said the shooting was on the 7000 block of San Fernando Road in the San Fernando Valley.
A crowd formed and officers had to call for backup, Armas said. Police found two additional gunshot victims nearby. All five were taken to a hospital, Armas said. One of the victims was shot in the head and is in critical condition, two are in serious condition and two have sustained non-life-threatening injuries, LAFD spokeswoman Margaret Stewart said.
Then a sixth victim, who had been shot in the stomach, was found, Armas said.
Authorities believe the shooting is gang-related.
Photos surfaced on social media of several people behind yellow police tape with their hands cuffed. Armas said that nobody has been arrested in connection with the shooting but that persons of interest are being questioned.
'At least' five shot in Cypress Park attack. Witnesses said many people fled the scene and authorities think there could be more victims. At least two are in serious condition, one is critical and two have non-life threatening injuries. https://t.co/yrn0zl7Tbr pic.twitter.com/sDYutCNQKF

— CBS Los Angeles (@CBSLA) April 28, 2019
For more California breaking news, follow @AngelJennings. She can also be reached at angel.jennings@latimes.com.
---