Another longtime lawman joins race for L.A. County sheriff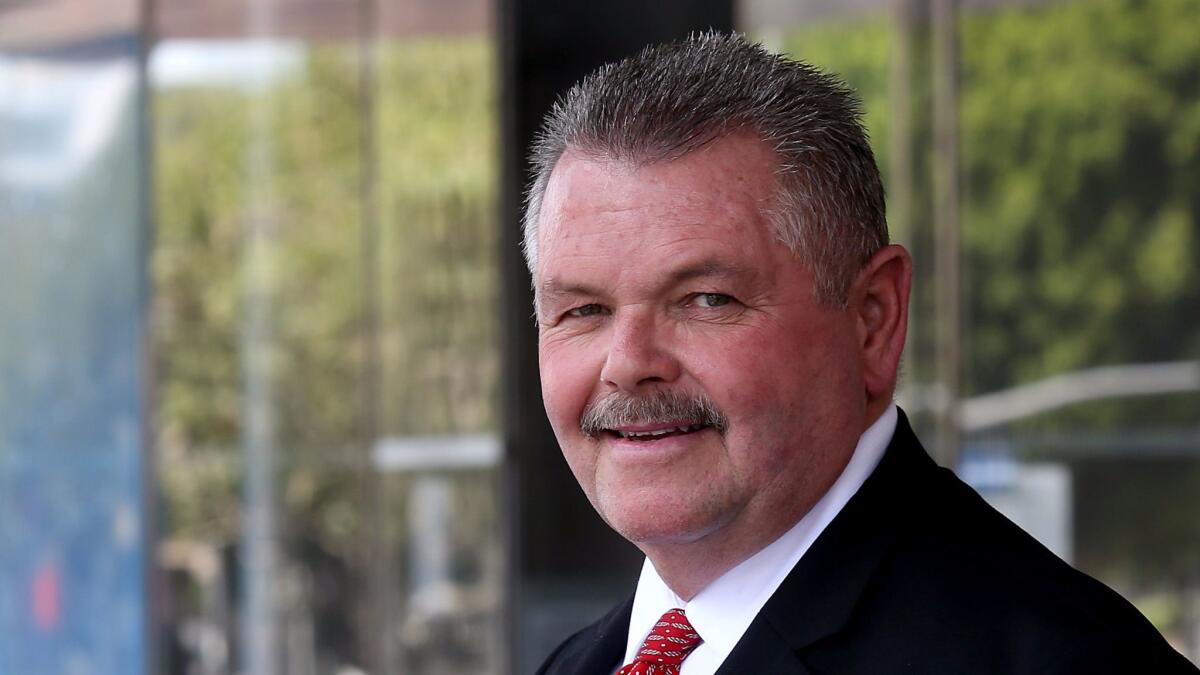 Bob Lindsey says he's reluctant to recommend the Los Angeles County Sheriff's Department to a young person hoping for a career as a cop.
Too many deputies are frivolously punished and too few make proactive arrests, due to a fear of unfair scrutiny from their own bosses, he says.
Yet none of that is stopping Lindsey from wanting to put on the uniform again. This time he hopes to be the guy with five stars on his lapel.
Lindsey, 61, is the latest person to announce plans to run against incumbent Jim McDonnell in next year's election for sheriff. A retired sheriff's commander who served 32 years with the department, Lindsey says he wants to transform the organization into a place that empowers its officers and turns them into the agency's best recruiters.
"I need to get the deputies to say, 'I am proud of this agency. I am proud of the way it's operated, and I want you as my cousin, my neighbor, to come work here,'" Lindsey said.
Another department veteran, Lt. Alex Villanueva, announced last week that he's running for sheriff.
Lindsey retired from the department in 2011 to join the Los Angeles Superior Court as the director of security, a position he held until recently. As a sheriff's commander, he helped oversee the division that deploys deputies as bailiffs in courtrooms and provides security to the court system. Earlier in his career, he helped develop the field training officer program to make sure deputies at all stations were receiving the same training.
Lindsey says he wants to improve community relations and increase transparency in the department. Both of those issues are at the heart of ongoing debate at the Sheriff Civilian Oversight Commission, which began meeting this year as part of a plan to bring accountability to a department torn open by a years-long jail abuse scandal.
Sheriff's officials, Lindsey claims, have been cracking down too hard on rank-and-file deputies. He said McDonnell had gone further than his predecessors by going to court to try to reverse rulings by the county's Civil Service Commission reinstating fired deputies.
McDonnell, through a spokeswoman, declined to comment.
Lindsey's son, Robert "Robbie" Lindsey, says he knows how it feels to be unfairly punished. The younger Lindsey recently filed a lawsuit saying he and a fellow deputy were framed for lying about a drug bust and were forced to stand trial on perjury and conspiracy charges. A jury acquitted them.
The whole ordeal, the lawsuit alleges, was part of a retaliation scheme carried out by former Los Angeles County Undersheriff Paul Tanaka, who is serving a 5-year prison sentence for conspiracy and obstructing an FBI investigation into deputy jail abuses.
The elder Lindsey says Tanaka didn't like him because he didn't bend to Tanaka's wishes by doing things such as donating to his Gardena mayoral campaign. Attempts to reach a representative for Tanaka were unsuccessful.
This is Lindsey's first race for elected office.
Twitter: @mayalau
ALSO
Yes, you can once again bring beer and wine to Cinespia screenings at Hollywood Forever
Authorities say the 2009 killing of a prominent L.A. lawyer could be linked to another slaying in Whittier
While parts of the state battle fires, Southern California finds different ways to get through the heat wave
Sign up for Essential California for news, features and recommendations from the L.A. Times and beyond in your inbox six days a week.
You may occasionally receive promotional content from the Los Angeles Times.