Watchdog says L.A. Sheriff's Department collects flawed data, reports inaccurate statistics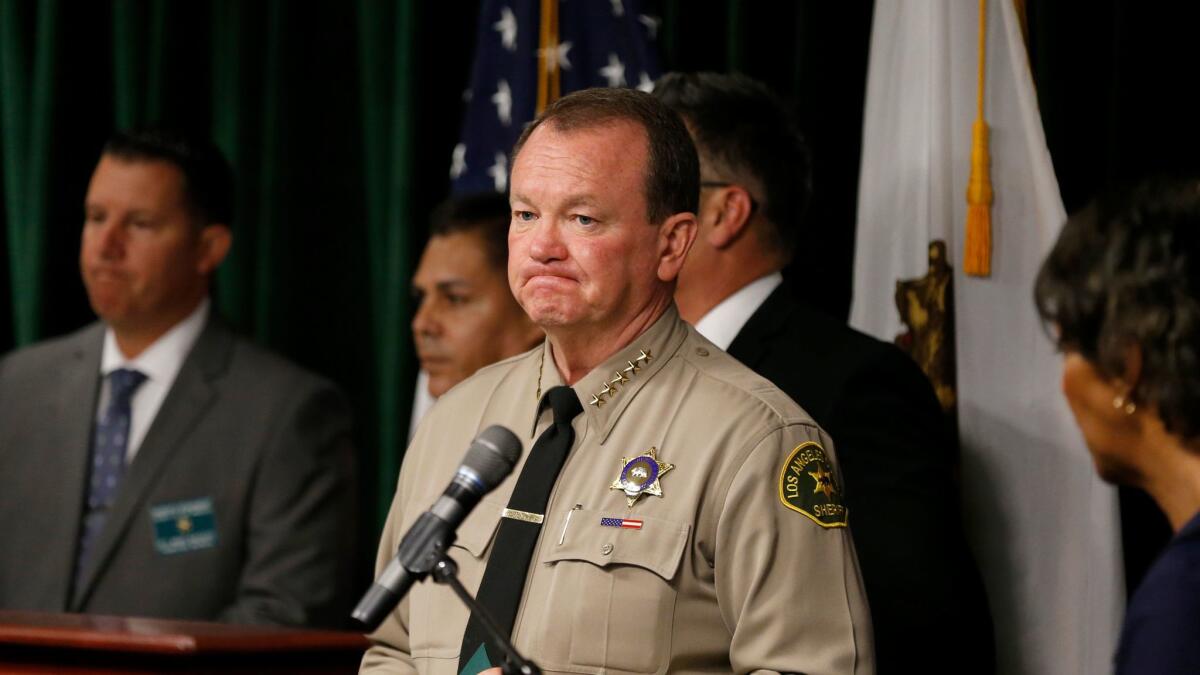 The Los Angeles County Sheriff's Department uses flawed methods to collect data about violence in county jails that result in unreliable and in some cases inaccurate statistics published internally and in public reports, according to the agency's principal watchdog.
Inspector General Max Huntsman said his 17-page report, released Tuesday, calls into question whether the department "is in control of itself" as it continues to implement reforms a few years after an abuse scandal rocked the nation's largest jail system.
"They themselves said that they didn't believe their own data," Huntsman said. "If they can't assess themselves, and if they can't tell us what's going on in their own department, then we can't assess them."
Huntsman said his review was prompted by questions earlier this year from the Los Angeles Times about why the department was reporting inconsistent numbers of inmate-on-inmate assaults.
The department told the newspaper this past spring it could not stand by the inmate assault statistics it had previously issued to the paper and to the inspector general's office — which had already published the numbers in a few of its reports — and that it would review its data systems.
Huntsman's office found the department tracks jail incidents using various types of software that are incompatible with one another and sometimes allow for duplicate entries and other times enable multiple events to be listed as one, among other errors.
As a result, the numbers that the department collects for its internal records versus the statistics it reports to outside agencies can diverge significantly.
In one example cited by Huntsman, the department recorded in an internal report that there were 382 inmate-on-staff assaults in 2015, but the department told the office of inspector general there were 464 of those assaults that year. The inspector general described this as a 17.7% variance.
In 2012, the Citizens' Commission on Jail Violence voiced similar concerns, saying that the department relies on antiquated, incompatible systems to track uses of force and that it should replace those methods with a uniform, comprehensive data tracking system.
Sheriff Jim McDonnell, then chief of the Long Beach Police Department, was one of seven members of that citizen's commission.
Assistant Sheriff Kelly Harrington said he agreed with many of the inspector general's findings and that the department would be better served by an integrated jail data system with one repository for information.
But Harrington, who oversees the department's jails and previously served as a director in the state correctional system, said creating a streamlined jail management system "has not been a top priority" in the year and a half he's been with the Sheriff's Department.
He emphasized, however, that the trend line on severe or inappropriate uses of force by guards — arguably the most important metric to examine in the wake of the jail abuse controversy — is indeed down.
"Those issues aren't happening in the jails, and if they are, those individuals responsible are being held accountable," Harrington said.
Peter Eliasberg, chief counsel at the ACLU of Southern California, which monitors the jails, agreed that "brutal, heavy-handed assaults" by guards in which inmates' teeth are kicked in or jaws shattered appear to no longer be a common feature in the county's jails.
But Eliasberg said it's still critical for the department to collect precise data about all types of jail incidents, including minor uses of force by guards, inmate-on-inmate assaults and inmate-on-staff assaults. Even relatively small fluctuations in those statistics, such as a 5% rise or drop, can signal the need for officials to examine problems more closely.
Miriam Krinsky, a former federal prosecutor who served as the executive director of the 2012 commission, said the inspector general's report underscores the continued need for oversight of the Sheriff's Department.
"Any law enforcement agency can only improve what it knows and what it tracks," she said.
Huntsman's report recommends that there be a single unit in the department responsible for compiling and verifying all jail violence data in order to generate more accurate information.
Twitter: @mayalau
Sign up for Essential California for news, features and recommendations from the L.A. Times and beyond in your inbox six days a week.
You may occasionally receive promotional content from the Los Angeles Times.