Snow therapy: Southern Californians trek to the mountains for winter fun — and tranquillity
A skier looks up toward fresh snow from a recent El Niño storm at the Mt. Baldy Ski Area on Jan. 7.
(Genaro Molina / Los Angeles Times)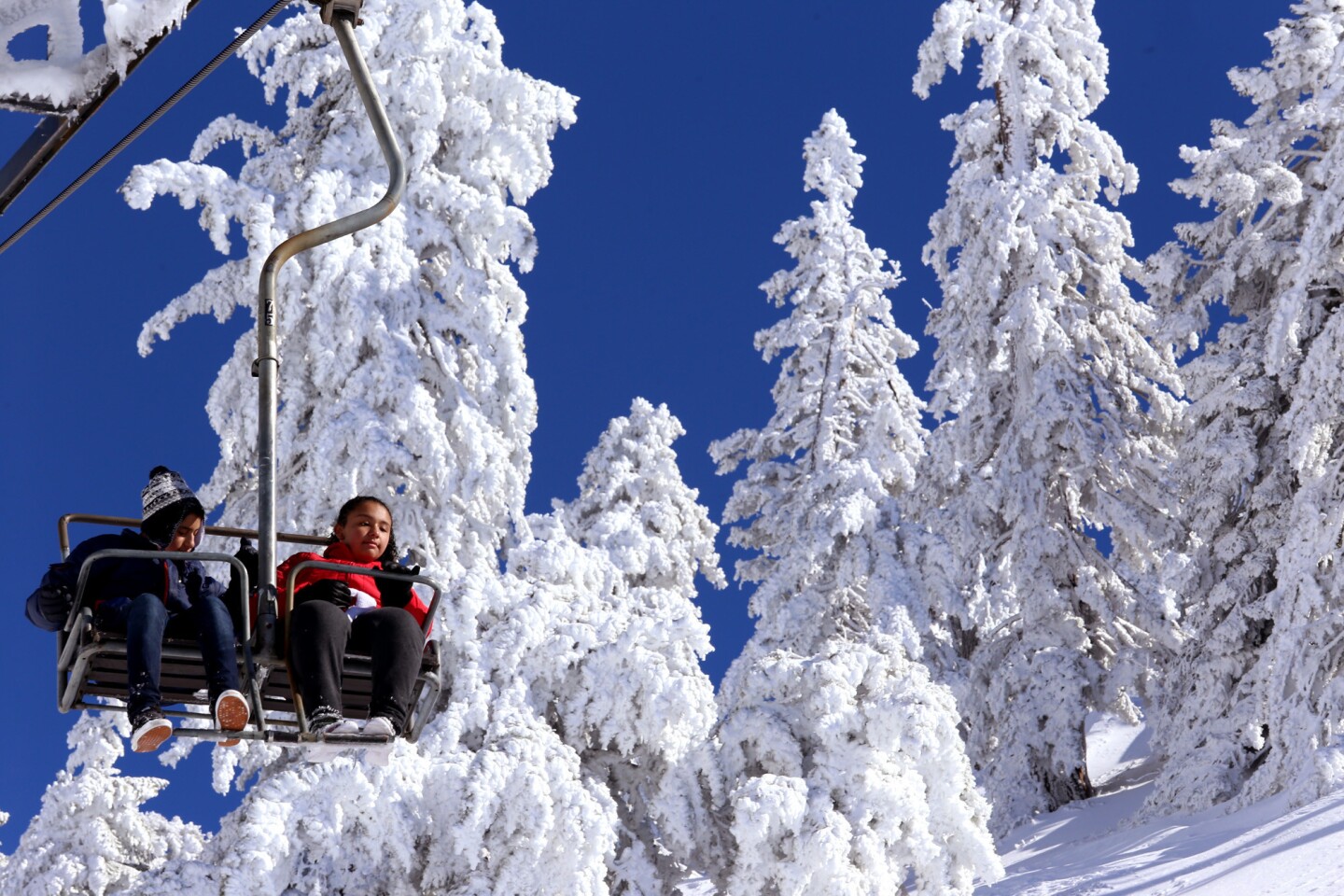 A winter landscape made possible by a recent El Niño storm serves as a backdrop at the Mt. Baldy chair lift on Jan. 7.
(Genaro Molina / Los Angeles Times)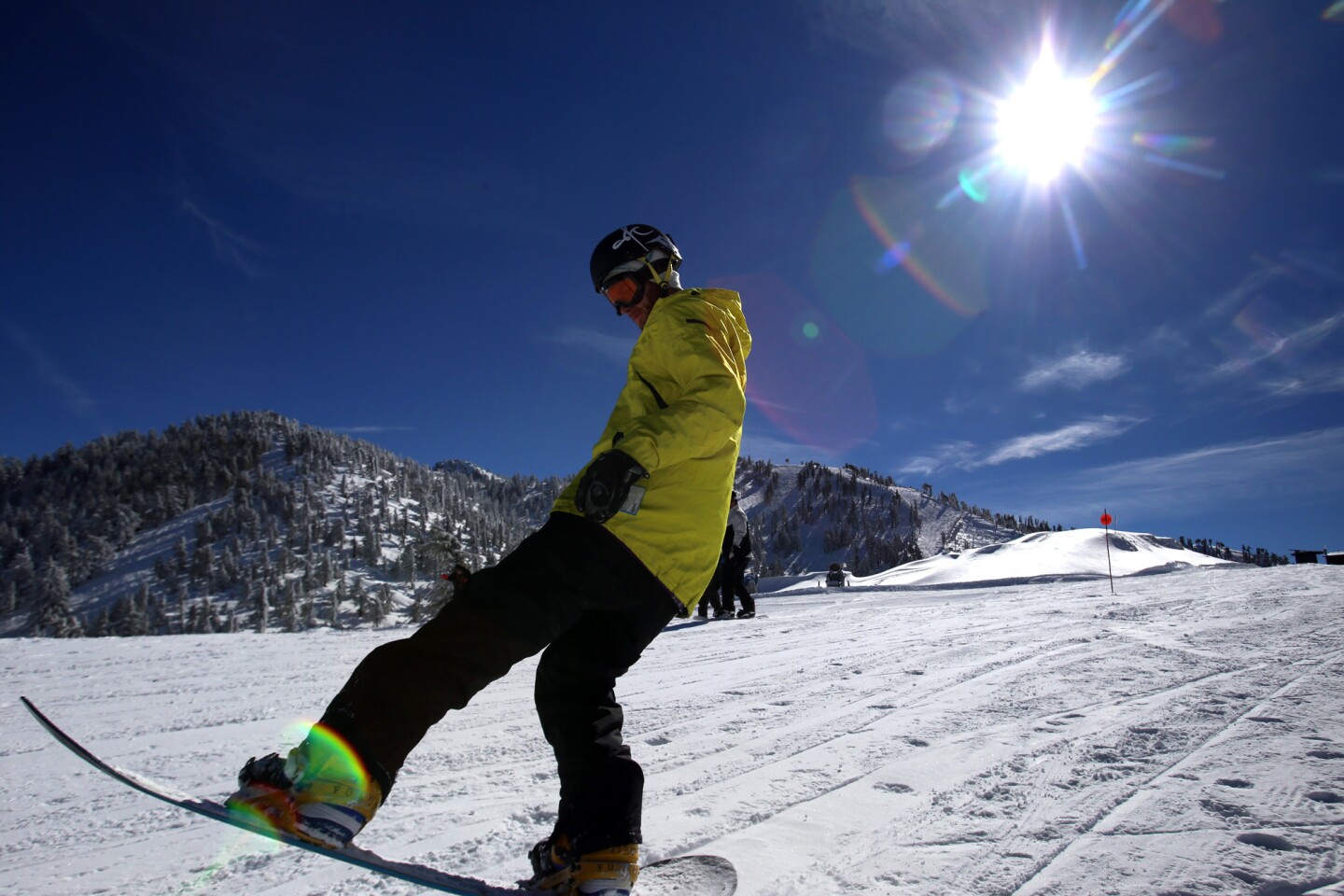 A snowboarder enjoys a ride at the Mt. Baldy Ski Area on Jan. 7.
(Genaro Molina / Los Angeles Times)
Gavin Strini, 8, from Corona, makes a snow angel alongside Mt. Baldy Road at Mt. Baldy on Jan. 7.
(Genaro Molina / Los Angeles Times)
After an El Niño storm, trees on Mt. Baldy are dusted with snow on Jan. 7.
(Genaro Molina / Los Angeles Times)
Hikers make their way up the Icehouse Canyon Trail on Mt Baldy.
(Genaro Molina / Los Angeles Times)
Trees are dusted with snow after a recent El Nino storm on Mt. Baldy.
(Genaro Molina / Los Angeles Times)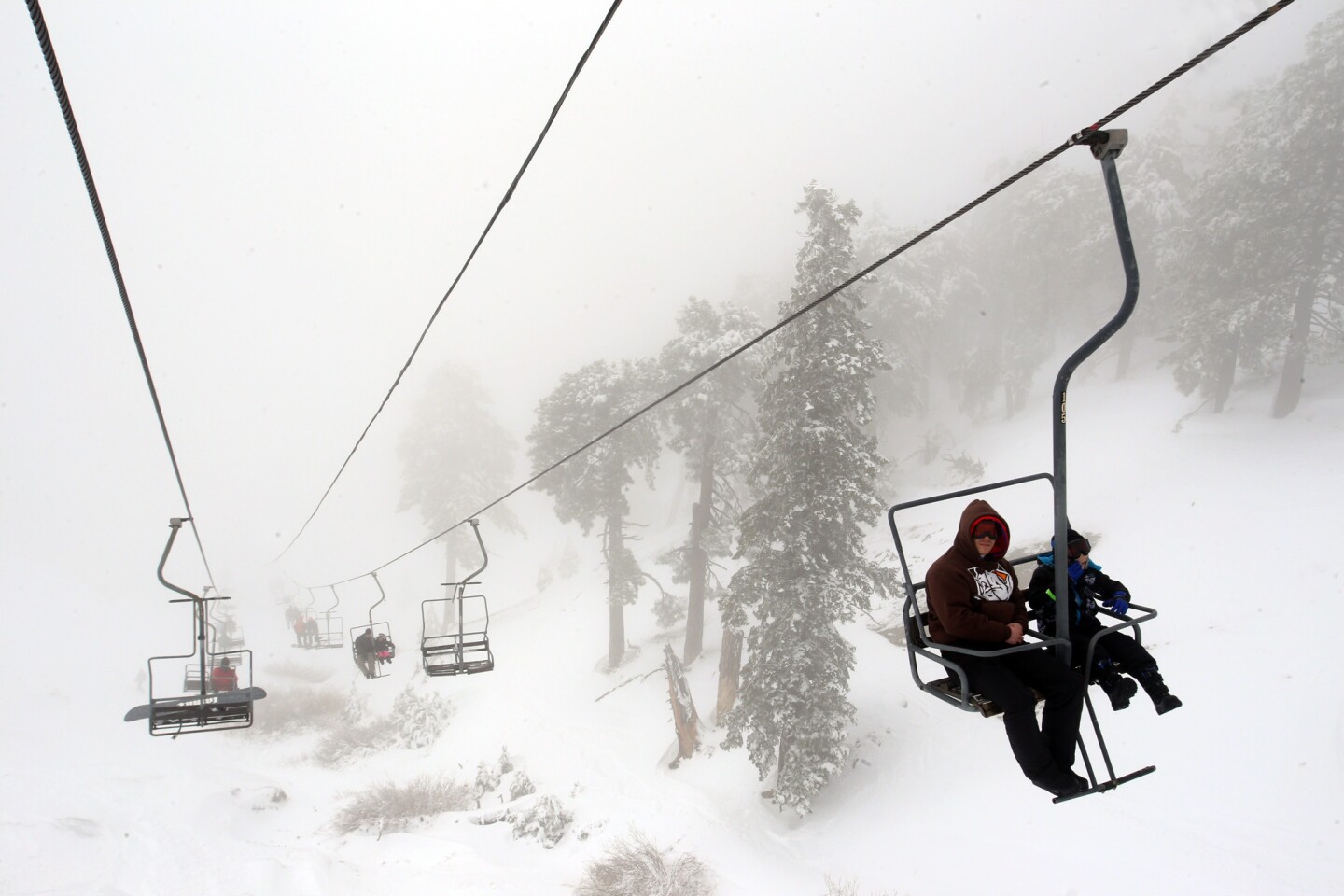 People enjoy the snow-dusted landscape while riding the Mt. Baldy ski lift on Jan. 7.
(Genaro Molina / Los Angeles Times)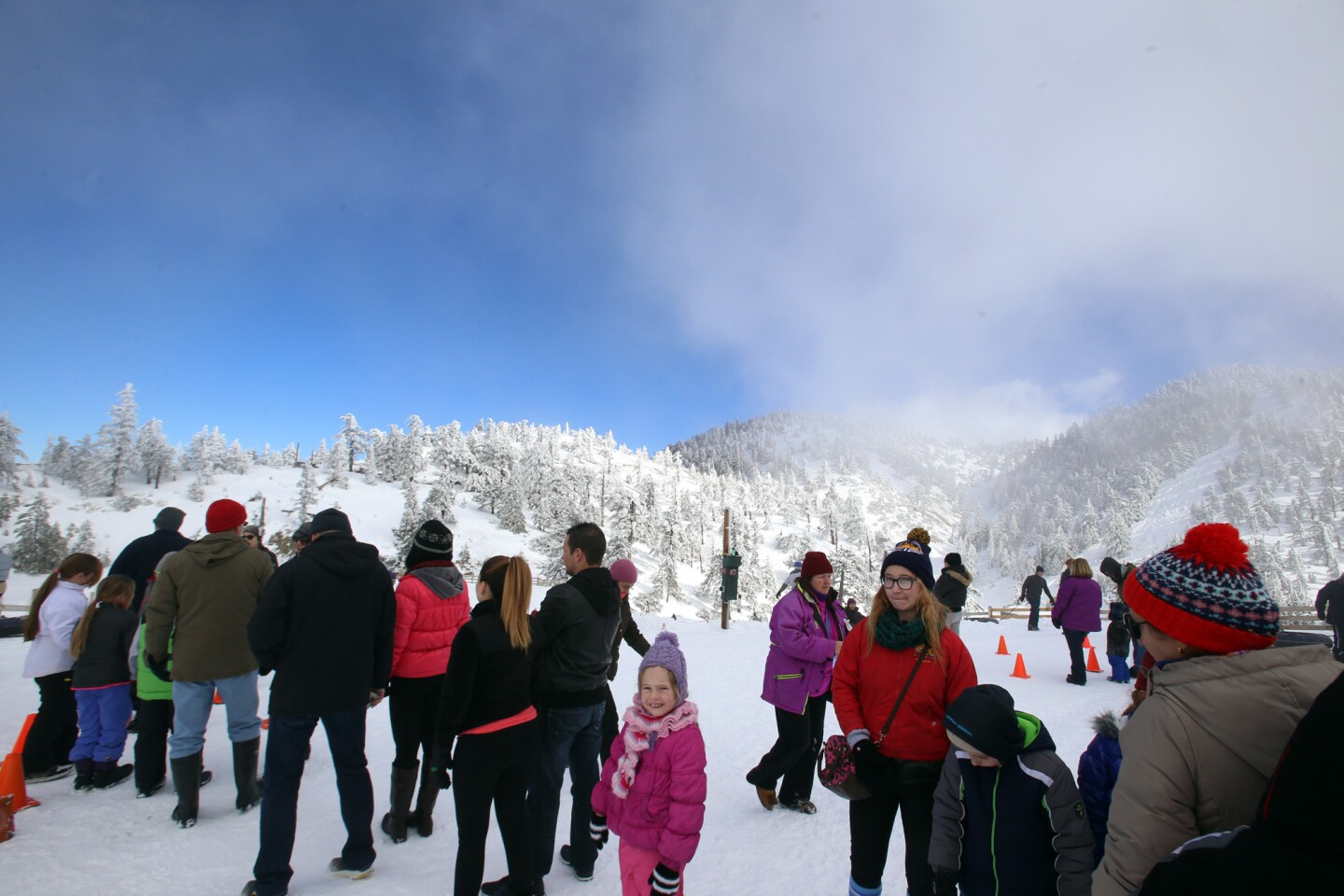 Visitors enjoy the view and the recent snow at the Mt. Baldy Ski Area on Jan. 7.
(Genaro Molina / Los Angeles Times)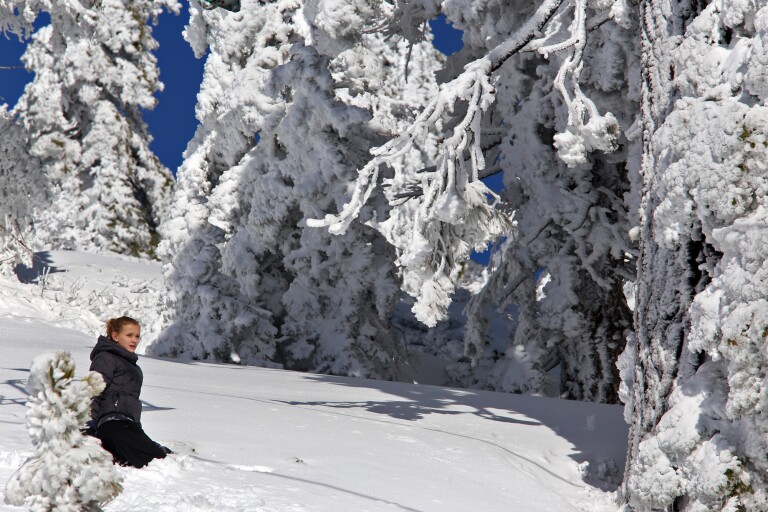 Ali Wood, 12, from Los Angeles, is surrounded by a winter wonderland Jan. 7, after an El Niño storm at the Mt. Baldy Ski Area.
(Genaro Molina / Los Angeles Times)
Ali Wood, 12, from Los Angeles, slides down a slope on her stomach at the Mt. Baldy Ski Area on Jan. 7.
(Genaro Molina / Los Angeles Times)
Hikers walk down the Icehouse Canyon Trail on Mt. Baldy on Jan. 7.
(Genaro Molina / Los Angeles Times)
On a soaring freeway interchange above Hawthorne, the Cornejo family caught their first glimpse of it, 30 miles in the distance.
Behind the pale towers of downtown Los Angeles, a wall of mountains rose to more than 10,000 feet, blue in the shadows, white as the Himalayas on the bare peaks — the snow they had been waiting for.
It always looked surreal at first, seen from the urban fray, especially after a long drought.
In Denver or Salt Lake City, the nearby mountain ranges do not surprise. In fall, they do not jump out of an ocher haze as if they were never there. People do not wake up after a big winter storm and behold the snow with a mix of confusion and awe, as if Covina somehow woke up in Bozeman, Mont.
The Cornejo family — 20-something brothers, cousins and spouses — had loaded into two Camrys in Inglewood to visit Ice House Canyon, a trail near Mt. Baldy they had visited the winter before. No skis, no boards, no sleds, just an impulse: They wanted to be in the snow.
Upon arrival, they spun their wheels in the parking lot before landing a spot, then started on foot past the stone ruins of the old Ice House Canyon Lodge.
"It's just so quiet," said Maricela Escatel, 27. "It's like you're somewhere far away."
Escatel is not a mountain person. On the trail up the canyon, while others passed with hiking poles and micro-spikes on their shoes, she wore Ugg boots, tights and a Raiders jacket — with a shiny black Betsey Johnson handbag clutched in the crook of her arm.
Her husband, Gerardo Vasquez, led the way with a stick and tennis shoes. Soon they were unwittingly off the trail into an area of snowy boulders with the distinct sound of trickling water around them.
"Put your feet where my feet were," Vasquez told the rest.
"Is that water?" one of the women asked.
They realized they were on a creek, thinly covered in snow.
The other men heckled Vasquez. "You go first!"
Vasquez found himself on a rock in the middle, and tried to retrace his path out. "I don't see any of my footsteps!"
With laughs and shrieks, they made it back to the icy trail, grabbing for branches, slipping on their butts, having a blast.
"Next time we come again, let's take the right gear," said Martin Cornejo.
"That's what we said last time," Vasquez jibed back.
Snow in Southern California has always been a novelty that added to its crafted mystique: Fragrant orange groves beneath white peaks, surfing in the morning before skiing the rest of the day. One of the cleanest vantages of Old Baldy's 10,064-foot peak — aside from freeway overpasses — is from the ocean. At Bolsa Chica in Huntington Beach, not a bluff or building obstructs the view, 47 miles away.
Southern California is crumpled with cordilleras in every direction. The Transverse Ranges run roughly east west: Santa Ynez, Tehachapi, Santa Monica, San Gabriel, San Bernardino. The Peninsular Ranges run up out of Baja, Mexico: Laguna, Santa Ana, San Jacinto.
Join the conversation on Facebook >>
Golden State developers originally feared that knowledge of the snow might diminish the idyll of balmy, eternal sunshine they had been hawking back east.
But by the late 1920s, they realized the two could coexist, an alpine fantasy layered onto the subtropical one.
"When the Great White Blanket settles down on mountain slopes and lakes, they rival the Swiss Alps in scenic splendor," the L.A. Chamber of Commerce trumpeted in 1928, according to Ingrid Wicken, author of "Lost Ski Areas of Southern California."
"The view of fertile green valleys," the chamber continued, "basking in the warm sunshine below those snow-covered peaks is an amazing sight."
Local business chambers organized winter carnivals, where people came to take ski lessons and watch Scandinavian ski jumpers launch through the air.
Ski areas with rope-tows and poma lifts proliferated around Lake Arrowhead and Big Bear Lake, along with ski jumping, toboggan rides and all manner of lodges and "chalets."
Closer to Los Angeles, on Mt. Waterman, the Newcomb family opened a rope tow in 1939 and a chairlift around 1941.
Such proximity to the big city, the pitchmen crowed. A feral pigeon at Hollywood and Vine, looking to cleanse its soul, could fly that 28 miles and be cooing in the pines in a half hour. But for humans, traveling up the Angeles Crest Highway, it still took at least an hour and a half.
While the exotic alpenglow romance inevitably faded to kitsch over the decades, the mountains continued to offer an escape.
Several ski areas took over the market: Snow Summit, Bear Mountain, Mountain High. Most of the others closed. But Mt. Baldy Ski Lifts still run when the snow is good. Mt. Waterman is scheduled to open Saturday for the first time since 2011.
And throughout the mountains, from back trails to highway turnoffs, a wide cross-section of Southern California comes simply to play in frozen water, needing no illusions that they are leisure-timing in an up-and-coming Chamonix.
NEWSLETTER: Get essential California headlines delivered daily >>
Up Mt. Baldy Road, toward the rickety ski lifts that still have their die-hard loyalists, the Yung family came from West Los Angeles to sled and throw snow.
At a hairpin turnout, Carey Yung, 59, pushed his teenage son Samuel, who grew up in China, to climb higher up a steep slope with his plastic blue sled. It was Samuel's first time in the snow.
"Keep going!" his dad said, with a wicked laugh.
Samuel trudged higher, then nervously got in the sled. "Go!" his dad shouted.
The boy whipped down the slope, launched over a rocky hump, landed harder than his old man would ever subject his own back to -- and skidded to a stop.
"Ha, ha, ha!" Yung boomed. "Do it again!"
Asked what drew them up here, Yung gestured to the snow, as if it spoke for itself. "It's, uh … simplicity."
Up the Ice House Canyon trail, regular mountain-goers Tony Ramos, 44 and Mireya Vela, 43, hiked steadily with poles and micro-spikes. They were going to the ridge.
When they stopped, the silence was vast, threaded only by the gurgling of the creek
"Yesterday I was on Potato Mountain and could see all the way to Catalina," Vela said.
She said she loved all the seasons up here, but particularly savored the snow for the still quiet that seems to push the daily maw even farther away.
She pointed to the incense cedars on the canyon wall, frosted white, twinkling with ice crystals.
"We haven't seen it like this in a long time," Ramos said. "This is therapy."
Twitter: @joemozingo
ALSO:
Phony Powerball tickets flood social media in wake of $1.5-billion jackpot
Keep umbrellas handy, Northern California, it's going to be a wet weekend
Mountain lion kittens born in Santa Monica Mountains, father still unknown
---
For reporting and exclusive analysis from bureau chief John Myers, get our California Politics newsletter.
You may occasionally receive promotional content from the Los Angeles Times.