Snow in Grapevine closes Interstate 5 as another storm hits Southland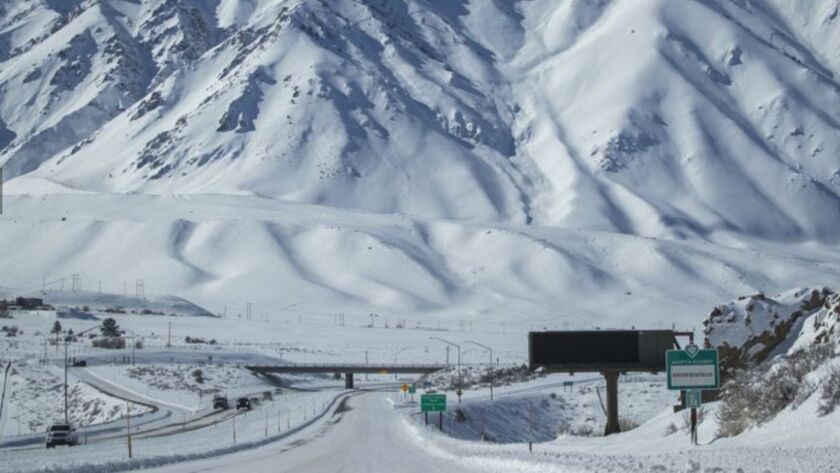 A new storm moved into Southern California on Sunday night, bringing modest rain, cold temperatures and snow, and shutting down Interstate 5 in the Tejon Pass, officials said.
The California Highway Patrol's Fort Tejon office posted at 7 p.m. that the Grapevine had been closed "due to dangerous conditions." Caltrans said the pass would be reopened "as soon as possible," but it was not immediately clear if the closure would last through the morning commute.
The rain was not expected to be heavy, but it could drop snow levels to the 3,500-2,500-foot level, officials said.
"The rain is going to be a lot more hit and miss, and the entire storm system will only bring less than an inch of rain across the region," said Kathy Hoxsi, meteorologist at the National Weather Service in Oxnard.
Temperatures could drop into the 40s in the L.A. Basin and even colder in the mountains Sunday night, when the storm moves out.
It's the latest in a series of storms that will continue this week with more rain in the forecast.
Below-normal temperatures are expected through next week throughout Southern California. Another storm is predicted to hit the region Wednesday and continue through Thursday, and resume late Friday night and into Saturday, forecasters said.
"We are still in a storming pattern where every few days we get some rain," Hoxsi said. "And because each storm brings in a fresh round of cold air, we are going to be chilly for a while."
Heavy snowfall this week at Yosemite National Park toppled trees, knocked out power and damaged campgrounds, and some roads and facilities including the ski area remained closed Friday, officials said.
No one was injured during the storm, which from Monday through Wednesday dumped 18 to 24 inches of snow on Yosemite Valley and several feet in the high country.
The park is open, but all visitor services at Half Dome Village remained closed Friday as the damage was assessed and repairs begun.
About 50 guest cabins at Half Dome Village were damaged or destroyed, as well as 50 to 70 housing units for concession employees, National Park Service officials said. Alternative housing was being arranged for about 150 workers.
---
The stories shaping California
Get up to speed with our Essential California newsletter, sent six days a week.
You may occasionally receive promotional content from the Los Angeles Times.