'Heavily deployed' LAPD 'prepared for anything' as Trump comes to Southern California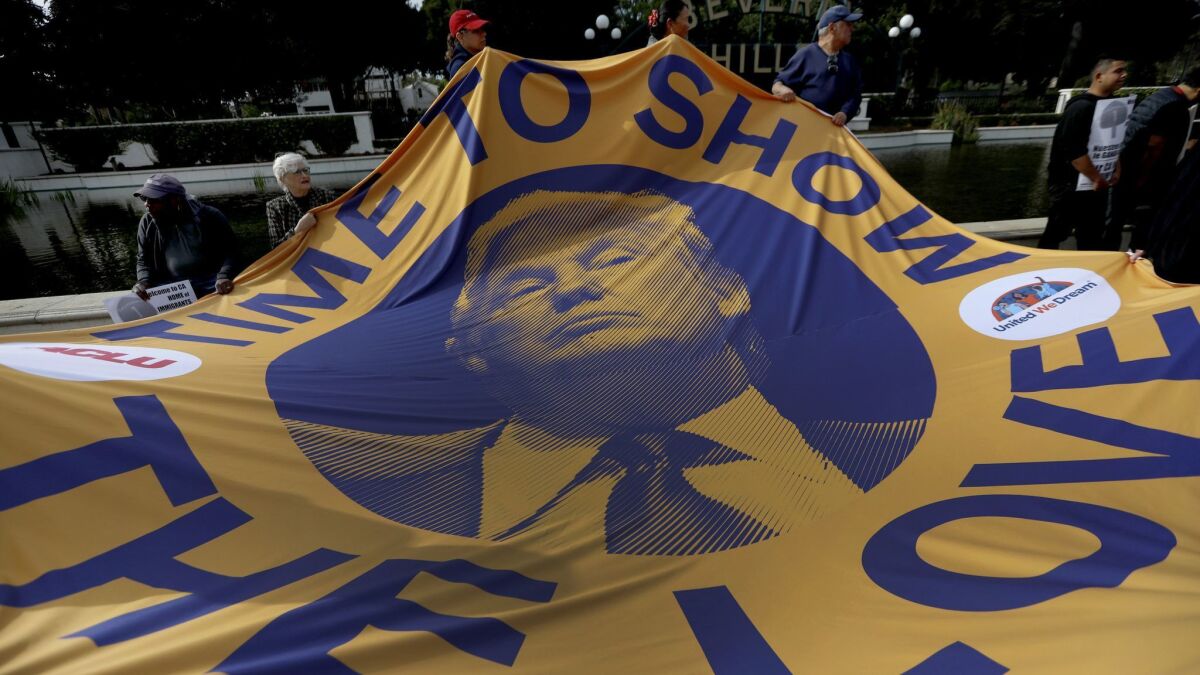 Law enforcement officials are bracing for multiple protests Tuesday as President Trump swings through Southern California, but the extent of demonstrations remains a wild card.
Trump has a famously antagonistic relationship with California, clashing on issues such as immigration, climate change and women's rights. The state has become the epicenter of the "resistance" with several huge demonstrations since he took office.
Authorities in San Diego and Los Angeles said they are not sure what to expect when Trump visits California for the first time in his presidency, but they are preparing for whatever comes.
"The LAPD will be heavily deployed throughout the city to ensure the safe transport of the president and secure locations he will be visiting," the department said in a statement. "The Department will also be available to accommodate any residents who may feel a desire to exercise their First Amendment rights."
Law enforcement tactics
Law enforcement will be dealing with several issues: security, crowd control and traffic control.
"We are prepared for anything," said Los Angeles Deputy Police Chief Horace Frank, who oversees the counterterrorism and special operations bureau. Frank said though no permitted protests in the form of marches are planned, authorities do expect to see protesters and Trump's supporters out in numbers during the president's visit.
As with all presidential visits, Los Angeles County Sheriff Jim McDonnell said his deputies will be involved in supporting the U.S. Secret Service and ensuring public safety. No formal protests are planned, McDonnell said, but he expects "more spontaneous" actions driven by social media.
Police officials say they will enforce laws that require protesters to stay off the streets and private property, and will keep supporters and protesters from engaging in physical confrontations. In the past, large immigration marches and anti-Trump protests have seen clashes between supporters and opponents of the president.
In the event of trouble, officers will be ready to deploy to potential protest hot spots but will aim to keep a low profile unless needed, officials said.
Trump's plans
Though details of the Trump visit remain cloaked in secrecy, he is scheduled to attend an evening fundraiser for his reelection campaign. Earlier in the day, Trump will inspect prototypes for a border wall, a key component of his campaign platform on immigration, in San Diego County.
He also is expected to meet with military personnel.
Though the fundraiser is described as taking place in Beverly Hills, police officials there on Friday said the president is not scheduled to visit the city. Often areas adjacent to Los Angeles are described as Beverly Hills because they use a Beverly Hills postal code. Several key Trump fundraisers who actively participated in his presidential campaign live in those areas.
Donors will contribute up to $250,000 each to Trump's reelection campaign and various Republican National Committee accounts to attend the Tuesday evening event at an undisclosed location in Beverly Hills.
The fundraiser is being hosted by Republican National Committee Chairwoman Ronna McDaniel, national finance chairman Todd Ricketts and deputy national finance chairman Elliott Broidy.
Some protests, but how many?
LAPD officials said no one has taken out permits for formal marches to coincide with Trump's visit.
At least one protest is planned in the Beverly Hills area between 4 and 8 p.m. Tuesday by a Facebook group, Trump Not Welcome in LA. The LAPD is preparing for additional protests of various sizes on the Westside.
"I anticipate many more once his itinerary is known," said LAPD Deputy Chief Dennis Kato, who oversees the department's West Bureau.
The political group Union del Barrio's Los Angeles chapter is organizing the Beverly Hills protest.
Ron Gochez, a political secretary with the chapter, said more than 1,000 people were following the Beverly Hills protest Facebook page even though he was still unclear about where the protest would take place.
"He cannot step foot in this state and not expect an organized response to denounce him," Gochez said.
Whether supporters or protesters see much of the presidential motorcade remains to be seen. Exactly how Trump plans to get to the fundraiser remains under wraps as is usual for the U.S. Secret Service. President Obama, who regularly made the trip to Hollywood fundraisers, drew criticism for repeatedly causing traffic jams on the city's Westside. On some occasions, Obama used a helicopter to travel to events.
Twitter: @LAcrimes
---
UPDATES:
8 a.m.: This article was updated with a statement from the LAPD.
This article was originally published at 5 a.m.
The stories shaping California
Get up to speed with our Essential California newsletter, sent six days a week.
You may occasionally receive promotional content from the Los Angeles Times.