Taking a pickax to Trump's star: Does L.A.'s creative resistance go too far?
Pedestrians view the spot where Donald Trump's star had been on the Hollywood Walk of Fame before it was vandalized on July 25, 2018.
(Al Seib / Los Angeles Times)
Fernando Hurtado takes video of Donald Trump's star on the Hollywood Walk of Fame after it was vandalized Aug. 25, 2018.
(Al Seib / Los Angeles Times)
Donald Trump's star on the Hollywood Walk of Fame after was vandalized July 25, 2018.
(Jeff Amlotte / Los Angeles Times)
Journalists photograph Donald Trump's star on the Hollywood Walk of Fame after a man took a pickax to the star on July 25, 2018.
(Al Seib / Los Angeles Times)
A Hollywood Boulevard Spider-Man surveys the damage as Gregg Donovan, the former official greeter for Beverly Hills, holds a "Trump 2020" sign in front of the president's star.
(Al Seib / Los Angeles TImes)
When a street artist calling himself "Plastic Jesus" was placing an installation protesting the Trump administration last month — a wire cage filled with teddy bears labeled "Trump Hotel" — there was an obvious choice: Donald Trump's star on the Hollywood Walk of Fame.
As the 50-year-old British man casually strolled nearby to gauge reactions to his piece, it quickly became clear how many people seemed to see the star as symbolic of everything right or wrong with the president.
One gray-haired man knelt, kissed his hand, and put the hand on the star. Another dug his heels on the star, as if putting out a cigarette. One passerby bent over and spat on the star, and was chased by an angry Trump supporter all the way down the block.
"I don't think we've got any Trump properties in L.A., so people are taking their frustration out on the star," said the artist, who asked to remain anonymous because many of his pieces veer into illegality. "The star is a very visible symbol of his celebrity, an obvious place to attack in a way."
This anti-Trump sentiment reached a new level Wednesday when the star was annihilated with a pickax by a vandal who quickly turned himself in to police.
While it wasn't immediately clear what the 24-year-old man's motivations were, images of the gauged-out star swiftly spread across social media taking on a meaning of its own: the latest political protest on the canvas that is the streets of Los Angeles, for better or worse.
"It's a very visceral visual statement that speaks a thousand words," said Rosa Lowinger, an L.A.-based art writer and conservator who has studied vandalism in public spaces. "These are time-honored traditions of expression."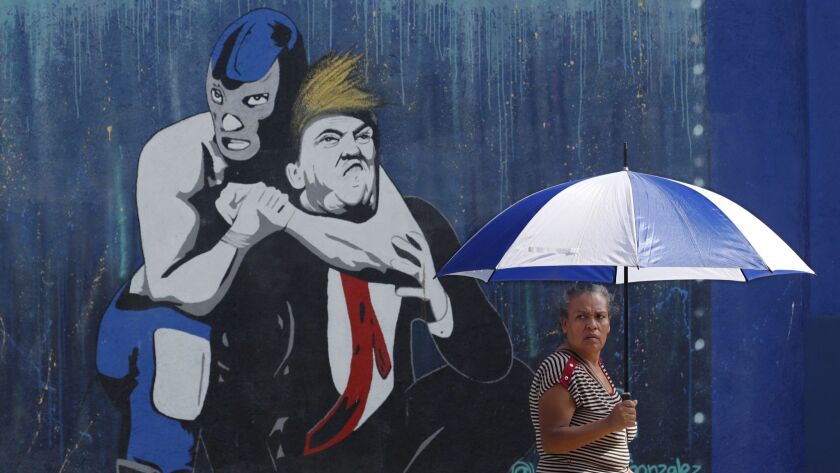 In Los Angeles, where the president's critics far outnumber his fans, Trump has been depicted in street art in a headlock by a luchador, naked, or blindfolded and holding a dart with his hand guided by Russian President Vladimir Putin.
Since the 2016 election, Trump's star on the Hollywood Walk of Fame has been subject to spit, kisses, dog feces, selfies and urine. It's been Sharpied, graffitied, walled in and sledge-hammered.
The artists' collective INDECLINE put a naked statue of Trump on Hollywood Boulevard during the election, in what it said was a metaphor based on the Hans Christian Andersen story "The Emperor's New Clothes." The group has also vandalized Trump-owned hotels and golf courses in protesting the president and his policies.
"There's always a fine line between destruction and art," said a representative of INDECLINE, who asked to remain anonymous because many of the group's activities run afoul of the law. He said because graffiti artists and creative types are far more likely to be disdainful of Trump than to be supporters, his presidency has led to a spike in politically themed street art.
"We took a nice long nap during Obama," he said. "Whether it's naked statue or taking a pickax to the sidewalk, you're going to see more of it for the next two years until he gets voted out."
Police on Wednesday booked Austin Mikel Clay on suspicion of felony vandalism in connection with the star's destruction. Clay, who was being held in lieu of $20,000 bail, allegedly strode up to the star and bashed through Trump's brass nameplate around 3:30 a.m., according to police.
By early afternoon, construction workers were busily mixing concrete to replace the destroyed star. Tourists and residents leaned over the yellow caution tape surrounding the star to snap photos and selfies of where it had been.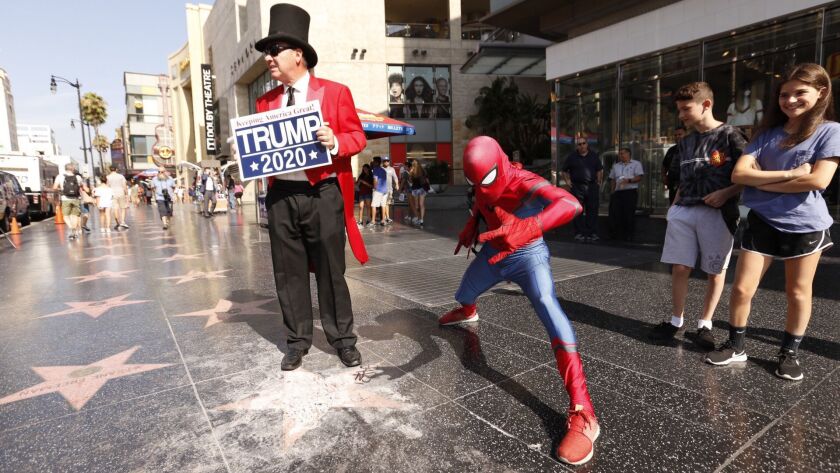 Gregg Donovan, the former official greeter for Beverly Hills, stood near the star all day, holding a "Trump 2020" sign and wearing a red coat and top hat.
Donovan said when he heard the news on the radio about Trump's star, he decided to take the day off and instead spend it showing his support for the president by standing sentinel. He even snagged a piece of the destroyed star — a few people offered him money to buy it, but he wasn't selling.
"If you're going to protest, don't protest a California landmark," Donovan said. "You are free to speak your mind, but why do that? It's bad. It's wrong."
L.A. resident Trissean McDonald, 31, said even though he doesn't think Trump is a good president, he didn't agree with the decision to destroy the star.
"The person who did that definitely expressed how they felt — but honestly, I think that it was not done in the right way," McDonald said. "Somebody who has worked so hard to get a star — even though he is who he is right now — I don't think that should be taken away from him."
Tye Brown, 42, of Oceanside was visiting the Walk of Fame for the first time. A Democrat who doesn't support the president's policies, Brown said she nonetheless wishes the country felt less divided.
"It's disheartening that someone felt the need to express themselves in such a destructive way," she said. "I just feel like it's sad because — what's America really coming to? Something is not right."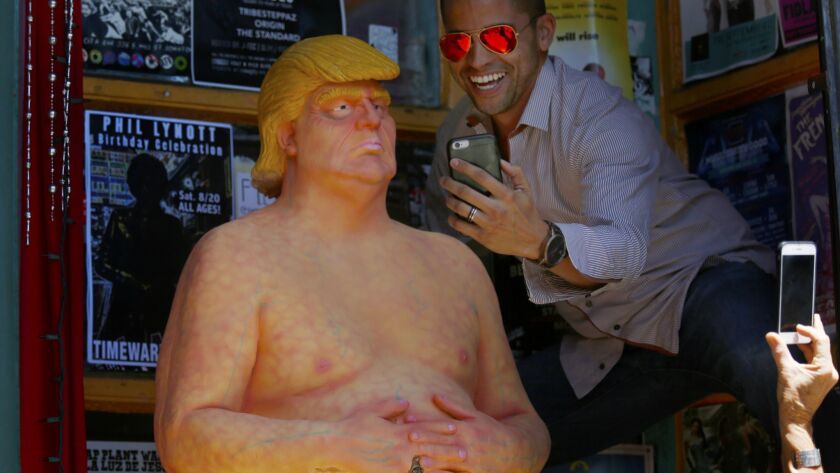 The Hollywood Chamber of Commerce, which oversees the stars, said it intends on prosecuting Clay and urged people to express their political beliefs by voting rather than taking them out on one of their stars.
"When people are unhappy with one of our honorees, we would hope that they would project their anger in more positive ways than to vandalize a California state landmark," Leron Gubler, president and chief executive of the chamber, said in a statement.
The last person to do serious damage to the star was James Otis, who took a sledgehammer and a pickax to the star in October 2016. Otis, who also turned himself into authorities, pleaded guilty to felony vandalism and was sentenced to probation and 20 days' community service, as well as $4,400 in restitution.
Evan Pricco, editor in chief of San Francisco-based art magazine Juxtapoz, said it didn't matter whether Clay was a self-proclaimed artist with an articulate mission statement or a miscreant acting on a whim. Whatever his intention, the political expression speaks for itself, Pricco said.
"The kids on the streets of Paris in '68 weren't artists, they were using a new artistic platform to express their feelings, using streets to express how they felt," he said. "It fits in the grand tradition of what actual activist street art is all about."
Illma Gore, the artist behind the naked Trump painting, said she received threatening letters mailed to her home after her work gained notoriety.
Gore said it's hard to draw a line of how far is too far in creating art, but overall, artists should be willing to stand by their work.
"I think it very clearly was a person saying something," Gore said of the destroyed star. "Even if he isn't an artist, the act of saying of it in a way of smashing a star is a form of art."
Lowinger, the art conservator, said she believed the vandalism was nowhere near crossing the line into being an unacceptable method of expression. She said it would only be going too far if an irreplaceable piece of valuable cultural property was destroyed, or if the vandalism was designed to be threatening.
Whether it would be effective in changing anyone's minds is a different question, she said.
"How you react to it depends on how you already feel about the situation," she said. "In this instance, I don't think it accomplishes anything."
As for Plastic Jesus, who was also behind a 6-inch wall that went up around Trump's star in 2016, he said he got messages all morning from people asking whether he was behind the destroyed star.
"Not guilty on this occasion," he responded.
He said the few thousand dollars' fine Clay potentially faces was probably well worth the message he could send thanks to all the media attention.
"I think there is a limit, but this is well within reason," he said. "Got your money's worth with this one."
---
The stories shaping California
Get up to speed with our Essential California newsletter, sent six days a week.
You may occasionally receive promotional content from the Los Angeles Times.