LAPD raids home of ex-USC gynecologist accused of sexually mistreating patients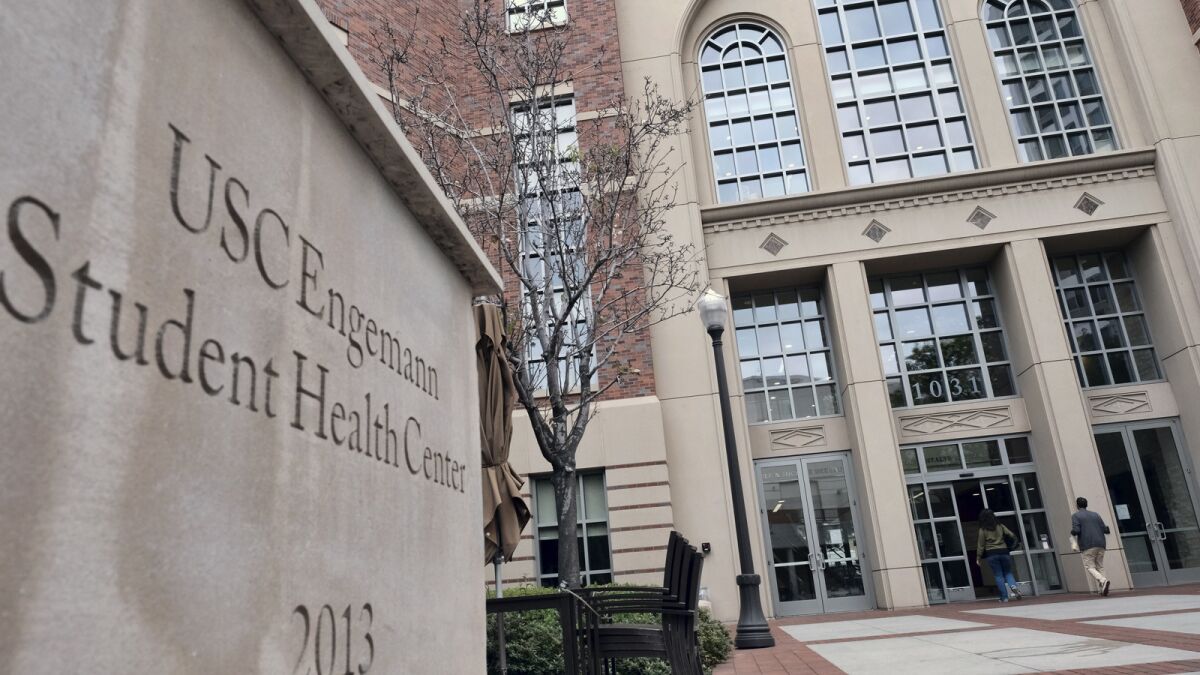 Police detectives on Thursday served search warrants at the Los Angeles home of a former USC gynecologist and a storage facility as they investigate allegations that he sexually mistreated patients.
Los Angeles Police Department Capt. Billy Hayes said sex-crimes detectives talked to George Tyndall and seized evidence during the search but did not provide further details.
The LAPD has been in contact with 135 women about Tyndall, who served as the campus' gynecologist for nearly 30 years. More than 400 women have called a university hotline since a Times investigation detailed how USC allowed Tyndall to continue practicing at a student health clinic on campus despite a record of complaints that spanned more than two decades.
The scandal over how USC handled complaints against the physician has roiled the campus and led to the departure of school's president, C.L. Max Nikias.
Tyndall, who resigned last year, has denied wrongdoing and said he never mistreated patients. He could not immediately be reached for comment on Thursday.
The search warrants were filed under seal, Hayes said, to protect the integrity of the investigation. Tyndall was handcuffed during the search at his apartment, he added, but was not taken into custody and has not been charged with a crime.
USC has said that complaints about Tyndall dating to the early 2000s reached the head of the clinic, who died in 2016, but that he "handled patient complaints independently." The university said it was unclear why Tyndall was allowed to remain in his position.
It was only after a frustrated nurse reported Tyndall to the campus rape crisis center in 2016 that the gynecologist was removed.
USC leaders have acknowledged that the system for reporting and disciplining Tyndall had broken down, but they denied having known about the complaints before last year, according to a letter from Provost Michael Quick.
The university, in a secret deal last summer, allowed Tyndall to resign quietly with a financial payout. USC did not report him to the Medical Board of California, which investigates misconduct by physicians and has the power to terminate their licenses, until last March. The university has acknowledged that "in hindsight" Tyndall should have been reported much sooner.
The police action comes as more women have stepped forward to allege mistreatment at the hands of Tyndall, including dozens who have filed civil lawsuits.
USC student Anika Narayanan said this week that she vividly recalls her first appointment with Tyndall at the campus health center, alleging that he made several explicit comments during an examination she felt was inappropriate and invasive.
When she came back for a second visit in 2016 after a "nonconsensual sexual encounter," he allegedly chastised her, she said in a civil lawsuit and at a news conference Tuesday. He "asked me if I had 'forgotten to use a condom again,' " said Narayanan, 21.
At one point, she said, Tyndall asked "if I did a lot of 'doggy style,' " she said.
Narayanan is one of 24 women being represented by attorney Gloria Allred as part of an amended lawsuit filed Tuesday.
Allred told reporters Tuesday that her clients are alleging Tyndall repeatedly touched them without gloves while making comments about their sex lives and their ethnic origins.
Narayanan has deep roots to the USC campus. Both her parents worked at the university. Her father is Shri Narayanan, a holder of the Niki and C.L. Max Nikias Chair in Engineering, Allred said.
Narayan said the administration betrayed the students.
"I am ashamed, disappointed and furious that I am not alone," she said.
Graduate student Daniella Mohazab, another plaintiff being represented by Allred, alleged in her lawsuit that Tyndall made comments about her sexual skills, connecting them to her Filipino heritage.
"We have been hurt," she said at the news conference. "He has hurt our livelihood, consumed our time and mental health … has been the root of distrust and discomfort that we now face."
Taylor & Ring, another L.A. law firm, said Thursday that it has filed suit on behalf of 18 women.
"The sheer volume of abuse that Tyndall has inflicted on these former USC students is appalling," attorney David Ring said in a statement.
Twitter: @LACrimes
---
UPDATES:
4:45 p.m.: Updated with more details about lawsuits.
This article was originally published at 3:25 p.m.
---
The stories shaping California
Get up to speed with our Essential California newsletter, sent six days a week.
You may occasionally receive promotional content from the Los Angeles Times.