UC Berkeley's new chancellor brings optimism — and a world record — to an embattled campus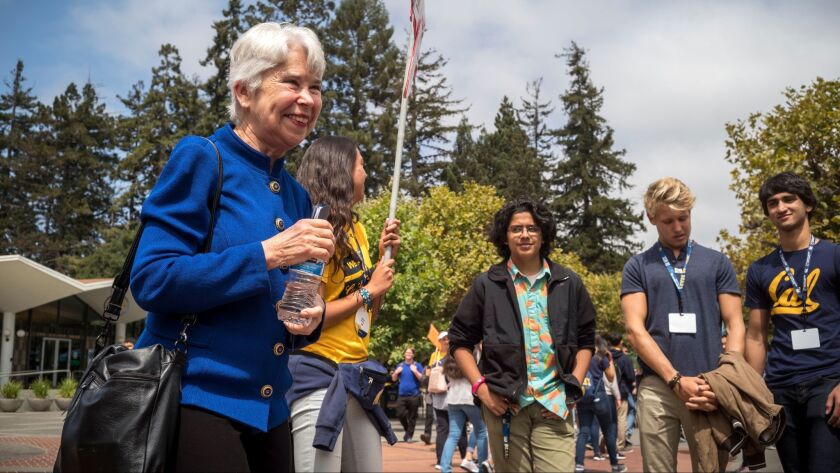 Reporting from Berkeley —
UC Berkeley Chancellor Carol T. Christ just can't seem to resist.
As she walked the campus this week, she gravitated toward students and waded right in. She posed for pictures. She quickly connected with a freshman who shared her New Jersey background. She greeted new arrivals on orientation tours.
"Welcome to Cal. I'm so glad you're here," she called out as they gawked, clapped and smiled.
Christ, who took the helm in July, opened the new academic year this week as the 11th chancellor and first woman to lead the state's oldest public university and global research powerhouse.
She is a former president of Smith College and an esteemed scholar of Victorian literature with more than three decades of teaching and administrative experience at Berkeley.
But it is her personable style, her penchant to listen and learn, and her natural instinct to connect that draw people in. Those qualities have helped stir new optimism and excitement on a campus battered by financial woes, free speech controversies, sexual harassment scandals and a leadership crisis under her predecessor.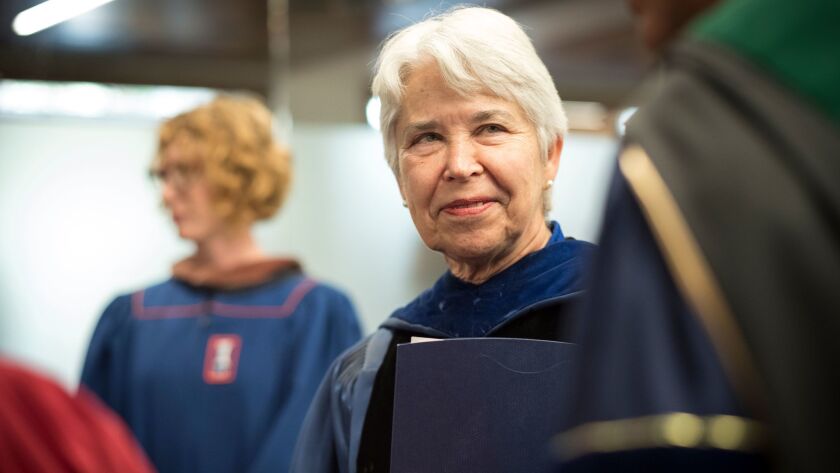 "This represents a new day for Berkeley," said Provost and Executive Vice Chancellor Paul Alivisatos, a renowned chemist. "Chancellor Christ has a clear idea of what needs to be done to address the challenges we face. Her history here affords her a great deal of credibility among the campus community. Everywhere I go on campus, I am hearing enthusiastic comments from students, staff and faculty about the confidence they have in her as a leader and the hope she is kindling in our community."
Christ, who earns a base salary of $531,939, has a full plate of pressing issues. But the first priority she mentioned in a recent interview was the need to rebuild a sense of community. Her predecessor, Nicholas Dirks, was widely perceived as a well-meaning but aloof administrator who bungled major issues and spent too much time away from campus.
"The campus has been through a very rough past several years: the financial challenges that we face, the controversies about free speech, the governance crisis. And not all members of the campus community feel equally welcome," Christ said. "So both rebuilding community and building an inclusive community is really important to me."
The new chancellor, who is 73, said she was planning open hours for students, community-building events, a new blog and visits to students, staff and faculty. Rigel Robinson, the student external affairs vice president, said he believes she'll make good on those plans.
Christ dropped by a student government orientation this week and already has sent out invitations to her first campus fireside chat, he said. Earlier this year, as provost, he said, she impressed student leaders by showing up at a meeting to talk about the campus housing crisis.
"It meant something for her to come out instead of begging the chancellor to show up, as we so often do," Robinson said.
Robert Powell, the outgoing Academic Senate chairman, said faculty members were impressed by Christ's leadership in the painful effort to reduce a crippling budget deficit, calling her style "very consultative in a meaningful way."
That style was on display Tuesday, when she made her way through meetings, media interviews, a welcome ceremony for new students and an attempt to break a world record.
She started her day as usual — rising at 5:30 a.m., eating a breakfast of bread, fruit and a soft-boiled egg, and practicing her viola.
Wearing a Berkeley blue jacket and pearl earrings, she convened an 8:30 a.m. Cabinet meeting in the wood-paneled conference room of the century-old California Hall. She listened to those who spoke — and noticed those who did not — in a discussion about expanding learning projects to enrich the undergraduate experience.
"You look like you're thinking something," she said to Rosemarie Rae, the vice chancellor-chief financial officer. Sure enough, Rae said she was pondering the resources required to make the effort work.
"Thank you for your good work," she told her team as the discussion wrapped up.
In morning media interviews, Christ laid out her priorities:
Develop a new financial model to stabilize the campus and eliminate a crippling deficit. Campus officials project reducing a shortfall that was $150 million last year to $56 million by June 2018. They've eliminated 400 jobs and are working to increase revenue. As the percentage of its budget covered by state funding remains well below what it once was, Christ said Berkeley must raise more money on its own through philanthropy, extension programs and other noncredit classes, self-supporting degree programs, research grants and real estate and entrepreneurial income.
Increase support for undergraduates, including campus housing. Berkeley has the smallest housing capacity in the UC system, currently offering rooms — usually for one year — to only 22% of undergraduates and 9% of graduate students. Christ calls that "unacceptable" and wants to double the available space.
Promote free speech. Christ has declared a "Free Speech Year" with "point-counterpoint" forums to demonstrate how to exchange opposing views in a civil manner. Other events will explore constitutional questions, the history of Berkeley's 1964 free speech movement and the impact of that movement on such figures as acclaimed chef Alice Waters.
Boost student and faculty diversity. Last fall, of the nine UC undergraduate campuses, Berkeley had the lowest percentage of underrepresented minorities (18%), low-income Pell Grant recipients (27%) and students who are the first in their families to attend college (28%). Christ said the campus would step up outreach.
Support faculty research. Berkeley received $848 million in research money in fiscal year 2017, about half of it from the federal government. Trump questioned Berkeley's federal funding this year after violence shut down a campus appearance by right-wing provocateur Milo Yiannopoulos. But three months later, Congress approved a 5% increase in research funds for 2017.
On Tuesday afternoon, just before 2 p.m., Christ donned a ceremonial robe — one from Yale University, where she earned her doctorate, but blue enough for Berkeley. She strode into Haas Pavilion to welcome 9,500 excited new freshmen and transfer students. They ranged in age from 14 to 64. They came from all 50 states and 54 foreign countries. In the crowds were those who sang opera, farmed onions, developed robotic body parts, drew cartoons and won admission to Berkeley from prison.
"You are a remarkable group," she told them. "We are thrilled to have you here, with your energy, your ambition, your intelligence, your imagination."
Be curious, she told them. Embrace diversity with empathy. Cultivate your best self to change the world.
After a sushi dinner, Christ headed to the university's Memorial Stadium. There, at 9:25 p.m., the chancellor and 7,195 other Cal Bears broke the Guinness World Record for the largest human letter by forming a "C."
Then Christ went home about 10 p.m. to her private joys — music, books. She has chosen not to live in the palatial chancellor's residence, but to stay grounded in her own house, less than a mile from campus, with her son and grandchildren under the same roof.
She did another hour of work, then went to bed.
ALSO
USC's Tommy Trojan, meet your female counterpart: Hecuba, queen of Troy
Editorial: Hey, Betsy DeVos, keep your hands off campus sexual assault standards
In Los Angeles, a public school just for boys
How do you predict teens' college plans? Universities have long struggled with that question before UC Irvine's admissions fiasco
---
The stories shaping California
Get up to speed with our Essential California newsletter, sent six days a week.
You may occasionally receive promotional content from the Los Angeles Times.