College admissions scandal: USC to deny entry to some students involved in alleged scam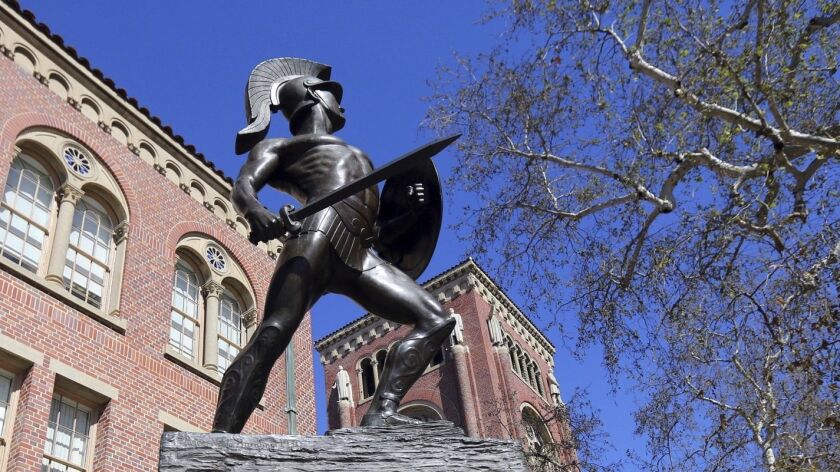 USC, reeling from the exposure of a college admissions scheme with deep ties to the university, has announced a variety of measures aimed at addressing the scandal.
In a letter to the campus community Thursday, USC interim President Wanda Austin said the university has launched its own investigation into the scandal and is trying to identify donations made as part of the bribery scheme revealed by an FBI investigation that resulted in dozens of charges against a consultant, wealthy parents and college officials nationwide.
FULL COVERAGE: Dozens charged — including Hollywood actresses — in connection with college admissions scheme »
Austin also said USC would "deny admission to applicants in the current admissions cycle who are connected to the alleged scheme."
The university also has "initiated a case-by-case review of current students and graduates who may be connected to the alleged scheme. We will make informed decisions about those cases as the reviews are completed," she wrote.
Austin said Wednesday the university was barring about half a dozen current applicants connected to the case.
While the college scandal reached across the nation, USC played a central role, prosecutors say.
Of the 32 parents named in the FBI affidavit filed in U.S. District Court in Boston, more than half are accused of conspiring to bribe their way into USC. Other universities, including Georgetown, Stanford, the University of San Diego and Yale, were also ensnared in the criminal enterprise run by consultant William "Rick" Singer, but the alleged misconduct involving USC dwarfs all other schools.
Singer pleaded guilty Tuesday, admitting that he masterminded a criminal operation dating back at least a decade. He offered two services to help students overcome admissions hurdles: doctored scores on standardized tests and what he called "a side door" to elite schools. Authorities said he bribed coaches at a number of schools to give spots reserved for student athletes, for whom academic standards were relaxed, to applicants whose parents were willing to pay up to half a million dollars. Singer and his conspirators created phony athletic profiles, complete with Photoshopped pictures of the students participating in their assigned sports, according to court papers.
RELATED: Just miles from USC and the admissions scandal, these students sell food for college money »
Singer has acknowledged collecting about $25 million through his consulting company, Edge College & Career Network, also known as "The Key," and a purported charity he started.
The 204-page FBI affidavit provided a window into the desire of several wealthy Southern California parents, including celebrities, to have their children attend USC.
Austin briefed the Board of Trustees on her letter Thursday. It it, she wrote:
"These recent revelations run counter to our values, which prioritize admissions based on merit and opportunity for all qualified candidates. Our record of diversity among students selected for admission is a particular point of pride for me. We will do all that is necessary to continue to strengthen our culture and to restore trust within our community."
On Wednesday, two Stanford students filed a federal class-action lawsuit against eight colleges allegedly involved in the scheme, described as the largest college admissions scandal ever prosecuted. The suit alleges that the rigged system denied them a fair chance to matriculate at the elite institutions and could tarnish their degrees.
---
The stories shaping California
Get up to speed with our Essential California newsletter, sent six days a week.
You may occasionally receive promotional content from the Los Angeles Times.